One word I would never use to describe myself is "spontaneous." I am very far from spontaneous, in fact. The idea of having something not planned makes me incredibly anxious. Not only that, I just really love checklists. Crossing something off a to-do list is one of the best feelings ever in my opinion. (And yes, between you and me, I have been known to put things on a list that I've already done, just to cross them off and make myself feel accomplished. I'm pathetic, I know).
So I guess it is no surprise that I'm really predictable when it comes to meal planning. I don't really like eating the same thing for dinner but for breakfast, I have the exact same thing almost every day – a slice of Dave's Killer Bread, topped with natural peanut butter and sliced bananas. I totally love it, it is easy to eat in the car (since I'm too lazy to wake up with enough time to eat at home like a normal person) and it is super filling. All good things for the first meal of the day!
But sometimes it is still nice to mix it up a bit. So I was pretty jazzed about the idea of a cooking class with Megan Gordon, who just wrote "Whole-Grain Mornings." I have already fallen in love with her cookbook, which is filled with recipes for everything from busy weekday breakfasts on-the-go to fancy Sunday brunches, all made with whole grains. The recipes are divided into sections by season so you can really utilize fresh and local ingredients.
Megan is a recipe developer, culinary educator and writer. She has a blog, A Sweet Spoonful, which details her food adventures and of course recipes; and also owns her own granola business, Marge Granola. While based in Seattle, she has been making the rounds on her cookbook tour. In between book signings in the Bay Area and a well-deserved break back home, Megan stopped in Portland for this class (and more signings).
It was hosted by the Portland Culinary Alliance at Tabor Bread, one of my new favorite bakeries in Portland. Located a ways down SE Hawthorne on 51st in a historic house, Tabor Bread makes some of the best bread you'll find these days, using their own fresh-milled flours and baked in their wood-fired oven. The bakery, owned by Tissa Stein, uses old-school techniques to create these delicious breads. Using local grains, fresh flours are milled in an Austrian-made mill, then used for that day's breads, which are all shaped by hand and baked in the beautiful wood and brick oven. Not only can you buy their fresh-milled flours but you can also stop in to see it all in action.
Their food and the space itself are both spectacular and worth the trek for their breads, sandwiches, pastries and salads. Their daily breads include unique options like Red Wheat Boule and Spelt Pan Loaf. And their weekly specials are incredible, like Sunday's Sweet Potato Nutmeg Boule or Tuesday/Saturday's Cinnamon Swirl Breakfast Bread. Get there around 9am for fresh loaves straight from the oven.
With all of that in mind, obviously this was the perfect spot for a cooking class on whole grain baking.
We started with Hazelnut Cacao Nib Granola. Sounds delicious, right?! With her own granola company, Megan is a great person to teach the skills of making this cereal counterpart. What makes her granola unique is the large amount of nuts and seeds and limited use of sugar.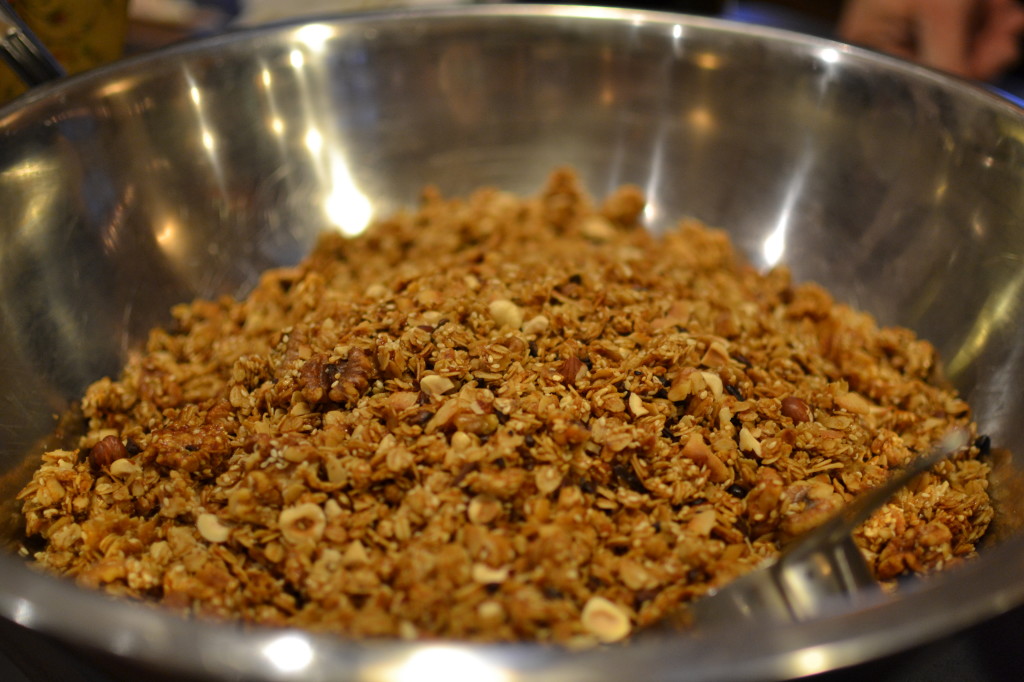 For this recipe, in addition to the hazelnuts and cacao nibs, there were walnuts and sesame seeds added in. To sweeten the granola ever so slightly, we used coconut oil and, instead of maple syrup like the cookbook calls for, Bee Local honey to support our local artisan vendor, Damian Magista.
Damian also joined us for the class and it was a lot of fun to hear about his honey-making process which involves having small hives of bees located throughout the Portland area. Depending on the neighborhood the bees live in, the honey takes on different flavors. Despite my fear of bees, it was really fun and interesting to hear him talk about it.
Now back to the granola, Megan's biggest tip for granola perfection is to take it out of the oven when it is still soft to prevent burning. Don't worry, it will firm up considerably as it cools so you don't need to overbake it!
We enjoyed the fresh-baked granola with Straus Family Creamery yogurt and just a drizzle more of the Bee Local honey. It was delicious, definitely a fantastic breakfast, but also a really great snack (which was great as we were sampling it around 6pm!).
Our second recipe was for Nutty Millet Breakfast Cookies. I love the idea of having a cookie for breakfast (who doesn't?!) and this one won't even make you feel guilty about it. These breakfast treats are made with whole wheat flour and spelt flour, which acts a lot like white all-purpose flour but with slightly less calories and more protein. Similar to the granola, there is no refined sugar, just coconut oil and honey. This crumbly, soft cookie gets texture from the millet, raisins, walnuts and pecans. They are perfect for an on-the-go breakfast and are surprisingly filling.
Maybe now I'll break out of my normal breakfast routine! If only I could also get some more time in my day to also eat it at home rather than the car…