During Trivia Night at Brix Tavern the other night, we were asked to draw a picture best describing our "Bucket List for 2012." (Yes, a small group of friends and I play trivia now every Sunday night and it gets a tad competitive. I seriously had a dream last
Sunday about the fact that I got a question about Disney Princesses incorrect, it was that bothersome).  Anyways, it got me thinking about my Bakery Bingo Bucket List for this new year.  As you can tell, I'm making some upgrades my website which is fun and challenging for someone who is not very computer savvy like myself.  But hopefully it will look great soon!
I also have a long list of bakeries to visit which I'm putting on my "2012 Bakery Bucket List"!  Here they are, in no particular order:
Pacific Pie Company: Especially after our trip to Australia where we had lots of great savory pies, I've been dying to check this place out. It's supposed to be delicious!
Bakeshop: I love Kim Boyce's cookbook Good to the Grain which features recipes using whole-grain flours, so I was particularly excited when she moved to Portland and opened her own bakery in Northeast just about a few weeks ago. I can't wait to do a little taste testing over there!
Blue Collar Bakery: This little place just opened up down the street from me and looks awesome! Their "Lunch Whistle" cookie made with cranberries, white chocolate, and orange zest sounds particularly delightful!
The Sugar Cube: I really wanted to go to The Sugar Cube and try their fun and unique cupcakes during my amazing birthday Bakery Crawl, but sadly they were closed for a private event. Hopefully soon I will be able to make my way back over to their little food cart.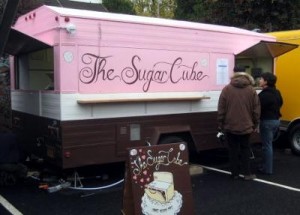 Little T American Baker: I have no idea why I haven't made it out to Little T yet. I am slightly obsessed with their baguettes used on the sandwiches from my all-time favorite food cart, Addy's Sandwich Bar (located on SW 10th and Alder).  I claim that it's because Little T is far away, but really SE 26th and Division isn't that far away. In 2012 (and early 2012, I promise!) I'm going to drive my car the whole 3.2 miles from my house and finally go visit this great bakery in person!
I have a ton of other places to visit and review including Bakery Bar, Oui Presse and Florio Bakery too.
Any other suggestions for me of places to visit and/or review?