1818 NW 23rd Pl & Thurman • ataulapdx.com • 503.894.8904
Hours: Tues-Sat 4:30-10pm; Sun Brunch 10am-2pm
Holy cow. In just 4 months now, Brice and I will be starting our 10-week journey through Asia! As a refresher, we both work at Intel which offers an incredible sabbatical program where you get an extended vacation of 8 weeks, plus whatever other vacation you have saved up. We are heading off this fall to explore all sorts of places in Asia. I've never traveled that long nor have I ever taken that much time off work or school since probably 8th grade, so it will be quite the adventure!
Our planning is going pretty well, minus a few hiccups due to some things out of our control, like Thailand going through a military coup (but the curfew was just lifted – hooray!) or India losing passports of those applying for visas. So instead of stressing about those issues, I spent most of the weekend planning our trip through Japan, finding beautiful temples to visit and even a Buddhist monastery to spend the night at.
It is crazy to think it is coming up so quickly. The trip will be here before I know it, so my goal before our big trip is to enjoy everything about Oregon summers and also to soak in as much friend time as possible. As Brice will attest, I hang out with my friends a lot. They are just too much fun to be around, so spending just a few shorts days apart turns into "I haven't seen you in FOREVER!" So being on the other side of the world for almost 3 months will be challenging.
Fortunately, these wonderful friends of mine also love going out to eat with me and are willing to try all the new great restaurants in Portland.
One of my recent must-trys was Ataula, a modern Spanish tapas restaurant which opened just off NW 23rd at the end of 2013. Ataula (pronounced like "a-towel-ah") is the Catalonian word for "to the table." This restaurant definitely makes you want to sit down at the table for any meal. The space is bright and airy, and also warm and welcoming. The menu is full of traditional inspired dishes but with an updated, refined twist, and of course, a focus on Northwest ingredients.
I suggested we try it out for our friend Alyssa's birthday recently. We wanted a fun place to go for brunch that did not have an extremely long wait, and would also not completely mind our noisy, animated group of 7 girls. Being in the town of brunch lovers, that is sometimes challenging to find, especially for a group of that size. But I remembered hearing that Ataula has a fantastic brunch and takes reservations.
While the portions are small, they are still great for sharing. We ordered six dishes, plus two desserts to share between all of us (minus one friend who is a vegetarian and had to order her own dishes – sorry Rose!).
The group favorite was the Revotillo en Tosta. It was an egg sandwich taken to an insanely high level. Beautifully cooked shrimp in an ajillo garlic sauce was mixed with an egg scramble and melted havarti cheese, topped with scallions, served open-face on a crisp slice of toast.
Being at a top-notch Spanish restaurant, we knew getting paella was a definite must. We ordered the Sunday Brunch Paella made with bomba rice, free range chicken, chorizo, and bacon. To make it more breakfast inspired, the flavorful rice was topped with a poached egg and lightly fried potato slices. It was incredibly delicious, especially when you got a bite of the socarrat, the lightly browned crust of rice along the edges of the traditional paella pan.
Any meal wouldn't be complete without some dessert. Hands down, whatever you do, make sure you order the Churros con Chocolate. They are made to order and topped with cinnamon sugar and just a hint of fleur de sel. Once you dip those delicious pieces of warm fried dough into the thick chocolate sauce, you will have died and gone to heaven.
The Xuixos de Crema was also pretty spectacular. Light and fluffy housemade pastry filled with a rich crema catalana. It was a tad difficult to share, so you might as well order your own when you go in!
To make our brunch even better, I was shocked by how well priced it was. Between all of the dishes we ordered, plus cocktails and coffee, and the added service charge, I was a little nervous it was going to be an expensive meal. However it was only $20/person! For how much delicious food we ate and the wonderful service, I would say that it was one heck of a deal.
I also popped in for a light dinner with Rachel, one of my favorite blogger friends. We ordered a few delicious tapas plates to share. My favorite was probably the Croquetas, which were lightly fried salt cod fritters, served with a smoked piquillo aioli.
Though I also really loved the Ataula Montadito. It was a mini open-faced sandwich with house cured salmon, light mascarpone yogurt and black truffle honey. The honey really took this to another realm. Plus it was served on a small slate tray, which I think was really beautiful.
And the Nuestras Bravas were also really good… Crispy potatoes topped with a milk aioli and tomato-based brava sauce. So maybe that was my favorite… It is (presumably) just like being asked to choose your favorite child, I just can't make up my mind on what dish I liked most!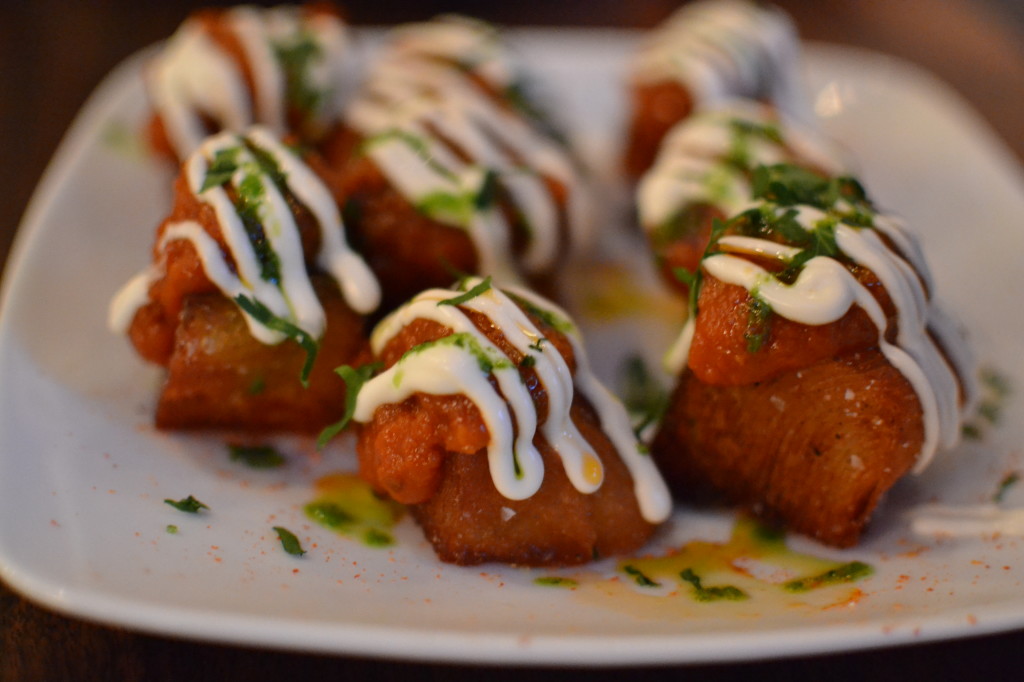 To elevate this restaurant even more, the service was fantastic, which I think is sadly sometimes hard to find in Portland. The staff is extremely knowledgeable about the menu, but not at all pretentious. They were attentive, friendly and really made my dining experiences there even better.
I definitely recommend Ataula for a nice dinner out or as a great way to get your Sunday going.