I traveled a few weekends ago a ways across the country over to Atlanta, to visit one of my longest friends, Laura. She is soon turning the big 3-0 so her sister, one of our other good friends and I thought a big celebration was in order. Since she lives in Georgia and we hadn't gone to visit her yet, we thought seeing her home turf was a perfect fit.
As I was the primary tour planner, of course most of those involved food. Atlanta has an awesome food scene, so I was eager to explore what it had to offer.
Jill and I started our trip playing super tourists at the World of Coke Museum while Laura finished working. While the museum was much for an exhibit for kids and was a little cheesy, we did have a lot of fun at the end tasting room where you could sample sodas from around the globe. Some were delicious, some were gross. Either way, it was fun to see what people are drinking in places like Zimbabwe.
After getting a glass of wine and a full 360-view of the city from the Sun Dial bar on the 72nd floor of the Westin Hotel, we headed over to Gunshow, a well-acclaimed restaurant that I was recommended by a couple of people. It is owned by Kevin Gillespie, who was a finalist on season 6 of Top Chef.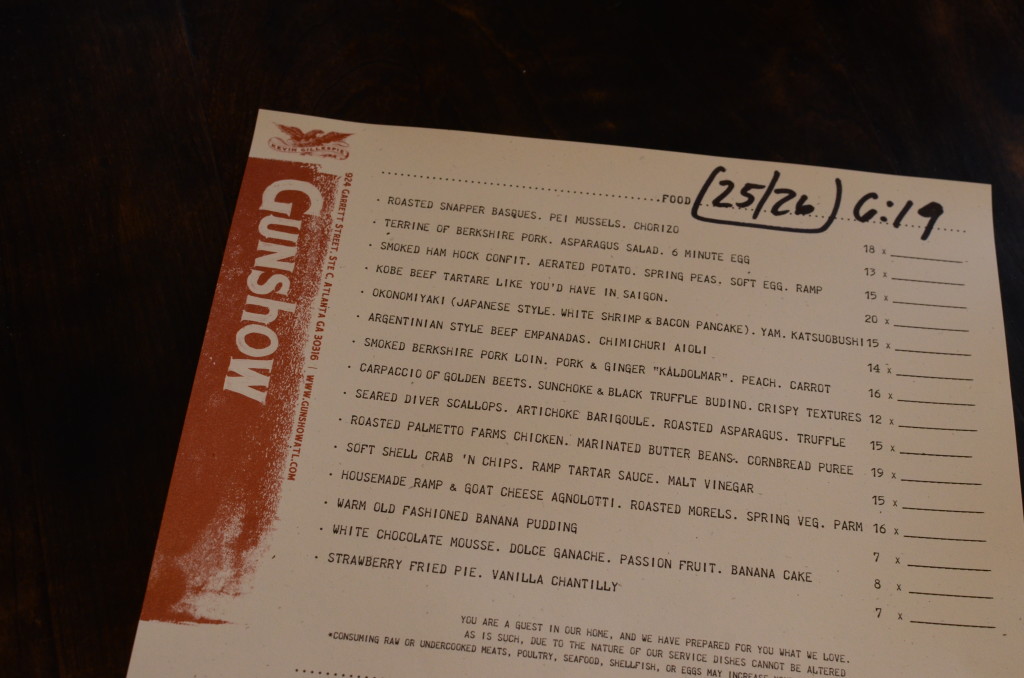 Their concept is fun and really different – the chefs all make their own dishes then come around to the diners and pitch their item. While you do get a menu so you have some idea of what's coming around, you only get one chance to say yes or no to each dish. That puts the pressure on when the chefs come by with incredibly beautiful plated dishes, placing them in front of you and really selling what they made.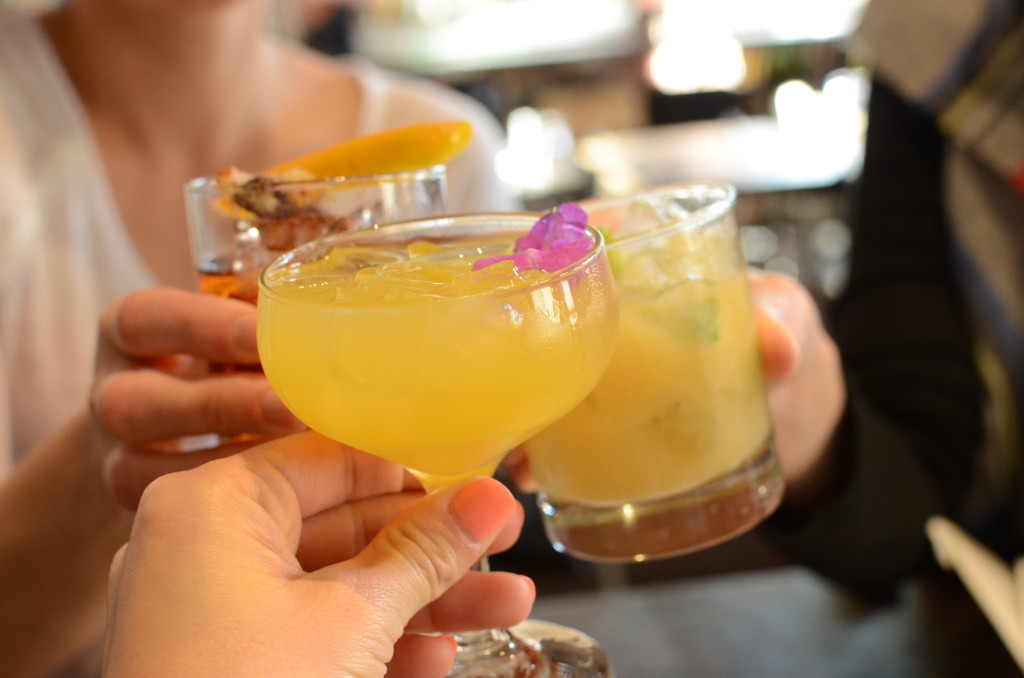 We had a tough time saying no initially because everything looked so good, and being total girls, admittedly we didn't want to hurt their feelings! But after stuffing ourselves with way more food than we would have otherwise eaten, we learned how to say no. The food was fantastic, cocktails were also creative and the space was really fun.
Next on our list was touring around Decatur, where Laura lives. The suburb of Atlanta has a really sweet downtown with a walkable square filled with fun restaurants, bar, and shops. We had a great meal out on the patio of Leon's Full Service which had some killer cocktails. I got their Seasonal Pimm's Cup with Pimm's, lemon, pear syrup and house made ginger beer. Oh man, I could have easily downed a number of those in a few minutes. They were dangerously good.
After dinner, we strolled over to Butter & Cream for some small-batch, house made ice cream. I got a scoop of Honeycomb Forest made with real chunks of honeycomb, it was real real good.
We spent the next day on a food tour through the adorable town of Roswell, just a few miles north of Atlanta. Ever since joining forces with Forktown Food Tours for our joint bakery tour, I've included food tours on my travel itineraries. This one hosted by Mariel of Georgia Food Tours included 4 wonderful stops.
We popped into Oli + Ve to learn about olive oils and vinegars. We sampled some unique vinegars like honey ginger on top of vanilla ice cream. Oh man, that was life changing. Both easy and so delicious. I desperately need some of that now!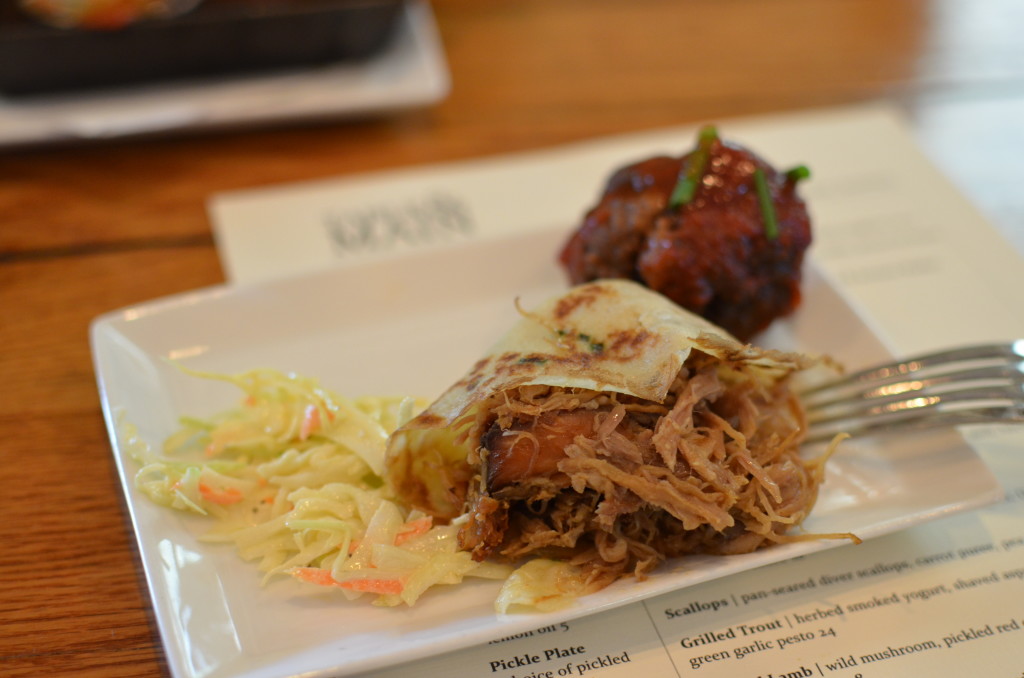 Table & Main was perhaps my favorite bites of the whole weekend. Their seasonal Southern dishes were phenomenal. I was big fan of both the meatloaf meatballs with brown sugar ketchup and the Hogs 'n Quilts. Light and fluffy chive crepes were stuffed with moist bbq pork shoulder then slathered in a Georgia vinegar sauce and topped with old fashioned cole slaw. That isn't something I normally would order or like, but boy was it good.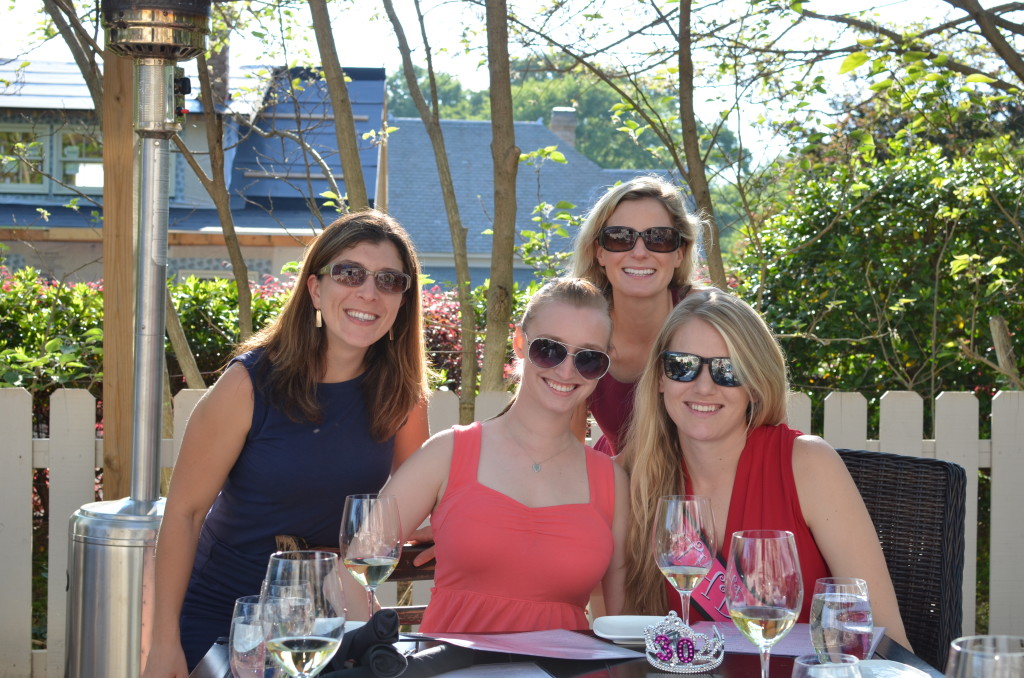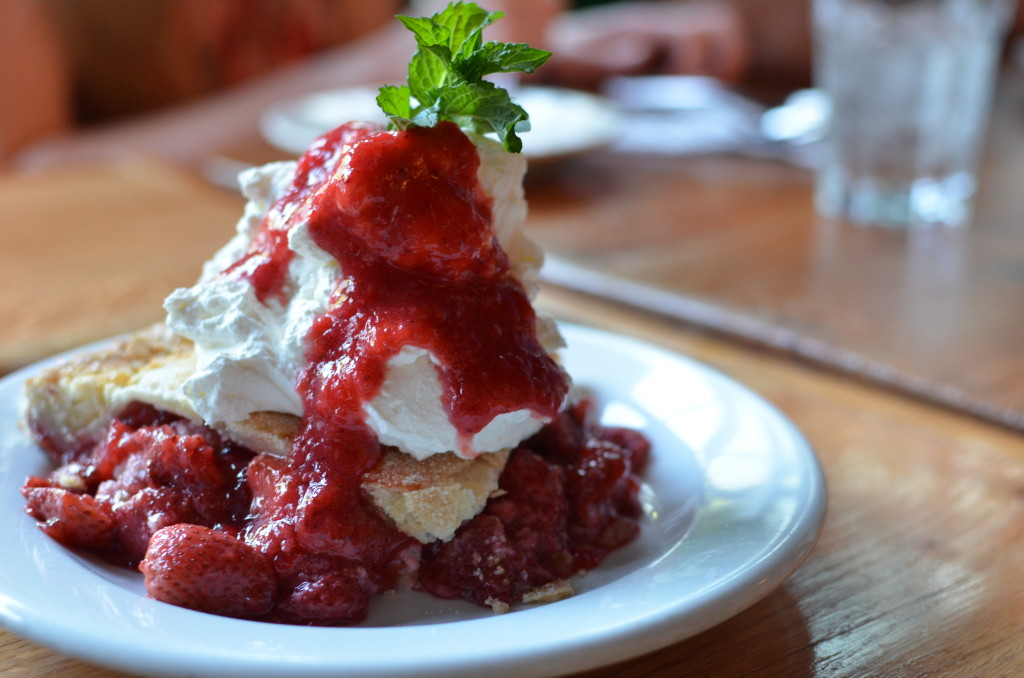 I absolutely loved Vin25, a super charming wine bar. They had an awesome outdoor space with comfy chairs, a fire pit, and the best lighting strewn across the large trees. I would have happily hung out there for hours enjoying wines and their fresh homemade pastas.
We ended our trip with brunch at Empire State South. I met Huge Acheson, a judge on Top Chef, at Feast last year and think he is awesome. I was super excited about getting to one of his restaurants. Of course coming from Portland, home of the epically long brunch lines, I made us reservations. I was surprised at 10:30am on a Sunday, there was no one in the restaurant except for us. Laura then reminded me that we were the South, so we had luckily beat the "post-church crowd." Ah, right. In Portland, brunch is our church. I forget elsewhere that isn't the case! 😉
We balanced out a lot of our eating with a Braves baseball game, a trip to FlyWheel spin class, runs through the gorgeous neighborhoods and along scenic running paths, and even a walk and picnic in Piedmont Park, Atlanta's answer to Central Park. I loved all of the houses in Atlanta. I could seriously spend hours just gawking at the homes in the area. Big or small, they were all unique, beautiful and often very historic looking (not sure if they actually were).
I came home both very full from all the food and so happy I was able to spend such a wonderful weekend with great friends.
Happy birthday, Laura! xoxo