2930 NE Killingsworth St & 30th • CocottePDX.com • 503.227.2669
Hours: Daily at 5pm; Happy Hour: All day Sun and Mon, Tues-Sat 5-6pm
I'm not sure exactly what sparked it, but I have now been pescatarian for almost a full month! So while I have been still eating some seafood, I have cut out the rest of the meat market. Yes, I admit there have been a couple times I have not abided by that restriction, such as when I went on a food tour in Georgia or when I drank way too much Rosé at the Ringside Grill opening and I found myself a few hours later scarfing down some sausage pizza at Oven + Shaker. But minus those two encounters, I haven't really been tempted by meat.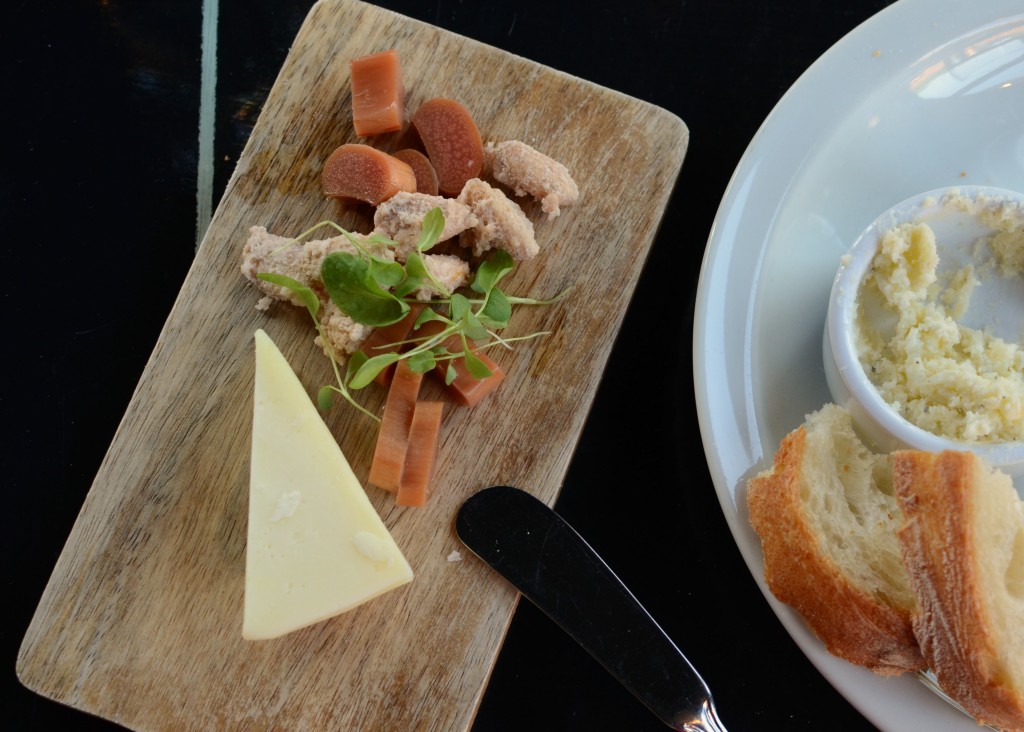 I told a coworker that I was going vegetarian and he literally laughed in my face wishing me good luck. But truly, I have never been one to crave meat nor did I really eat much to start with. I would happily choose a housemade veggie burger over beef any day.
Giving up meat wasn't even that much of a conscious decision but rather one day, I realized it had been 48 hours since I had a piece of chicken or any other meat. So I figured, why not keep it going a little longer. And it really hasn't been that difficult.
While I do like that I'm eating more greens and the ethical impacts of not eating meat, I don't plan on being super strict, especially at food events. Certainly when it comes time for Feast, I imagine I'll be non-vegetarian again for 4 days!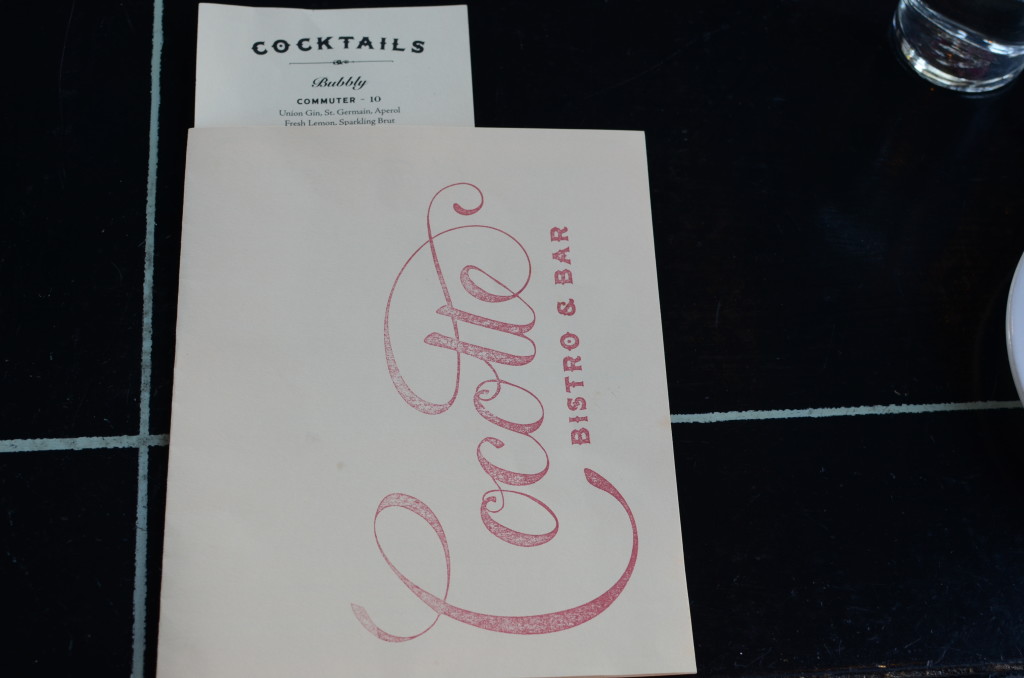 But in the meantime, I'm keeping it going.
All that being said, I wasn't sure which camp going to Cocotte would fall into – cheat meal or not – when we popped in to check out their happy hour last weekend. It is a French restaurant after all. And the French are not notorious for vegetarian-friendly meals.
Either way, I was really excited to finally get over there. I had passed the space multiple times when going to one of the multitude of restaurants and bars on the popular 30th & Killingsworth corner, like Beast, Yakuza or Expatriate. Cocotte has been around since 2011 and remained on my list of places to try until last weekend. Now it is on my list of places to return to.
I loved the small, charming space. Its decor with big windows, black tables and a large, central bar transports you to a small French town. The windows open when the weather is cooperative.
The owner and Executive Chef, Kat LeSueur, and Chef De Cuisine Mischa Brittin, work wonders in the kitchen. Kat spent years working at restaurants in Portland and Dundee before opening Cocotte. Her French-influenced cooking style is excellently executed without being fussy.
As for my concern about the pescetarian thing, no need to worry here. Sure, there were some traditional French dishes like Escargot and Frog Legs, but there were also so many options with seafood and vegetables.
Everything we had was incredibly delicious.
We really loved the smoked salmon, chevre and dill, atop grilled choux pastry, typically used to make profiteroles or eclairs. It is slightly sweet and fluffy, and works perfectly with the salty salmon.
I am now pretty obsessed with their baguette served with a house made compound butter made with lemon curd and black pepper. I could just eat that straight.
Brice literally exclaimed multiple times how the mussels in a white wine sauce were the best he's ever had.
The polenta with fresh Pecorino cheese, chili oil and topped with fried egg was simple perfection.
If all that wasn't enough, the happy hour is killer. With all day hours on Sunday and Monday, in addition to 5-6pm the rest of the week, the deals are fantastic. You can get $5 glasses of delicious wine, deals on cocktails and food for cheap. Seriously, you can get their phenomenal mussels and polenta with a fried egg for under $9. It is a crazy deal.
I need to get back over stat to try some more dishes, especially their desserts. Seriously, it all sounds so good. But the biggest must-have: Macaron au Chocolat, a giant chocolate macaron filled with chocolate hazelnut spread and topped with strawberries!!! Oh em gee. That sounds insane. I must return!
Note: While our meal was complimentary, I was not required to post anything and all of these opinions are 100% my own. We loved it all on its own merits! Thank you to Heather Jones for the invite and to the staff at Cocotte for their hospitality and great food!