It seems like wherever I was or whoever I was talking to, I keep hearing all these great things about Austin, Texas. A fun city of delicious food, beautiful weather, great live music and cool bars. I had also heard in numerous places that it is Portland's "sister city" with its own hipsters, weirdness and nationally-acclaimed restaurants.
To see whether or not this was true, we planned ourselves a little trip down south to investigate. Being much more nerdy and preppy than hip, I'm not really one to compare the hipster bars but I do know my food!
So how does Austin compare to Portland in terms of food? We basically ate our way through the city just to find out and overall the Texan city was really great, and truly was very similar to Portland. 
The same culinary trends seem to show up in Austin. Want some micro-brewed beer with your farm-to-fork salad and all-natural burger, served on a compostable plate? Austin has got you covered.
Don't worry, Austin also has plenty of food cart options featuring everything from gourmet doughnuts to authentic Mexican. While I think there are more overall in Portland, their pod locations are a little nicer, typically offering generous seating which the Rose City is often lacking near its food carts. But Austin also gets over 200 days of sunshine so that might play into it…
Here were some of my favorite stops along the way. For those in Portland, I've also offered a comparable place in Portland to get your own taste of Austin.
I love anything pumpkin and the Pumpkinator cupcake from Hey Cupcake! was not exception. Made with a fabulous moist Pumpkin Spice cake and topped with fluffy graham cracker cream cheese frosting. Plus their cart is just fun – a 1970s AirStream with a giant rotating cupcake on top AND a very country guy in a cowboy hat playing the guitar out front.
What: Handcrafted cupcakes in a fun food cart
Where: 6 different locations throughout Austin including off South Congress
Portland's equivalent: The Sugar Cube
What's better than a scoop of ice cream smooshed inside two fresh-baked cookies after a day spent in the hot sun? Not much in my opinion, which is why we hit up Cool Haus, a funky food cart featuring ice cream sandwiches with fun flavor combinations. I selected the S'mores graham cookie made with melted chocolate and burnt marshmallow and some Salted Chocolate ice cream. The only drawback was the ice cream wasn't quite salty enough and tasted more like regular chocolate. 
What: Ice cream sandwich food cart

Where: Rotating throughout Austin (also in Dallas, LA, Miami and NY)
Portland's equivalent:  Ruby Jewel Scoop Shop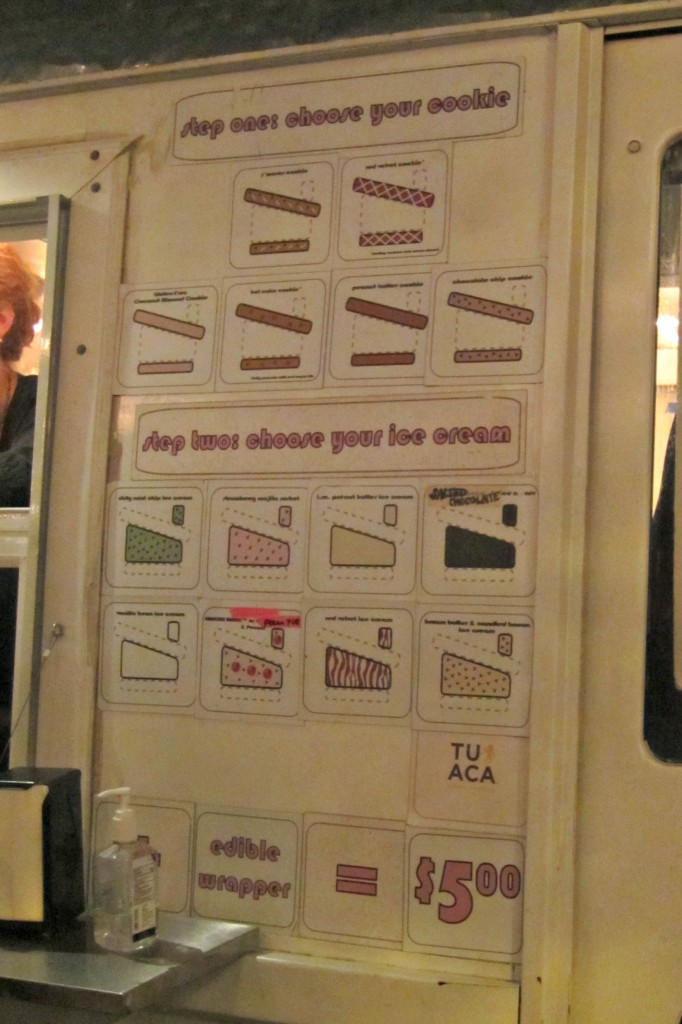 Set inside a small adorably decorated shop of South 1st Avenue is Sugar Mama's, known for its handcrafted cupcakes. However don't miss the other side of their menu with things like the Bourbon Chocolate Pecan Bar, which is a wonderful bite of Thanksgiving with its rich, chocolately filling, finely chopped pecans and buttery pie crust.  
What: Cupcakes, pies, brownies and bars in a cute little shop
Where: 1905 S 1st St Suite A
Portland's equivalent: Saint Cupcake
We knew we couldn't leave the Lone Star State without having some good barbeque (I have no doubt my Texan co-worker would have put me directly back on a plane if I didn't). We were told the 20-minute drive out to the County Line was well worth it and we weren't steered wrong. Brice said it was one of the best meals he's ever had. If we weren't leaving the next day, I have no doubt we would have returned.  Plus the setting was beautiful being right on the lake with a very "on the bayou" feel. 
What: Amazing barbeque menu of beef ribs, brisket, sausage and housemade freshly baked bread
Where: 2 locations just outside of downtown Austin on the lake and on the hill (also in Houston, San Antonio, El Paso and Albuquerque)
Portland's equivalent: None – sorry Oregon, you just can't do barbeque like Texas can. But I guess that's to be expected.