I am obviously biased, as I am a born and bred Portlander, but I strongly believe Portland is one of the best cities in America.
Sure, the traffic and rent prices are both getting outrageous. There is a rampant homeless problem these days. And yes, Portlandia is really not that far from reality with the mix of bearded and tattooed hipsters, angry bicyclists and hippies (but that quirkiness is definitely part of the charm!).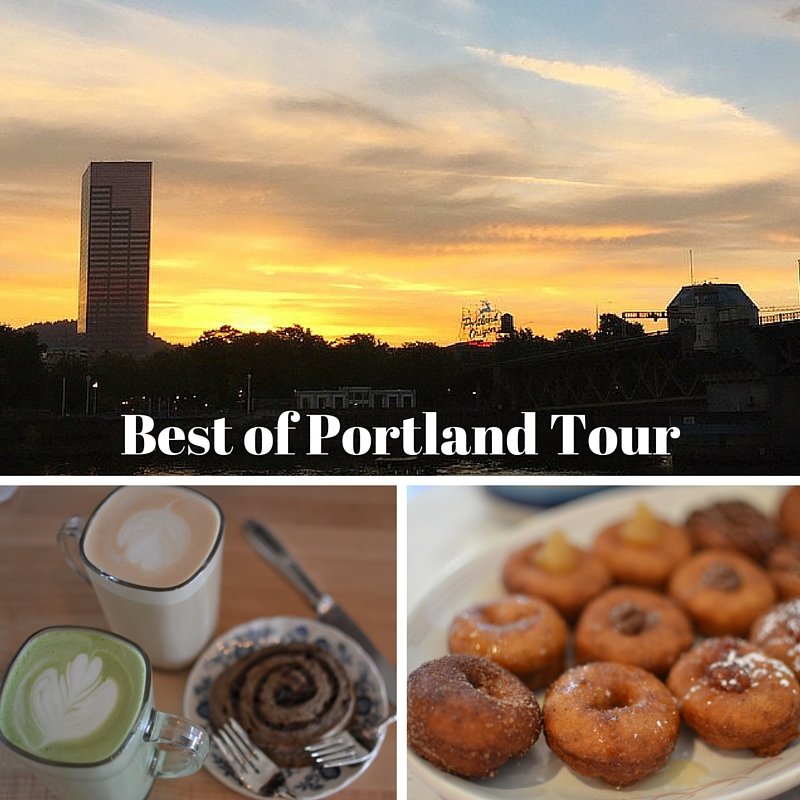 All that aside though, there is beautiful scenery with the mountains, the coast and wine country at our fingertips. Tons of outdoor activities and friendly people. Amazing food, beer, coffee, tea, all of which is locally made and (comparatively) affordable. And don't you dare tell me, there is anywhere near as heavenly as a 75-degree summer day here.
So when I get asked what to see, where to go and more importantly, where to eat when coming to visit Portland, I get really excited to share my love of this city.
Whether you are visiting the Rose City or not sure what to do with your out-of-town guests, here are my favorite activities turned into a 5-day itinerary. Be sure you get outside the downtown corridor to really experience Portland. And of course, come hungry! Don't worry, as I love being active especially to work up an appetite again, I've fit in lots of walking as well.
Go figure, I couldn't quite make it all fit in a 2 or even 3-night stint so this will be a 2-part series. Below are Days 1-3! Check back next week for Days 4-5!
—
Best of Portland: Days 1-3:
Wednesday (NW/Pearl):
Kick off your tour with breakfast at Tasty n Alder: Part of the John Gorham empire, which is quintessential Portland. Be sure to get the Korean Fried Chicken. This place (and its sister restaurant Tasty n Sons) always has a long line on weekends, so be sure to go during the week.
Grab coffee at Barista and macarons and croissants at Nuvrei to enjoy while walking around the Pearl District. Check out Powell's Books and Made in PDX store and QUIN Candy to take home Portland-made goodies!
Lunch at Maurice: Charming little luncheonette with Scandinavia meets France eats. Chef owner Kristen Murray's desserts are as delicious as they are beautiful. The black pepper cheesecake is not to be missed.
Head up to NW 23rd for some boutique shopping and perhaps a distillery tour of Aria Gin
Dinner at Ataula: Enjoy some of the best tapas and paella outside of Spain.
Thursday (North Portland)
Breakfast at Sweedeedee: anywhere with fresh baked bread has my vote pretty quickly. Their ginormous slices of fluffy wheat toast served with eggs are a perfect way to start the day. Especially when paired with their Salted Honey Pie and decadent chocolate chip cookies. This place is also crowded on weekends, so go during the week if possible.
Take a walk around the Penisula Park rose garden and Alberta Street's shops and boutiques to get a feel for the true hipster vibe of North Portland.
Grab lunch at Bollywood Theater: Indian food like you've never had, with a "street food" flair and a fun casual vibe. I opt for the the Kolkata street stall dish of Kati Roll, made with paneer cheese, egg, pickled onion and green chutney all rolled in a house made paratha flatbread.
Afternoon treats at Pip's: make a hard pass on Voodoo Donuts and opt for driving to North Fremont for mini, made-to-order doughnuts from Pip's, topped with things like honey and sea salt or Nutella. Pair your doughnuts with their house made chai and you'll never leave this city.
Stroll around Mississippi Ave (or better yet, take a Forktown Food Tour!)
Time for drinks! Grab a cocktail on the patio at Interurban or a boot of beer at Prost
Dinner and ice cream at Lovely's Fifty Fifty: creative pizzas like hedgehog mushrooms, broccoli spigarello, horseradish cream and mustard flowers on the fluffiest, thick crust, delicious seasonal salads and homemade ice cream. What else do you need? Follow Chef Sarah Minnick on Instagram and you'll want to get there ASAP.
Friday (Downtown):
Breakfast at Ken's Artisan Bakery: pick up pastries on-the-go from one of Portland's oldest and most loved bakeries.
Hike in Forest Park: with over 5,000 acres and 80 miles in trails, right in the heart of downtown, you can't go wrong here. I do love the hike from Lower Macleay to Pittock Mansion though as you get both the nature scenery and the gorgeous views of the city and Mt Hood once you reach Pittock Mansion (about a 5-mile round-trip hike).
Lunch at Pine Street Market: head back to downtown to experience Portland's new food hall with superstar restaurants like Marukin Ramen and Kure Juice Bar. Everyone can get their own thing and share their eats (or not…) at any of the communal tables.
Spend the afternoon napping or getting in some tax-free shopping downtown
Dinner at MEC: Go Mediterranean for dinner. MEC is another of John Gorham's fantastic restaurants with an Israeli twist. He does it really well. Their pita that comes fluffy and fresh from the oven is top-notch. I also love the house made labneh cheese served with crispy fried cauliflower and the mejadara rice and lentils, that may sound boring but is tastes anything but.
Drinks at Green Room and/or Multnomah Whiskey Library: MWL is one hot commodity in Portland. And while it is rather expensive and perhaps a tad pretentious, it is also a beautiful and fun space, with large bookcases, fireplaces, leather couches and grandiose liquor displays. You likely will have to put your name on the list to get in, so grab a drink at their sister bar downstairs called Green Room. Their fantastic cocktails will make you reconsider why waiting is a bad thing.