Well, this has been one crazy week, hasn't it?
Election aside (let's avoid that topic on here, shall we?!), I also managed to get myself sent to urgent care, getting numerous xrays after being a total klutz, tripping while at the gym and landing all my weight on my elbow. Ugh… so this post will be a bit shorter in words, as typing one-handed is shockingly time consuming (as are easy everyday tasks like getting dressed or opening a jar of Talenti ice cream!).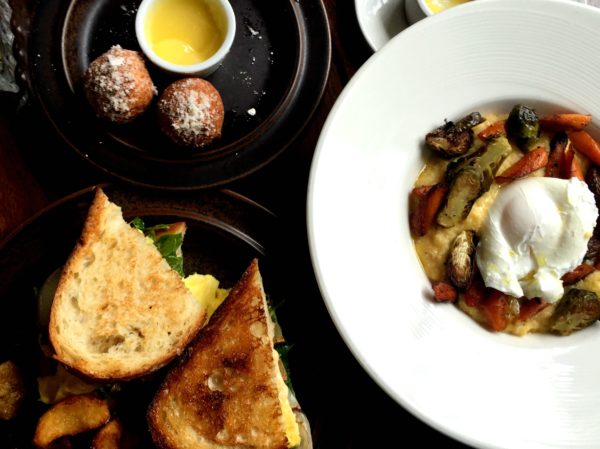 As it has been a bit since my last seasonal "Favorites" post, I've got plenty of new hotspots to share! Where have you been this fall? What are you loving?
Where I'm been eating – new finds:
Tapas from Urdaneta: I was completely impressed by this new Spanish restaurant off North Alberta. It has only been open a few months but it seems like they've got it dialed in. The service was wonderful – friendly and helpful. The wine list was full of intersting and well-priced Spanish wines. And of course the food was spectacular. Top two dishes: roasted calabaza and delacata squash pureed on top of toasted bread with tomato conserva and torched cana de cabra cheese; and the Fideos made with noodles toasted like paella, mushrooms, pistachios, cana de oveja cheese and grapes. I was initially skeptical of this dish with a somewhat weird selection of ingredients but it was insanely good.
Dine like you're in Israel at Tusk: The new Israeli-inspired, veggie-focused restaurant from Chef Joshua McFadden of Ava Gene's stands up to the hype. Be sure to get the Magic Carpet Ride, a superbly priced $45 chef's choice dinner, so you can try all sorts of dishes. And don't dare  leave without dessert. Nora Antene, formerly of Le Pigeon, makes some of the most exquisite, unique desserts I've ever tried. While they may sound weird, like Eggplant and Zucchini Cake, it will blow you away how delicious they are.
Pizza at Please Louise: I love that the NW is getting some more casual weeknight type spots that still serve good food. Please Louise fits in perfectly. Cozy laidback space, friendly service and damn good pizzas. And no wonder, as the chefs' resumes include Wildwood, Tasty n Alder and Le Pigeon. Current seasonal pizza sounds like a dream come true: roasted pumpkin, hot Hatch chiles, harissa ricotta, and tomatillo sauce.
Where I'm been eating – old haunts:
Southern family-style wonders at Mae: Sure, it's tough to get a reservation at the pop-up in the back of Old Salt Marketplace but trust me, you won't regret waiting anxiously by your computer so that when the email pops up announcing new reservations comes in, you're ready to book. Every dish, even the salads, are carefully crafted, layered with flavor and so good you won't want to stop eating. My favorite on the last visit was the Pimento Mac 'n Cheese topped with potato chips. My inner child has never been so happy.
Brunch at Accanto: One of the city's best Italian restaurants is now also serving up brunch. This is the perfect spot for that classier late morning meal, where you can avoid the rest of the city's brunch chaos while not breaking the bank (plus you can make reservations!).  Be sure to order a side (or two) of the crispy potatoes which were fried and salted to perfection.
What I'm been making:
Pumpkin Cinnamon Rolls from Cooking Light: Nothing says fall like pumpkin. These pumpkin cinnamon rolls are easy to make (seriously!) and so delicious.
Chocolate Zucchini Cake from Isa Does It: Don't be fooled by the fact this cake is vegan, it is rich and meets every chocolate craving, while reducing some guilt when you eat half the cake like I did…
What I'm been reading:
Shoe Dog by Phil Knight: I was a tad iffy on this book at first, but Uncle Phil as us Oregon Ducks call him is quite the writer. Funny, self-deprecating and engaging, he shares the story of creating Nike from the ground up and all the struggles that comes with starting a business.
Ready Player One: A fun fictional read about 2044 where nearly everyone spends their days within a virtual reality world. The protagonist, a sweet but awkward teenager, is on the mission to complete the puzzle set by the virtual world's creator. It's an entertaining read, especially if you lived through the 80s with all the references to that decade.
Alone on the Wall: Even if you don't rock climb, the story of Alex Honnold, one of the world's top climbers, is inspiring and adrenaline inducing. Alex is known for free soloing, where you climb rock walls and mountains without ropes or assistance. Despite that (or perhaps because of it), he smashes records and lives life without fear.