1414 SE Morrison Street & 14th • FarmSpiritPDX.com • @FarmSpirit
I mentioned briefly when describing all the outstanding meals I had during my birthday week how it was all culminated with an exquisite dinner at Farm Spirit. Now here you get to know a little more. This was truly one of the best meals I've had in quite a while and not just because I have been doing the vegetarian thing (admittedly, minus Feast weekend where I ate all the things…). So no matter if you are a carnivore or are more prone to sticking with vegetables, I promise you, this dinner will impress you.
The Concept:
We've all heard of the prix-fixe tasting menus. Think of Portland's Beast or Holdfast Dining, or basically any Michelin-starred restaurant. But almost always, they are all about the meat. Farm Spirit however is flipping that concept 180 degrees, with an all vegan menu. And no, this is nothing like the "hippy" vegan place with wheatgrass shots, smelling of patchouli oil. It is more in line with the Italian restaurant Joia Alta Cucina Naturale, Europe's first Michelin-starred vegetarian restaurant.
Instead this is right up there with any other exceptional modern restaurant, meat-centered or otherwise. Every dish was beautifully plated and immaculately prepared. Not only was it amazing how they made courses that I would have thought required animal products (for instance, the meringue to end the course was fantastic, how did that not need eggs?! [Apparently this is how, crazy!]), but it showcased how meat is not needed if food tastes like that.
The Chef:
After owning Portobello, Portland's excellent vegan trattoria, for 6 years, Chef Aaron Adams decided to branch out and show off his creative skills in a much more intimate setting. With only 14 seats around the Chef's Counter, diners get a fun experience, seeing the gorgeous plating in action and learning about how they only carry local ingredients (hello Oregon-born quinoa!). I loved learning about Aaron's background, stories from his past and how they created each course.
The Meal:
9 courses of incredible food (12 if you go on the weekends!). The exceptional standouts:
A beautiful bowl of "tomato water" mixed with ground cherries, herbs and nasturtium capers.
Eggplant that was cooked something like 4 different ways (roasted, grilled, sauteed and smoked?) then served atop a coriander filbert yogurt with fried hazelnut, fennel pollen, mint and dill. I wanted to like the plate clean of this sauce.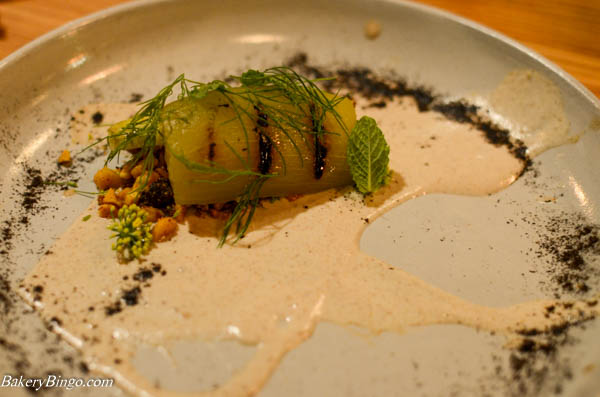 Of course dessert one also one of my favorites: olive oil semi-freddo topped with basil, rye, and the most amazing candied Sungold cherry tomatoes.
The Drinks:
Since it was my birthday after all, I went with the wine pairing. In retrospect, I think I would have just preferred ordering wines by the glass which is also an option, though not as obvious.
I would have loved to try their non-alcoholic pairing which included things like freshly squeezed watermelon juice infused with mint or house made Earl Gray kombucha. Next time, that's being added to the list.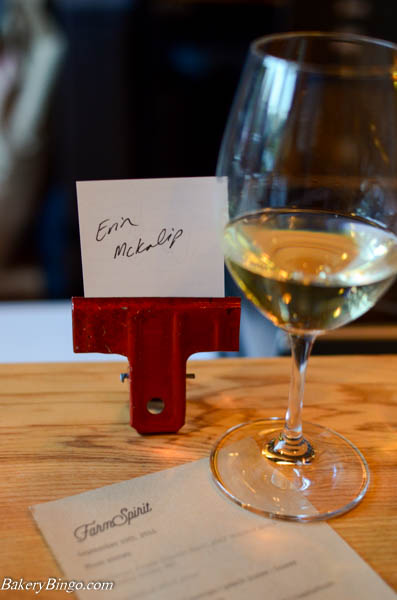 The Extras:
One of the things that made me love Farm Spirit so much was that they thought about the small details. Once you walk in, the most delicious piece of house made bread topped with an eggplant and tomato spread is there waiting for you. It's like they know how hangry I can be coming from work.
The music rocked. The soundtrack the night I was there included the Cars and Queen. Can't get much better than some classic rock while eating a fancy meal! I loved the decor in the bathroom which included a cute little gnome. To top it all off, we were sent home with a breakfast snack of house made zucchini bread. Any place that helps me feed me even after I leave is pretty awesome.
The Specifics:
With just only one seating a night at 7pm, Wednesday through Saturday, reservations are a must. The first few months were booked solid but it is much more manageable to get a spot now. At $65 a person for 9 courses ($75 for the 12 course meal), for the quality of what you are getting, it is also pretty darn reasonable in my opinion.