Who doesn't love to win free stuff?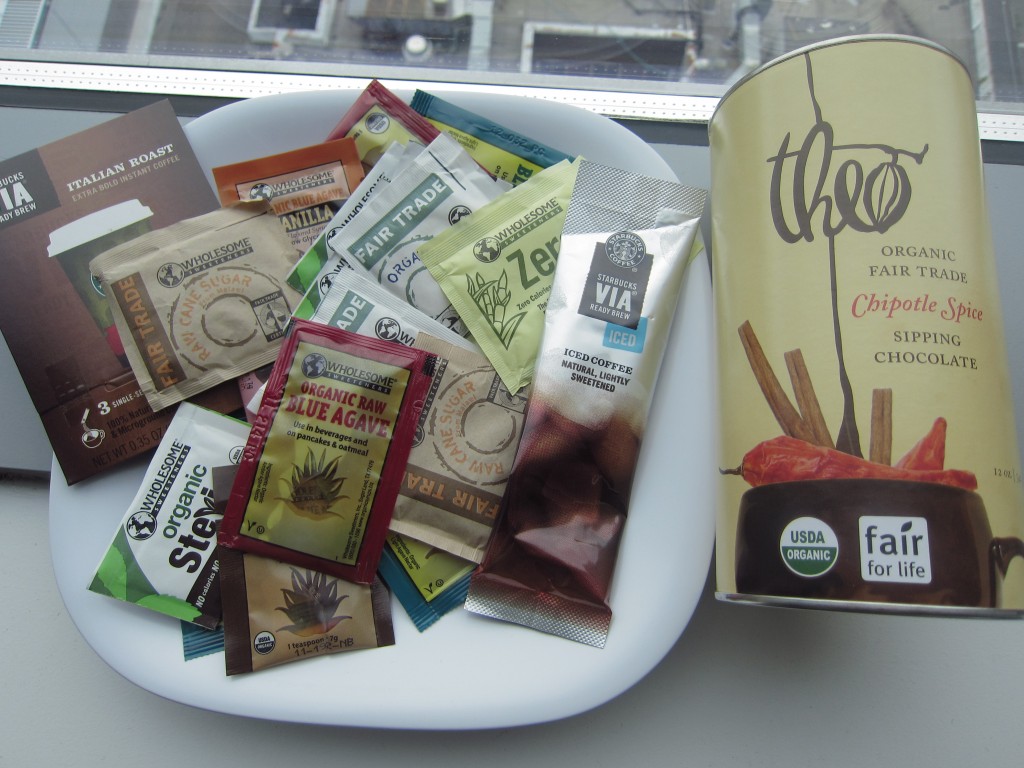 A few weeks back, I attended the BlogHer Food Blogger Conference and got to meet a ton of wonderful people from a variety of sponsor companies, like Bob's Red Mill, Wholesome Sweeteners and even Starbucks.  I got a lot of great things and thought I should share the love!
This giveaway grab bag includes:
–          Starbucks Via Italian Roast Instant Coffee and their new Via Iced Coffee
I've always had fond memories of Starbucks despite never being a coffee drinker. Over the years, I have had numerous coffee dates with great friends at Starbucks.  When I was in high school, it was one of the few places open 24 hours to minors. If only they had the Starbucks Gold Card back then! And now whenever I decide to indulge a little, I absolutely love their Iced Soy Chai. Plus I'm proud to it is made with Tazo Chai which was started in Portland (Oregon pride!).
–          Theo Chipotle Spice Sipping Chocolate
Sipping Chocolate is like hot chocolate but better. It is thicker, richer and more decadent.  This favor, made by the Seattle chocolate maker, has an added kick of spice.
–          Wholesome Sweeteners variety pack with sample sizes of agave, flavored agave and stevia.
Interested in baking or just using sugar substitute like agave but haven't gotten yourself to buy any yet?  Well this little variety pack is the perfect solution to get you going.  Their flavored agaves like maple and vanilla are perfect toppings for pancakes or waffles.
So how do you win this awesome assortment of goodies?
It's simple, just comment below and let me know your favorite summer meal.
Hands down, mine is anything that involves Oregon strawberries.
Want more chances to win? For additional entries, follow me on Twitter and Like Bakery Bingo's Facebook page if you haven't already done so.
Enter to win by Sunday, July 8th!
I will select the winner using a nifty random number generator and will announce the lucky winner on Monday, July 9th.