I've been doing this thing lately where I totally mess up the seasons. To give you one embarrassing example, when I was surprised by the cost of flights to Arizona this week, I actually said "is it because of spring training or something?" Oh wait, it's December 1st. Definitely not. I'm not sure what happened but I think it has to do with the fact that 2016 has zoomed by.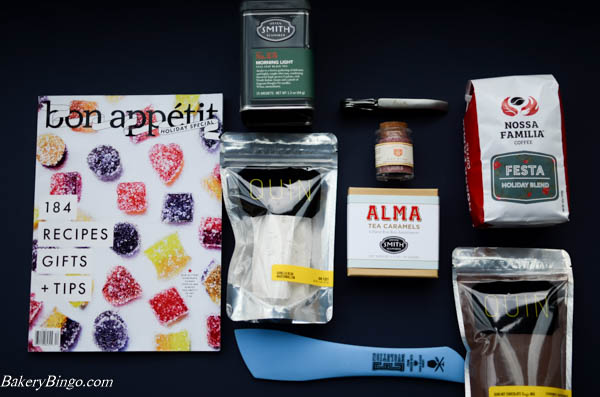 Now, with Thanksgiving behind us, it is onto those pesky present-based holidays. I dig the holiday lights, the festive Christmas trees and of course all the cookies. But the present ideas is hard. If you're like me, getting some suggestions is a much-needed stress reliever. As a food lover and celebrator of amazing local products and businesses, I've compiled my Top 10 food-centric Portland-based gifts to be giving this year, perfect for anyone on your list.
Plus, I've got an awesome giveaway of most of these items for you, lovely readers!
Enter to win by leaving a comment below or via Instagram between now and December 10th! The winner will be announced on December 12th!
Give 'em sweets:
Alma Chocolates: These handmade truffles and chocolate bars are outstanding. Go with the Alma Favorites Collection for the chocoholic in your family, which includes 8 bonbons, a Hazelnut Crunch Double Bar, and their killer Salted Caramel sauce. Perfect for: the chocoholic on your list.
Quin Candy Hot Chocolate Magic Mix + Vanilla Bean Marshmallows: With the cold winter months ahead, this mix is seriously the best, especially with their freshly made marshmallows. Perfect for: the kiddos.
Give 'em a drink:
Sokol Blosser Wine: This is one of my favorite wineries in the Willamette Valley with their gorgeous tasting room and great wines at reasonable prices. The Sparkling Rose of Pinot Noir is my top choice! Perfect for: that holiday party you're attending.
Steven Smith Teamaker Tea: As noted in my last post, I love the tea lattes from Smith. Pick up a Bungalow Crème Caramel Latte Kit for a superb present. Looking for something simpler? Their holiday the Silent Night holiday blend is outrageously good. Perfect for: your mother.
Nossa Familia Coffee: With a family farm in Brazil and a roasting facility in the Pearl, Nossa focuses on sustainability and bringing you high-quality coffee. I'm not a coffee drinker but I love what they are about. Pick up the Festa Holiday Blend made with Brazilian bean and hints of mulling spices, orange zest and plum. Perfect for: the coffee addict.
Make 'em cook:
Gift subscription to Bon Appetit magazine: While not Portland-based, this magazine is a huge supporter of the Rose City, regularly featuring our top restaurants and sponsoring Feast. I truly love the articles, Editor's Note by witty Adam Rappaport and the recipes they create. Perfect for: the passionate home cook.
Everyday Cooking by Minimalist Baker: Portland-based blogger Dana Schultz has some of my favorite recipes. Her new cookbook is filled with delicious, vegan, easy recipes that require only 30 minutes or less, 1 bowl or 1 pot, or 10 ingredients or less to prepare. Perfect for: your health conscious friend.
Take 'em on an adventure:
Explore Portland on a Forktown Food Tour: I love experiential gifts so taking folks on these tours is a total blast, even for locals. Give a gift certificate or join along. Perfect for: your parents or visiting relatives.
Eat your heart out at Mae PDX: Impress them with reservations to the hottest supper club in town (get on their email list and check your email often for when they open up the next reservations!). The Southern cooking by Maya Lovelace in a cozy, family-style setting is insanely good – those fluffy biscuits and perfectly crispy fried chicken, you won't leave hungry or disappointed. Perfect for: a fun date night with your special someone.
Learn all about wine at Angela Estate: Wine tasting and lunch is a fabulous way to spend a day, no matter the time of year. At the Angela Estate tasting room, tucked next to Inn at Red Hills in Dundee, not only do they specialize in delicious Pinots but also teaching guests all about wines in an incredibly entertaining and approachable manner. Perfect for: your best girlfriends.
Don't forget to enter to win the Bakery Bingo Holiday Gift Guide giveaway!
Enter by commenting below or via Instagram.
One lucky winner will win:
December issue of Bon Appetit magazine
Sokol Blosser spatula, opener and Pinot Noir salt
Angela Estate Winery wine opener
Box of Alma Chocolate truffles
Carton of both Smith Tea Silent Night and Morning Light
Quin Candy hot chocolate mix + vanilla bean marshmallow
Nossa Familia Festa Holiday blend ground coffee
Max of two entries per person. Must be over 18 and live in the US to win. Contest ends December 10th 11:59pm PST. Winner will be announced December 12th.