How much are you totally digging this beautiful spring/summer time weather?! Oh man, it's a nice change up. I spent a portion of the weekend on the deck soaking up the sunshine. It was glorious. What about you?
I am now on a cracker-making kick, ever since trying this Spicy Cocoa Nib recipe by Theo Chocolate. So when I was thinking about what  to make for a Passover post, homemade matzo now sounded like an achievable endeavor!
Now, I admit, I'm not much of a Jew. Ok, I mean I was raised Jewish and by the wacky birth rule, since my mom is, I technically am too. But without getting all philosophical on you on a blog post, I do not really practice. I do however love the culture aspect of being Jewish – the welcoming community, the focus of food for nearly any holiday or event, and the resulting overeating. Nearly all of my good friends from college are Jewish, us having met at the Jewish student center on campus having bonded over that aspect of community. We even went to a party freshman year with a box of matzo. Yes, booze and matzo. The making of the best parties.
As a weird kid, I also loved bringing my matzo PB&J sandwiches to school during Passover, just because I could show I was different. I got to tell everyone all about how special I was and why I was eating unleavened bread, while they ate pizza (again, I was a weird kid…).
Unlike the cardboard taste Manischewitz box matzo, the homemade version is much more like a delicious cracker. Truly. Even Brice enjoyed them just as-is and ate nearly all of them.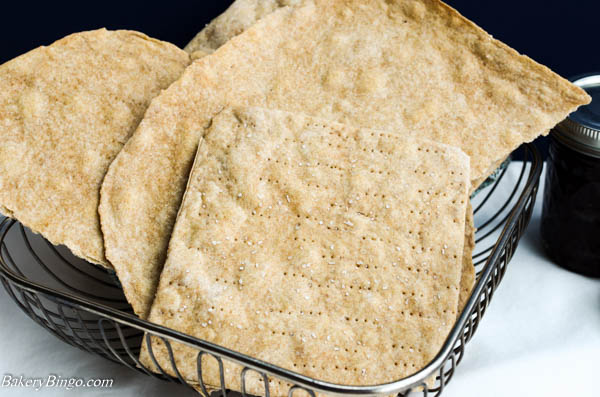 While these are shockingly easy and quick to make, they will certainly impress your Sedar guests. So it's really a win-win all around.
Bake plain. Bake with kosher salt. Add toppings or spreads. The options are really endless. Top with traditional charoset (cinnamon and apples). Smear with peanut butter and jelly. Class up the matzo game with my favorite Dalamtia fig spread available at Whole Foods Market's cheese counter (add goat cheese to this pairing as well, if you don't mind the whole issue of dairy being on the same table as meat).
I admit I tried making up some homemade Nutella to add on top. Yup, you heard that right. However, sadly despite four different recipe attempts, it just didn't taste like the commercial kind. So no recipe in that realm, at least today. Instead, what I can offer you, is heading to Whole Foods Market where at most stores, you can grind your own chocolate-hazelnut spread right in their bulk section! Trust me, it is way better than my not-so-great chunky version. [Side note: I was notified by my much better Jewish friend Rachel that both peanut butter and Nutella sadly are not kosher for Passover, so don't be like me if you are more strict!]
For the matzo, I went with a  blend of 50-50 whole wheat flour and all-purpose flour, but you can alter the ratio or just use all AP flour if you'd like. As you can see I'm a big fan of the Whole Foods Market bulk section, that's where I picked up my flour mixes as well. So as with most of my baking I picked up my ingredients there, especially as I don't always bake with whole wheat flour so it's nice not having to buy a crazy amount for only a few recipes.
Whole Foods Market will also be stocking up their stores with Passover-friendly ingredients and snacks in case you're planning to keep kosher this year. Like these Terra Chips, which are addictively good and make me feel like I'm eating healthy with all the root vegetables, I found out yesterday on my regular jaunt to WFM that they are actually Kosher for Passover and on sale now for 2 for $6. Score!
Whether you are Jewish or not, happy spring, friends!
—
Homemade Matzo
Hands-On Time: 20 minutes; Total Time: 40 minutes
Yield: About 12-16 5″ squares
Ingredients:
2  cups all-purpose flour, plus more for rolling out (or use 4 cups of all AP flour)
2  cups whole-wheat flour
About 1 cup warm water
2 tablespoons olive oil
1 teaspoon kosher salt, plus more to topping
Preheat oven to 500 degrees. Place a baking sheet or pizza stone in the oven while it is preheating, so it gets all warm as well.
Preferably in a electric stand mixer with a dough hook (though you could do this by hand if necessary), combine flours, 1C of warm water, olive oil and 1 teaspoon of salt. It is better to add less water at first to make sure the dough isn't overly sticky. If it is dry and not coming together, then add about 1-2 tablespoons of water until the dough combines nicely.
Divide the dough into about six smaller portions and roll out on a lightly floured surface. Roll as thinly as possible. Cut into squares if desired, or keep as an oval shape for a more rustic look.
Remove the baking sheet from the oven and place the rolled out dough onto the sheet. The dough will not spread, so feel free to put the dough close together. Prick holes in the dough using a fork. Sprinkle with additional kosher salt (if desired).
Bake for 5 minutes. Flip the dough over (as safely as possible!) and bake for another 5-7 minutes, until golden brown, slightly bubbly, and crispy. Note: baking will take less time depending on how thinly you roll out your dough.
Repeat with the remaining dough. This will keep for 3-4 days in an airtight container, once fully cooled.
Disclaimer: Whole Foods Market did provide the ingredients for this post but as I've mentioned hundreds of times before, I really do shop at Whole Foods Market and all thoughts are my own!