The other day I received an email from Chloe of Little Green Pickle inviting me to "A Spark of Spring on Friendsday Night" at 8pm last Wednesday at the Eastside Exchange Rooftop. The description was brief, there would be "bites from Chef Naomi Pomeroy of Beast, original cocktails from mixologist Kyle Webster of Expatriate, and upbeat songs from Fort Atlantic, all while sipping on some IZZE Sparkling Juice."
I didn't need to know much more than that to send my quick RSVP of yes, absolutely I'll be there.
I absolutely love Naomi Pomeroy, who has been nominated for James Beard awards for her incredible six-course prix-fixe North Portland restaurant. And as someone who is obsessed with cooking shows, I also love that she was a fierce competitor on both Top Chef and Iron Chef.
And I sadly still have not been to Expatriate (this is a shame, I know – who wants to be my date?!), but I have of course heard so many great things about Kyle's cocktail mastery.
As for IZZE, I've had some of their sparkling fruit juices at various places around town while grabbing lunch or just wanting a non-caffeinated, non-water beverage. Made with just sparkling water and real fruit juice, their juices have no refined sugars, preservatives or artificial favors. Admittedly I didn't really get how IZZE would connect into an event like this as I often thought of this juice drink as a soda-alternative, mostly for kids. But I was intrigued to see how they were going to be incorporated into the menu.
With all of that in mind and my limited knowledge of the event, I figured this event would be pretty casual. It started at 8pm and featured "bites." Plus this is Portland, when events are almost always more casual than not.
So I was a little shocked when I showed up and saw some girls wearing fancy dresses. In my jeans and sweater I wore to my super-casual office that day, I felt a tad undressed. Fortunately I saw my blogger friends Jane and Rachel while I was standing awkwardly at the door and they assured me I looked fine. After a quick greeting from the IZZE staff and Brooke from LGP, we were whisked upstairs to the rooftop.
I had never been to the Eastside Exchange and was blown away by how awesome of a spot it is. Set right off the Burnside Bridge, it has a gorgeous view of downtown on one side and the Convention Center on the other. (Seriously if you're planning a wedding or event, go check it out.)
The decorating committee did not disappoint either. Beautifully set tables with vintage chairs, flowers everywhere, fun nametags, all tucked into a cozy tent to keep us somewhat warm on a chilly March night. I couldn't get over how swanky (but unpretentious) it was.
After finding our seats next to a few other awesome bloggers – Michelle, Sara, Kelly of Happy Hour Honeys, and Karen of Drink Portland, we noticed the menu for 5 insane courses.
Uh, so much for my idea that this was going to be a casual event with just some light snacks! Not that I was complaining by any means! (More that I probably didn't need to have that giant sandwich an hour earlier…whoops.)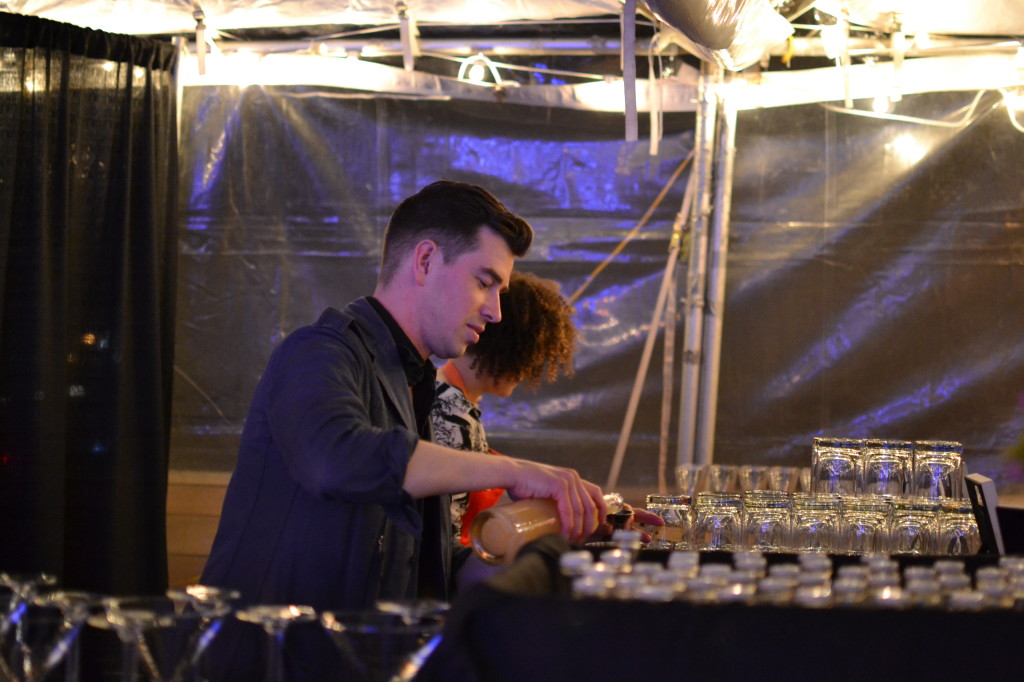 Before the dinner got started, we wandered to the bar to choose from one of four fun cocktails featuring IZZE, made by Kyle Webster. I tried the Granada Cocktail, made with IZZE Pomegranate, Plantation 3 Star Rum, Lemon Juice, Pierre Ferrand Dry Curacao, and Campari. It was refreshing and tasty, though perhaps more a drink for a hot summer day on the beach rather than a wintery night.
Other drinks included the Irish Bramble with IZZE Blackberry, Jameson Irish Whiskey, Lmeon, Creme Yvette and Angostura Bitters; the Oran Spritzer with IZZE Clementine, Tequila, Orange Juice and Lemon Juice; and the Forbidden Fruit with IZZE Grapefruit, Medoyeff Vodka, Aperol, Grapefruit Juice, Lemon Juice and Priorat Natur Vermouth.
They were all really fun and creative cocktails.
Now onto the food, all of which also incorporated IZZE. When I described it to my mom yesterday, she said it sounded like an episode of Chopped. Probably why Chef Naomi did so well at the challenge of flawlessly incorporating juice into incredible dishes.
First up with the Carrot & Clementine Veloute soup, made with IZZE Clementine which just gave a hint of citrus. It was topped with herb sauce verte and candied hazelnuts to add some texture. I could have add about bowl after bowl of that soup.
Next was the Pork Ribs with a Spicy Pomegranate BBQ Sauce that used an IZZE Pomegranate reduction. These were served with delicious, fluffy fresh baked Semolina Dinner rolls. I don't really like ribs, but the sauce was superb and I would love having it for some grilled chicken or salmon. Chef Naomi even demoed the sauce and showed how easy it was to make, so maybe I'll give it a shoot now that we're quickly approaching barbecue season! (The recipe is below and also should be on the IZZE website soon.)
Third course included Seared Ahi Tuna and giant pieces of fresh avocado all drizzled with a ginger-IZZE Grapefruit dressing and pepper cress. Really good and flavorful.
The last savory course was hands-down my favorite – Fregola pasta (somewhat similar to pearl cous cous) topped with grilled broccoli raab, Maitake mushrooms and currants. I have no idea what was done to those mushrooms, but holy cow they were incredible. Crispy, lightly marinated and great texture. I usually don't like mushrooms, but between this dish and the candy cap mushroom dessert at Urban Farmer a few weeks ago, I'm quickly becoming a mushroom lover. I really hope this recipe gets posted (and that I can make it even half as good as to Chef Naomi).
To finish off the night, we enjoyed a Blackberry Trifle Cake made with Blackberry and Lime IZZE sorbet and candied violets. The sorbet was fresh and a perfect palate cleanser after so many flavors during dinner. It was a great, light dessert to end the meal.
In between all of the food, I got to talk with Nora and another member of the IZZE team. It was great hearing why they chose Portland for this event, which is the first of its kind for IZZE. They wanted a hip area where they could connect with millennials, who like celebrating with friends and throwing fun dinner parties. And why not include IZZE in that mix?! It is perfect for easy cocktails (or complex, hand-crafted cocktails like Kyle was creating). And clearly they are all about fun and celebration.
I loved the quote on IZZE's Instagram page that Friendsay Night is "an event that celebrates the start of spring, but any night is Friendsday night with good friends, drinks, and fun!"
This night was no exception. The food and drinks were delicious, the crowd fun and lively, and I got to spend more time with some blogger friends I love. All and all, such an amazing night.
A BIG thank you to the IZZE team for putting on such a fun and well-run event, especially Nora who was great to sit and chat with. And of course thanks to Little Green Pickle for giving me an invite.
IZZE Fruit BBQ Sauce