921 SW Oak St – between 9th and 10th • mauricepdx.com • 503.224.9921
Hours: Mon-Sat 10am-7pm
This little French-Norwegian luncheonette and pastry shop in the West End of downtown has become one of my new favorite places in Portland. Maurice is owned and run by the talented pastry chef, Kristen Murray who has an impressive resume making desserts for acclaimed restaurants like Paley's Place, New York's Aquavit, Boston's No. 9 Park.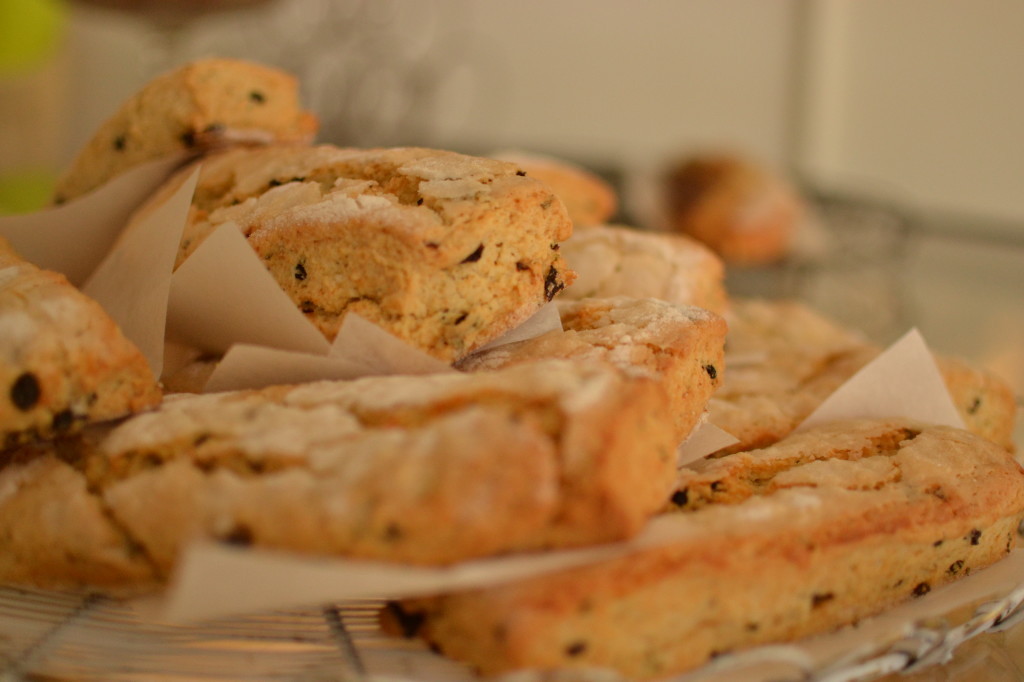 Kristen opened Maurice in late December after raising over $40,000 in a Kickstarter campaign. Set on the short diagonal Oak Street near Powell's, the small space is transformed into a quaint European cafe. The open kitchen and pastry case filled with beautiful treats greet you when you walk in. With only 580 square feet, it is a tight squeeze but it works with the the all-white decor and big windows giving lots of light.
"Luncheonette is open to everyone who enjoys the sweeter things in life, with no reservations." With that slogan and Kristen's background, of course you can expect to get some great sweets. Once you take a bite of a Maurice pastry, it becomes very obvious why she has been so successful. Inspired by her time cooking in France, the menu includes delicious brioche, macarons, scones, tea cakes.
I recently enjoyed a rhubarb-vanilla brioche roll that was fantastic with fluffy dough and powdered sugar topping and some fresh-baked cocoa cookies made with a hint of cayenne.
When I stopped in for lunch with my friend Courtney the other day, I knew I couldn't leave empty-handed, so I purchased a delicious rolled chocolate chip, walnut brioche to take home. It was the perfect treat to end the day.
Maurice also serves incredibly beautiful desserts showing off technique and finesse. It is fine-dining desserts in a more casual atmosphere. The Black Pepper Cheesecake was one of the best desserts I've had in a long time. Creamy, a slight kick from the pepper, a buttery sable cookie crust, a sweet citrus marmalade, and a gorgeous presentation.
For lunch items, Kristen prepares the most wonderful European-inspired dishes like oysters on the half, gravlax with tarragon, grapefruit and rye chips, and Lefse wraps, a soft crepe-like Norwegian flatbread. When I had lunch with my friend Maria there recently, I got a fantastic Moroccan-spiced lentil, fig, carrot salad. It was light, flavorful and unique.
While the American in me initially looks at the portion size and freaks out thinking "why is this dish so small?" I immediately change my tune and love it. You can get a rich entree like the seasonal quiche of the day with a super flaky crust and not leave feeling heavy and gross.
Knowing that the portion size wouldn't be too large, I didn't feel guilty about ordering the insanely good Polenta Clafouti the last time I was there. It is a creamy polenta custard topped with a beautiful soft poached egg, a pinch of salt and dill. Seriously, so good.
To be more French, you can enjoy your lunch with a glass of wine. I have yet to do that but I love the idea.
Even better, from 4pm to close, Maurice offers happy hour. Some wine or bubbles with one of Kristen's perfect pastries? Now that makes me happy.