1668 NW 23rd & Savier • PacificPie.com • 503.894.9482
Hours: Mon-Thurs 11am-10pm; Fri 11am-11pm; Sat 8am-11pm; Sun 8am-10pm
You know, starting a new job is exciting and fun. But it is also a little chaotic trying to figure out what the heck you're doing! That is definitely the boat I'm in right now. Not to mention all of the other things going on during the summer like fun events, weddings and friends coming into town, I am feeling super busy and between you and me, a tad frazzled. But despite my jam-packed calendar, I would never pass up an opportunity for a blogger's afternoon at Pacific Pie, which I was invited to two weeks ago.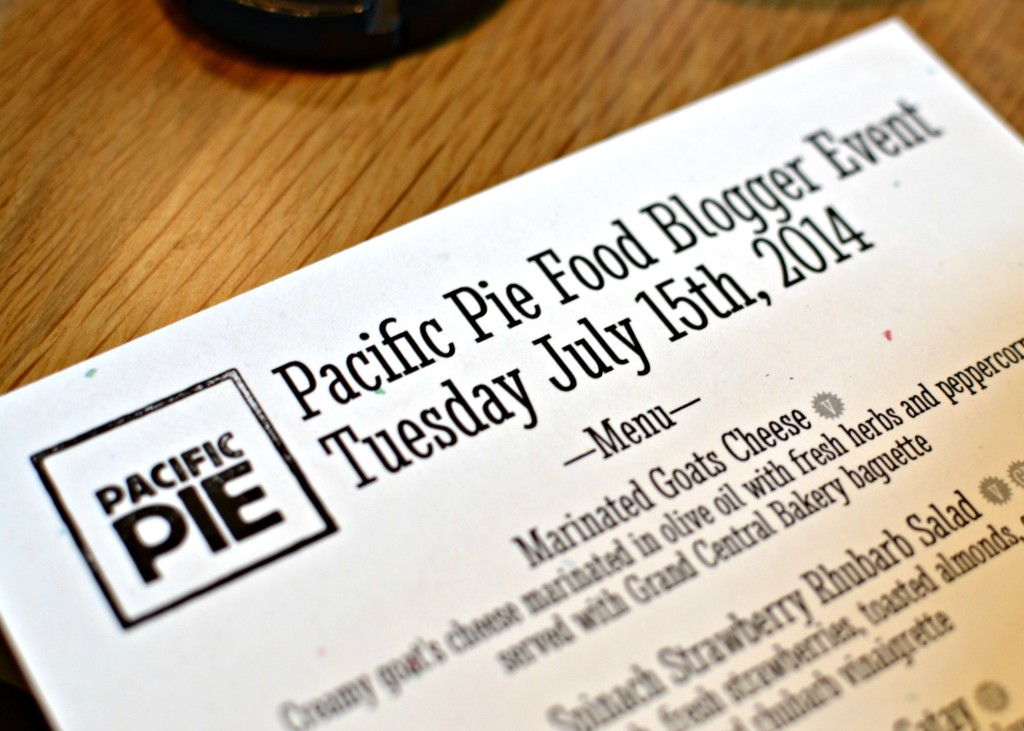 Pacific Pie owner Sarah, who is so sweet and wonderful, greeted me when I walked in with a chilled gin and tonic. It was like she knew it was my third day on the job and a drink was just what I needed!
Not to mention, it was one of the days that it was 90+ degrees outside so stepping into their delightfully decorated and air-conditioned space on NW 23rd was equally as needed.
After saying my hellos to some of my favorite local bloggers who were also in attendance (broken record alert: I love seeing these girls and becoming friends through these events!), I quickly hit up the food.
We got some staples on their Australian-inspired menu, like the Mini Chicken Pot Pies and my favorite the Curried Samosa Pasties. Pasties are kind of like calzones, where the dough is folded over to make a crescent shape. I love their variation on the traditional Indian dish, made with peas, carrots and potatoes and really flavorful spices and stuffed into a perfectly flaky pie crust.
Sarah wanted to also feature some of their non-pastry items that are now on the menu.
Chicken Satay, deliciously moist yogurt-marinated chicken breasts with a ginger soy slaw and peanut sauce on the side.
A fabulous summer salad of baby spinach, fresh strawberries toasted almonds, goat's cheese and a rhubarb vinaigrette.
Creamy goat's cheese marinated in olive oil, fresh herbs and peppercorns. You can't really go wrong with cheese on a piece of Grand Central Bakery baguette in my opinion, so I wasn't surprised I loved this dish as well.
Of course we also got to enjoy some desserts, because no event would be complete without some sweets! I love their mini pies, like the seasonal marionberry and of course the Chocolate Bourbon Hazelnut.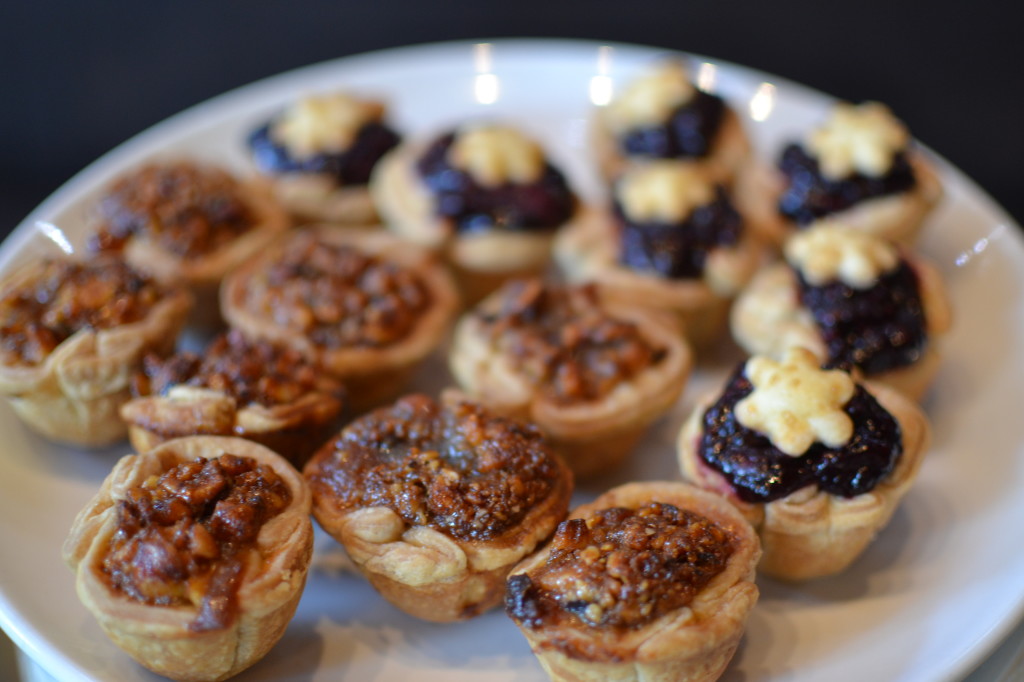 But for the most insane part of the night, I got to finally experience the Pie Shake. The description on the menu is pretty spot on: "Our amazing pie + ice cream = milkshake heaven." When I asked Sarah how they came up with the idea, she responded "Well one day we just thought, you know what would be fun? Putting some pie and ice cream in a blender."
We sampled the Chocolate Bourbon Hazelnut Pie Shake (which you can even get spiked with bourbon or rum!!). It was incredibly decadent, creamy and delicious. Despite my crazy sweet tooth, I don't know if I could have had much more than a few sips of that however, it was so rich. We also got the Key Lime Pie Shake which was tangy but sweet and so delicious. That one I would easily enjoy any hot summer day, or really just any day in general.
One of my favorite things about Pacific Pie is that it's open late, so it's a great spot for a late night meal or when you really want a dessert without having to do a full restaurant experience (seriously, why are there not more bakeries open late?!). After a nice post-work hike in Forest Park a few weeks ago, Brice and I wanted to grab a bite to eat but as it was already almost 9pm, we wanted somewhere fast and casual but still with a great menu. Pacific Pie was the perfect choice: casual, friendly service, you can order drinks and especially great for us as I always want dessert while Brice would rather have something savory.
To add to their offerings, Pacific Pie's NW location is now serving weekend breakfast. The menu includes morning pies and quiches like a Bacon Egg and Cheese Pie of course, but also other delicious sounding items like Sweet Potato and Veggie Hash and French Toast with a warm whiskey apple pie filling and whipped cream. Yum. I'm already thinking that will be our next post-Saturday hike breakfast location.
Also check out their original Southeast location at 1520 SE 7th Ave & Clay, open daily from 11am to 9pm.