No, but really how good does that pie sound? Awesome, right?! I love the idea of mixing chocolate with something salty, and I am slightly obsessed with peanut butter so adding that to anything is good by me. Hence my instant love for this pie.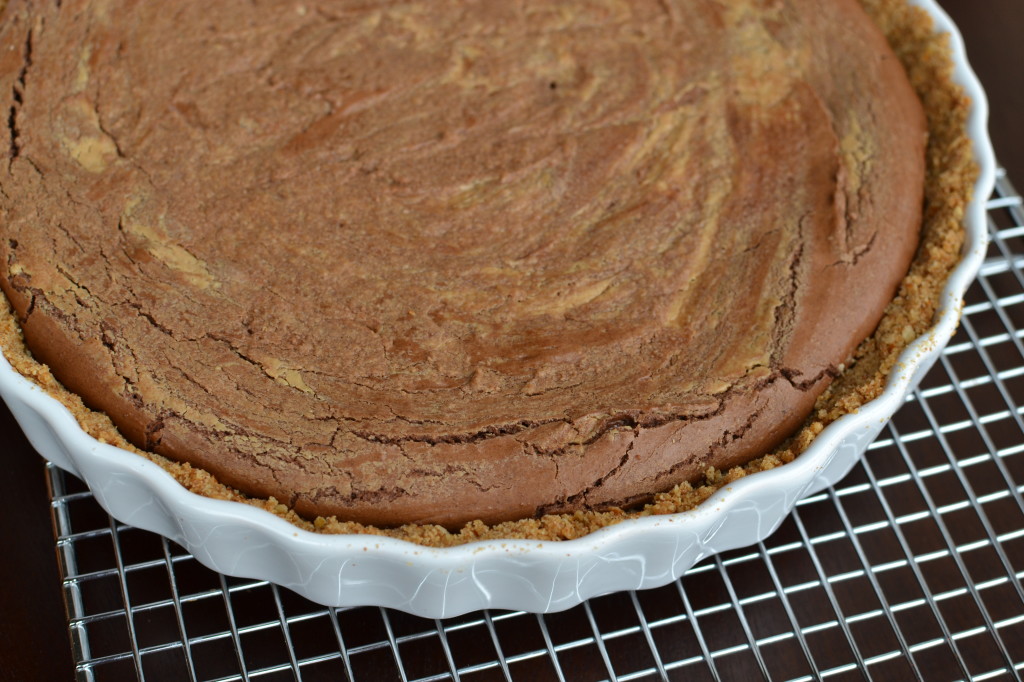 As I mentioned in my earlier blog post, I got a copy of Teeny's Tour of Pie to check out. I first made a really delicious Strawberry-Rhubarb Pie from her cookbook so I was excited to try another recipe as well.
Brice was skeptical at first. He was unsure about the whole idea of a "pretzel crust," which was somewhat similar to a graham cracker crust using mashed up pretzels. And he also didn't really know about the whole brownie in a pie aspect.
But luckily I never listen to his criticism when it comes to cooking or baking and I trusted my instincts that this would be a really delicious pie. And sure enough, I was right (as always 🙂 )
The pretzels offer a nice saltiness to offset the rich chocolate brownie center and bring out the swirled peanut butter goodness. Plus the crust gives a wonderful crunch.
For those of you who are nervous about making pie, this is a great intro pie. The crust is beyond easy and even a great way to get out some aggression if you don't have a food processor to mash all of the pretzels. And the filling is quick and forgiving. This recipe actually follows that old saying "easy as pie."
Want your own FREE copy of this cookbook? Just leave a comment on this post or my earlier one (sorry only one entry per person!) to enter to win your own copy of Teeny's Tour of Pie! Just include a comment about your favorite kind of pie or your favorite pie shop. I'll randomly draw a winner on Monday, March 28th.
Peanut Butter Brownie Pie with a Pretzel Crust
Recipe from Teeny's Tour of Pie
Crust:
Hands-on time: 15 minutes; Total time: 20 minutes
Ingredients:
1 1/4 C pretzel crumbs (about 2 C pretzels)
1/2 C (1 stick) unsalted butter, melted
Preheat oven to 350 degrees.
Grind up the pretzel crumbs using a food processor until they resemble coarse sand. Or place into a ziplock bag and crush them using a rolling pin.
Place the pretzel crumbs in a medium bowl. Pour the melted butter over them and mix with a spoon or rubber spatula until they are coated evenly and clump readily when pressed together.
Spoon 3/4 of the mixture into a 9″ pie plate and using your fingers, press the mixture up along the side of the plate until you have a 1/4″ thick shell all the way around. Spoon the rest of the mixture into the center of the pie plate and press it to form the bottom of the shell, making sure the bottom and sides are joined.
Bake until the shell is slightly browned, 5-7 minutes. Remove it from the oven and let it cool on a rack, then transfer it to the refrigerator to chill for at least 30 minutes before filling.
Filling:
Hands-on time: 40 minutes; Total time: 1 hour, 20 minutes
Ingredients:
6 tablespoons (3/4 stick) unsalted butter
6 oz semi-sweet chocolate
1/2 C creamy peanut butter, separated into two 1/4 C portions
1/4 C unsweetened cocoa powder
2 large eggs
1 C granulated sugar
2 teaspoons pure vanilla extract
3/4 C all-purpose flour
1/4 teaspoon baking powder
1/4 teaspoon salt
1 prebaked 9″ pretzel crust
Preheat the oven to 350 degrees.
Fill a medium saucepan with water, leaving a space of 2-3″ at the top and bring to a boil over medium-high heat.
Place the butter, chocolate, and 1/4 C of peanut butter on a large heatproof bowl. Set the bowl on the saucepan and heat, stirring occasionally until the mixture has melted. Remove the bowl from the heat and whisk in the cocoa powder until smooth. Set the bowl aside to cool.
Place the remaining 1/4 C peanut butter in a small saucepan over low heat and cook, stirring occasionally until it's thinner and almost runny, about 5-7 minutes. Remove from heat and set aside.
Whisk together the eggs, sugar, and vanilla in a large bowl. Slowly pour the cooled chocolate mixture into the egg mixture and whisk briskly until smooth.
Stir together the flour, baking powder, and salt in a small bowl. Add to the brownie batter and stir until smooth.
Pour the brownie batter into the pretzel crust, filling it to just below the very top. Spoon 3-4 small dollops of the melted peanut butter on top of the brownie batter and gently swirl it into the batter with a table knife or a toothpick. (Erin's note: this is where you could get creative when a design if you were more talented than I am.)
Bake until a knife inserted 2″ from the edge of the crust comes out clean, about 35-40 minutes. Let cool before serving.