I feel lucky to have a family that loves to travel as much as I do.
My parents took me on a lot of fabulous trips growing up which helped instill my love of seeing new places in the world. My brother and his wife are currently living in Japan. Brice's parents had been spending the last 13 months in SE Asia, just traveling around and enjoying life (ahh, the luxuries of being retired!). And Brice's quasi-sister Britt (long story) and her husband Ian are currently expats in Amsterdam for three years.
Needless to say however, living abroad makes it much more difficult to see each other. So it was really great when this past weekend, both Brice's parents and Britt, Ian and their new baby boy were all back in Portland.
We hosted everyone over for a meet the new baby/catch-up dinner. Since it was somewhat a "Welcome Back to the States" event, I wanted the meal to follow an American/NW cuisine theme. For an entree, we decided to grill some fish, so Brice and I headed to Whole Foods (while it's expensive, they really have the best seafood). Brice saw that they had a sale on salmon – "$9.99/lb for a whole salmon." Brice was sold. I figured it would be good to learn how big the fish was first. But noooo, it didn't matter. Brice was too excited and determined to buy it, regardless of the size. (Yes, it was delicious for sure, but we've also had salmon all week long.)
For dessert, I really wanted to make pie. I mean, what is more American than pie?
Plus, I had recently been sent a really fun new cookbook, Teeny's Tour of Pie to review so it seemed like a great opportunity to try one of the recipes.
This book was written by Teeny Lamothe, who was working at a theater in Chicago, baking regularly on the side. She wanted to make a change and move into the culinary world in a more professional capacity. But instead of going to pastry school, Teeny reached out to several bakeries around the country and did an old-fashioned apprenticeship to learn from some of the best. This cookbook not only offers recipes, but also tells the story of her "tour of pie."
I am incredibly impressed by Teeny's courage to take on such an adventure. I loved reading about her struggles finding places willing to take her on as an apprentice and the techniques and tricks she learned along the way. Her writing is sweet, authentic and inspiring.
Even better, the recipes are all delicious sounding. For our big dinner night, I couldn't decide on which recipe to make. Chai Cream Pie, Derbyish Pie, Zested Lime Curd Pie, or the Peanut Butter Brownie Pie with a Pretzel Crust (like seriously – how good does that one sound?!). They were all high-ranking possibilities.
But since I had gone to the Hillsdale Farmer's Market that day and seen tons of great looking rhubarb, I decided to go with the Strawberry Rhubarb Pie. Though I did adapt it slightly by making it with the Buttery All-Purpose Crust and topping it with Teeny's Cinnamon Crumble.
It was fantastic, especially the crust. It was made with half water and half vodka, which I had always read about but hadn't ever tried. Because the alcohol evaporates when baking faster than water, it creates a flakier, crispier crust. It was also rich from the butter and slightly salty. We all agreed it was probably one of the best crusts I had ever made.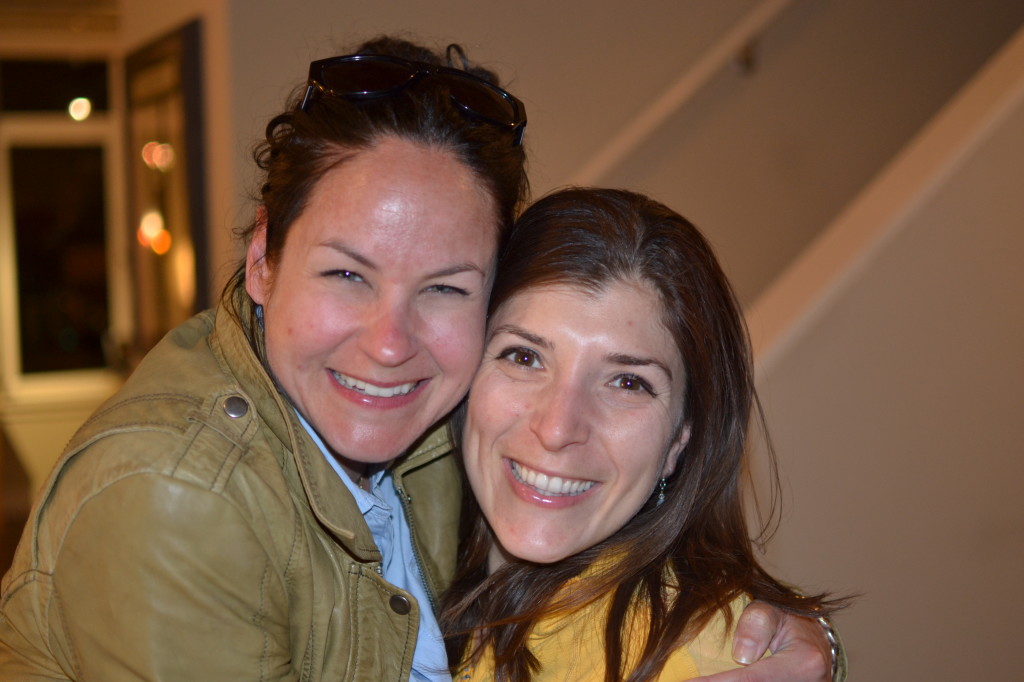 After that successful pie, I am even more excited to try other pies from Teeny's cookbook.
You can make some soon by entering to win your own copy of Teeny's Tour of Pie. Just include a comment below about your favorite kind of pie or your favorite pie shop. I'll randomly draw a winner on Monday, March 28th.