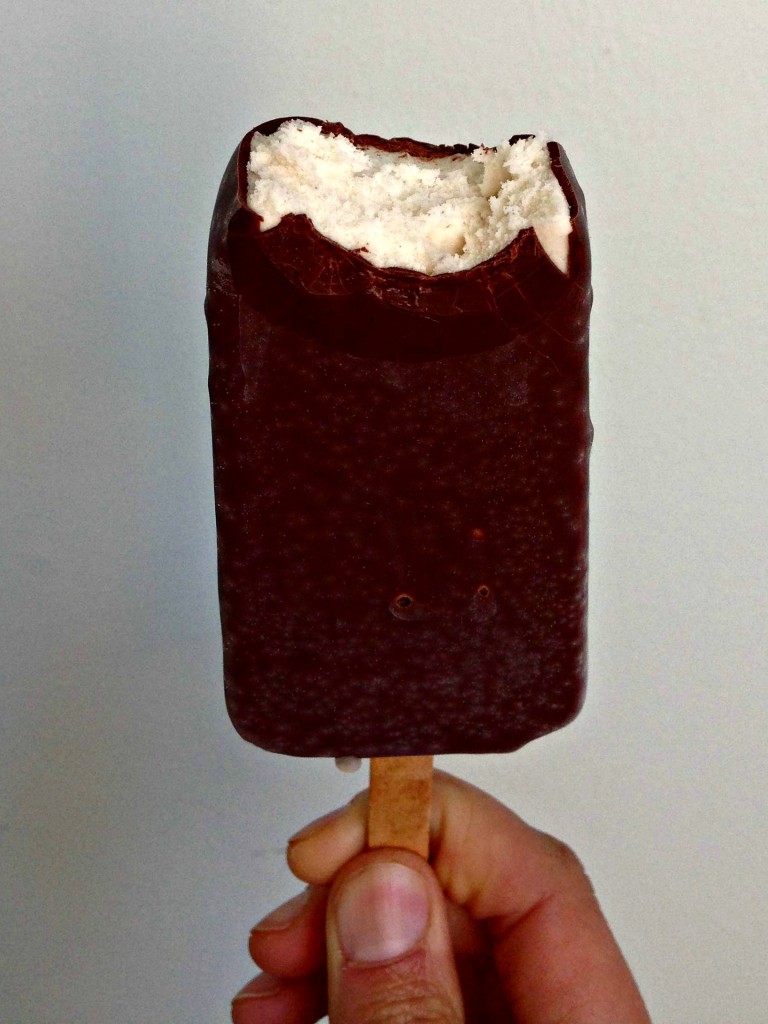 Being the total nerd that I am, I was listening to a podcast yesterday about the history of ice cream. Apparently, almost 2 BILLION yes, billion with a B) gallons of ice creams are produced each year. That's over 5 gallons of ice cream per person. That is a lot of ice cream.
But really, who can say they don't like ice cream? That is like saying you don't like puppies. You are a crazy person if you don't like puppies or ice cream. End of story.
Now don't get me wrong, I love chocolate but I'm really not into basic plain chocolate ice cream or just plain vanilla. Ice cream I think needs something more, like additional texture and flavor. So I am definitely a fan of wacky flavors.
One of my favorites that I've mentioned a few times on this little blog of mine is Saint Cupcake's Melty Goods Smokey Chocolate Flake. It is kind of crazy tasting – the vanilla ice cream is smoked and truly tastes smoked. Then it is filled with flakes of dark milk chocolate and sweet and spicy roasted pecans. The first bite might be a little strange but then once you get used to the smokey flavor, you can't put the spoon down.
Also pretty amazing are their Magic Dippy Bars with Caramel: Vanilla bean ice cream with a stripe of Portland Creamery chèvre caramel enrobed in their house-made chocolate shell. Plus "it is on a mother effing stick!" (Those are actually the words from Saint Cupcake owner, Jami Curl. Yet another reason to love her even more!)
If neither of those were enough for you, there's more!
Smoked Cinnamon + Portland Creamery Chèvre Caramel ice cream: Alder smoked cinnamon in a chèvre caramel ice cream. Sold in cups.
CocoCaramel with Jacobsen Sea Salt ice cream: A chocolate & caramel ice cream with sparks of salt flakes. Sold in cups.
The Standard Cokiewich: Vanilla bean ice cream sandwiched between two of our best selling Standard chocolate flake cookies.
Galore-e-o Cookiewich: White chocolate/vanilla bean ice cream sandwiched between two salted chocolate cookies.
Strawberry & Bee Local Honey Cookiewich: Oregon strawberries and Bee Local honey ice cream sandwiched between two vanilla honey butter cookies.
Want to make your summer or back-to-school party (I refuse to say end-of-summer) even better? You can even get the Melty Goods cart to come to your house! (As a side note, I am seriously trying to figure out how to get it up to my new second story patio for my birthday party… )Truly the best parties come with ice cream.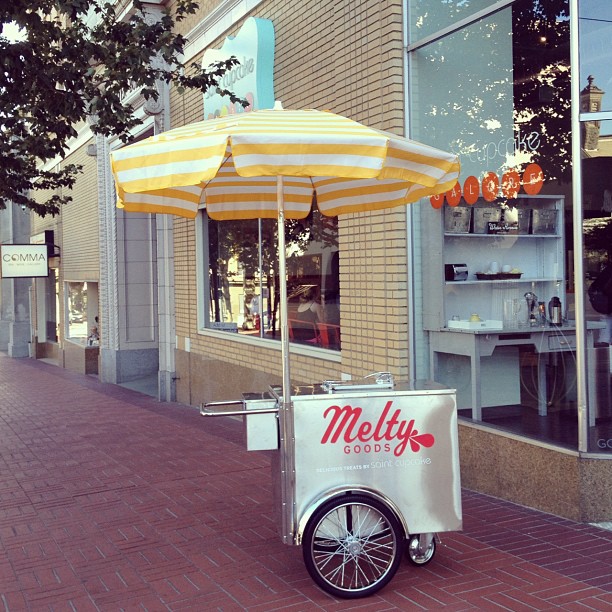 More Details:
Mobile Melty Goods Cart Rental:
For any event your heart desires!
Cost: $150 for two Saint Cupcake employees to manage for two hours, then $100 per additional hour; Includes staff, travel, set up, napkins, and spoons.
Ice cream is purchased a la carte, $4 for cookiewiches, $3 for sundae cups, with no minimum or maximum purchase requirement.
Saint Cupcake Galore: 1138 SW Morrison & 12th
Hours: Mon-Fri 8:30am-8pm; Sat 9am-8pm; Sun 12pm-6pm
Saint Cupcake Deluxe: 3300 SE Belmont & 33rd
Hours: Mon-Sat 10am-9pm; Sun 10am-5pm
Quin (Jami's new candy shoppe): 1025 SW Stark & 10th (in the Union Way indoor "mall")
Hours: Mon-Sat 11am-7pm; Sun 12pm-5pm