1022 W Burnside & 10th Ave • quincandy.com • 971.300.8395
Hours: TBA – Opens July 1st
Get ready for handmade, local candy brought to you by Saint Cupcake's Jami Curl. Jami's new shop, Quin will be opening on July 1st in the West End neighborhood of downtown Portland.
Jami has already been testing out and selling various candies, like Oregon Strawberry lollipops and decadent caramels at Saint Cupcake (under the "dash and DOT" brand name) with a lot of success. Now she will be branching out with a shop dedicated to candy making. Expect to see those items, plus a whole lot more – gumdrops, marshmallows, chews and other candy concoctions. Everything is handmade; ingredients feature local vendors like Jacobsen Sea Salt and Water Ave Coffee; and her flavors are innovative and extremely delicious.
Jami let me try a few samples of the cherry and strawberry gumdrops she's been working on. Both gumdrops are sweetened and colored with real fruit, so you don't have to worry about any wacky ingredients like "Red #05" being in there. They were just sweet enough and had great, light texture. I definitely almost ate the entire bag in one sitting…whoops.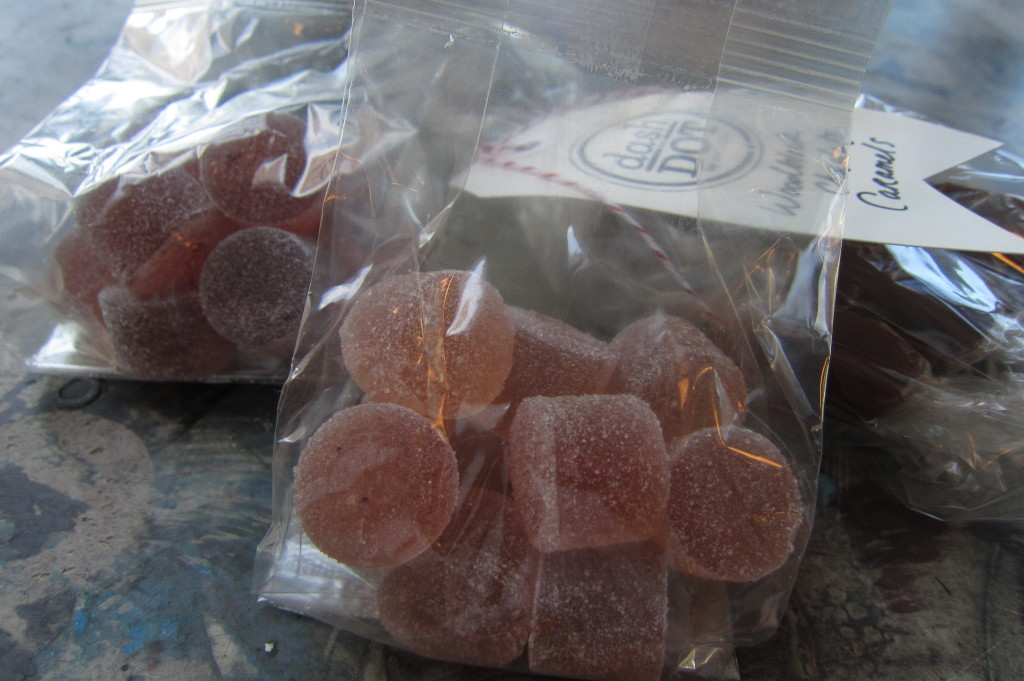 I'm also particularly excited the marshmallows by the foot. Yup, you read that right. It will be like bulk homemade flavored marshmallows. Some anticipated flavors include Vanilla Bean, Water Ave Coffee and Jacobsen Sea Salt Caramel. Awesome.
And if you haven't tried Jami's caramels yet, you should get yourself to Saint Cupcake right now. You don't even have to wait for Quin to open. These aren't your stick to your teeth for 2 days kind of caramels, they are soft, chewy and full of flavor. My favorites are the he Smith Tea Smoked Chai and the Jacobsen Sea Salt caramels, but the Woodblock Chocolate is also good for a little extra decadence.
Quin will be located in the upcoming Union Way retail space on SW Stark. It is expected to be like an indoor alleyway/mall type space with skylights with 9 shops and 2 restaurants. (On a side note: Brice has nicknamed the space "Diagon Alley" from Harry Potter and now that is forever be ingrained in my mind now.)
Quin will have a small space in Union Way. Well, more like a broom closet, Jami says, it will be that small.
But it will be a perfect spot to pick up some candies to go and bring  them to your next outing, office meeting or just to munch on. We enjoyed plenty of Jami's candies while watching the Rock of Ages musical at the Keller! Just another idea for you…