Feast Portland is almost here! Have you purchased your tickets yet? From September 19th through the 22nd, Portland will be hosting a massive food and drink celebration with top notch chefs and food purveyors from the Rose City and around the globe. (For my recap on the 2012 Feast, check out last year's post here.)
I'm super excited to be helping out at the Sandwich Invitational on Thursday night in Director Park. With 15 chefs competing with their own unique take on sandwiches, plus wine and Widmer beer pairings, it is bound to be a great time.
Ruby Jewel will be there to break the mold on savory bread and cheese options with their delicious ice cream sandwiches.
Owner and ice cream maker extraordinaire, Lisa Herlinger-Esco, has come up with all sorts of fun ideas for the event but wanted some help to narrow it down. So luckily for me, I was invited to a taste testing.
Yes, my dinner on Monday consisted of tasting a variety of ice cream sandwiches. My life is now complete.
It was a lot of fun meeting Lisa, seeing the Ruby Jewel production kitchen and learning more about their ice cream making process. Plus, obviously it was great trying some new flavors and helping create the best ice cream sandwich.
Lisa's idea is to do a take on the traditional stacked Club Sandwich. So we played around with multiple layers of cookies and ice creams. My favorite concoction was a Cocoa Nib cookie, then Hazelnut ice cream, then the Brown Butter Sugar cookie, then a scoop of the super decadent Chocolate Hazelnut with Marionberry Jam, topped with another Cocoa Nib cookie. It was like a crunchy, sweet, melty amazing Nutella sandwich.
I don't know what will be the official sandwich of the night but I'm sure it will be a hit (and hopefully a winner!).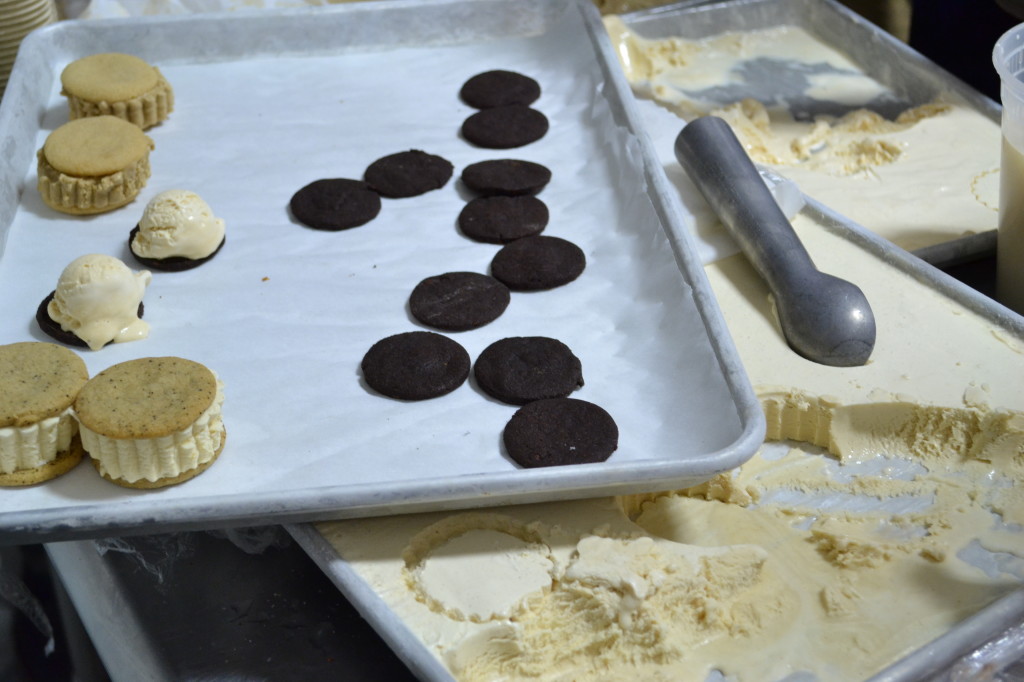 Ruby Jewel is also participating in the Oregon Bounty Grand Tasting on September 20th and has new flavors that highlight the insanely good ingredients we have in this area. All four flavors are sourced locally, supporting our nearby farmers and artisans.
Ruby Jewel is requesting YOUR help to pick the best flavor to showcase Oregon. Stop by either of their scoops shops to taste their special flavors and vote on your favorite.
And the nominees are: Hazelnut with Honey Bar (made with Bees & Beans' insane candy bars); Chevre with Spiced Peach Jam (made with Portland Creamery goat cheese and my absolute favorite Baird Family Orchards peaches), Espresso with Housemade Chocolate Covered Almond Brittle (using Nossa Familia coffee) and Garden Tomato with Basil.
Ok, I know, tomato? In an ice cream? But seriously, make a trip to Ruby Jewel and try it. Give it just one little bite and tell me it isn't weirdly really delicious. I dare you.
I really struggled coming up with a favorite. But I finally decided on the Chevre with Spiced Peach Jam. The Chevre is subtle and offers a smooth, creamy consistency to the ice cream. The peaches give a nice texture and fun kick. It is a great summer ice cream and perfect for highlighting Oregon's bounty.
Vote now through September 18th and you can win yourself tickets to the Bounty Grand Tasting event!
I can't wait to see what flavors they end up choosing. And more importantly, I can't wait to try them.
More Info:
Feast Portland
Sandwich Invitational
Oregon Bounty Grand Tasting
Ruby Jewel Scoop Shops
Hours: Daily 12 – 11pm
West End
North Portland