Last weekend was an amazing foodie weekend. Before hopping in the car bound for Seattle for the IFBC blogger's conference (which you can read about here and here), I spent the evening eating a lot of little sandwiches at the Feast Portland event opener.
Feast is an incredible annual food and drink festival. For four days, attendees can enjoy cooking classes, tasting panels, and killer dinner events featuring the best chefs and drinkmakers (think wineries, breweries, coffeemakers, distilleries, and more) from Portland and around the globe. It is a culinary event like no other.
Thursday night was the Widmer Brothers Brewing Sandwich Invitational, where 15 top chefs (including some actual top chefs like Austin's Paul Qui, winner of Top Chef Season 9), come up with their most creative take on the sandwich.
Hundreds of people showed up to downtown's Director Park, which was transformed into a culinary wonderland, to sample every sandwich imaginable and drink local beer, wine, cocktails and Stumptown coffee.
To add a little friendly competition aspect, guests and a line up of celebrity judges got to vote for the best sandwich.
Judges included Bon Appetit's Andrew Knowlton, food writer (and Top Chef Masters judge) Francis Lam, and last year's winner Naomi Pomeroy.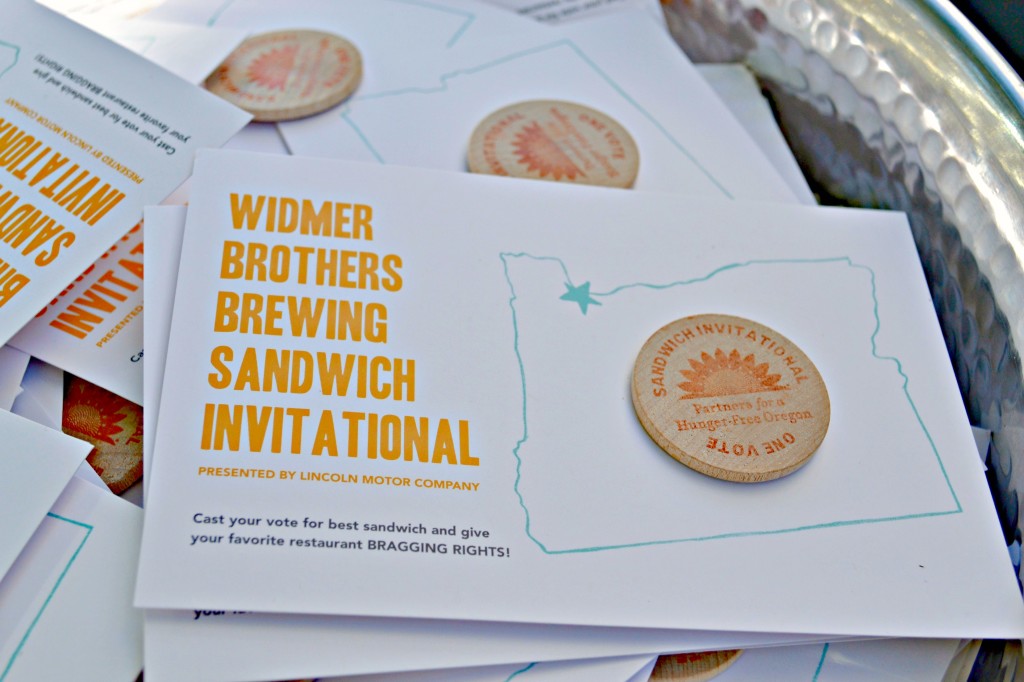 My vote was for the sandwich by Chris Diminno of Clyde Common. Giant pieces of fresh Dungeness crab were topped with scallion and pickled fennel, all on a toasted soft Old Bayoli slider bun.
Roman Candle, Duane Sorenson's new SE Division bakery, served up some fantastic dessert sandwiches – rich peanut butter gelato sitting inside a freshly baked chocolate chip brioche roll and rolled in peanuts. I could eat about 100 more of those right now.
After helping Ruby Jewel taste-test ideas for Feast, it was especially fun to see what they decided on (if you haven't yet, read that post here). "The NW Club" was a super stacked sandwich with three cookies, two kinds of ice cream, marionberry caramel, and of course bacon (it is Portland, after all). There was so much going on, it deserved its own diagram.
If that wasn't sweet enough for you, you could get it dipped in their addicting chocolate sauce. It might have been a little messy and hard to eat, but damn, it was delicious.
The People's Choice winner however was The Country Cat and their lamb burgers with Havarti cheese, smoked tomato jam and iceberg lettuce slaw.
The judges selected David Kreifels of Laurelhurst Market as their winner for his smoked beef tongue sandwich with Padron peppers.
Out-of-town restaurants included Duff Goldman of Ace of Cakes fame and big-name State Bird Provisions from San Francisco which served open-faced sweet corn and pork belly "panwiches." The line for Austin's Paul Qui's "Rabbit 7 Ways" sandwich was neverending (and sadly deterred me from trying one before it was too late).
Local chef couple Greg Denton and Gabrielle Quiñonez Denton, who own the super popular Ox Restaurant, pleased everyone with their Duck Confit Sandwich served on cheddar-jalapeno waffles and topped with maple mustard and dill pickled peach.
The waffles were insanely time-consuming, made mostly with just a small home-kitchen waffle iron, according to the incredibly friendly and modest Gabi. But all that hard work paid off as the sandwiches had a nonstop line all night.
If that wasn't enough chef celebrity sightings, Chris Cosentino and other members of the "who's who" in food were seen wandering through the crowds. As a nerdy foodie, I thought it was pretty awesome.
Can't wait for next year. And yes, my calendar is already blocked.