Wahoo! In just under two weeks, one of the most fun food events in Portland will be here! Taste of the Nation will be back Tuesday, April 29th at the Crystal Ballroom!
I seriously love this event. With over 25 of the best chefs Portland has to offer and about 30 local wineries, distilleries and breweries, it is a massive, amazing all-you-can-eat, all-you-can-drink free for all. (View the TOTN's Portland page for the full list of participants.) Each of the participants set up a booth and serve up specialty food or drinks made just for this event. A lot of booth and guests all get crammed into the West End concert hall, so it gets a little stuffy and overwhelming. But it's well worth it for how much good food and drinks there are. And because there are so many chefs participating, despite the crowds, there are rarely lines.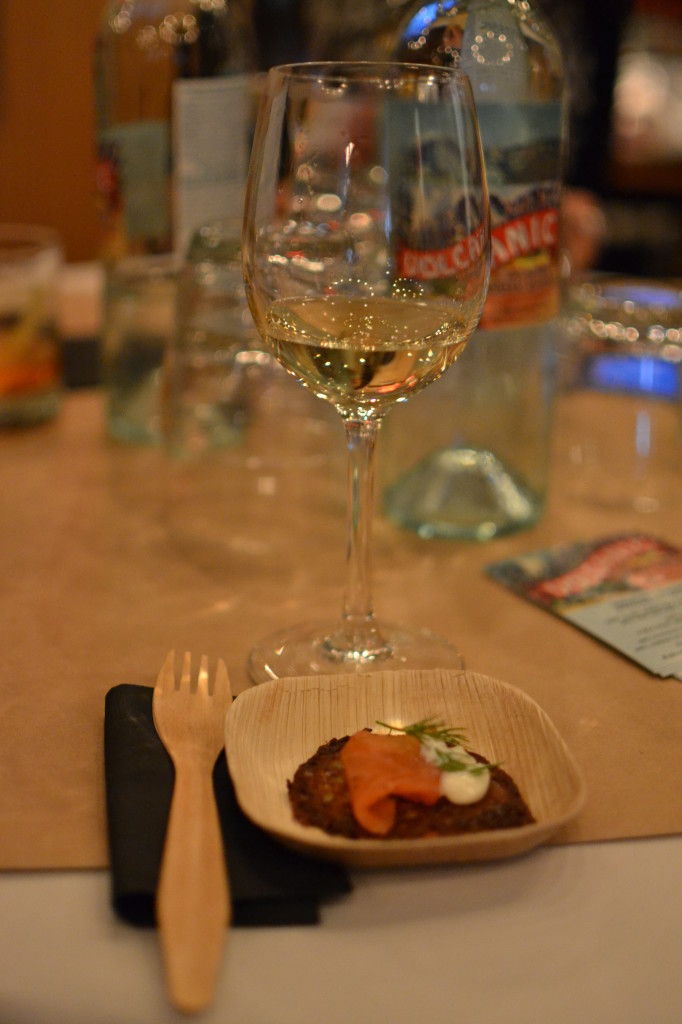 Last year was a total blast with incredible food, like the Fifty Licks' Churro Soft-Serve Ice Cream and delicious cocktails, like the House Spirits' Pineapple Southside made with Aviation Gin. There was even a photo booth with ridiculous props courtesy of Yelp! Portland. I am always a big fan of these. You can read more about the 2013 shenanigans and my favorite eats and drinks here.
Last week I got to attend a preview event, "Taste of the Taste" to check out some of this year's line-up. Hosted at Irving Street Kitchen, it provided samples from ISK, Boke Bowl, Imperial, Lardo and the new pop-up Project Grace/soon-to-open Renata.
The Green Garlic and Parmesan Soup with English Peas from ISK was creamy and delicious. Sadly, the picture was not so quality however, so you'll have to use your imagination on what it looked like (PS – if you haven't had the Butterscotch Pudding from ISK yet, drop whatever you are doing, head to the Pearl District right now and order it. It is one of the best things ever. It is so popular you can even get it to go. So no excuses.)
The guys from Lardo prepared a great griddled Mortadella sandwich.
I really loved that Vitaly Paley and Ben Bettinger of Imperial made potato latkes as I was raised Jewish and man, did I love those fried potato pancakes growing up (ok, I still love them). Their version was topped with Steelhead pastrami, sour cream and dill, giving the latkes some extra saltiness. When asked what else made these different than the typical at-home version however, Vitaly, who was also celebrating his birthday that night, exclaimed "oh probably the duck fat!"
Boke Bowl prepared an Asian-influenced poutine. Crawfish and pork were mixed in a thick, spicy black bean sauce then poured over rice tots. I am not sure how much I liked the super-dense tots, but that gravy was really delicious with a slight kick, flavorful crawfish and well seasoned pork.
Project Grace, which is doing a pop-up dinner series with five-course meals every Friday night at Trinket in SE Portland until Renata opens, made rabbit terrine with a giardinara (spicy pickled-pepper) aoili, with rabbit sourced from local My Pharm.
It wouldn't be an event without drinks! Beverages were provided by Moet & Chandon, Volcanic Mineral Refresher water, Fire + Flood wines, Pamplin Family Winery, and Bull Run Distilling.
Bull Run made delicious ginger beer and lime-inspired cocktails featuring their Temperance bourbon whiskey, Medoyeff vodka, Aria dry gin, or Pacific Rum made with Hawaiian sugar cane. (You might know that ginger beer + vodka is a Moscow Mule, but did you know if you substituted gin, it is a Foghorn? Or with rum, it's called a Before the Storm? Or my favorite name, made with whiskey, it's a Presbyterian?! Fun things I learn at events :))
Especially after this preview night, I can't wait to get more at the actual event. Of the full TOTN participants list, I'm particularly looking forward to seeing what Biwa, Tasty n Alder and of course Salt & Straw will be preparing.
To make this event even better (how is that possible, you ask?), well this is also a fundraiser for Share Our Strength's No Kid Hungry campaign. Each ticket purchased helps support Share Our Strength's efforts in eliminating childhood hunger as well as local beneficiaries, which include Oregon Food Bank, Partners for a Hunger Free Oregon, St. Vincent DePaul Society and Klamath/Lake Counties Food Bank. For more details on Share Our Strength, read fellow Portland blogger The Goodhearted Woman's really wonderful, heartwarming post that shows the powerful impacts these organizations make.
So even if you might gawk a tad at the ticket price, remember two things: 1) you can eat and drink your heart out and 2) it goes to a good cause.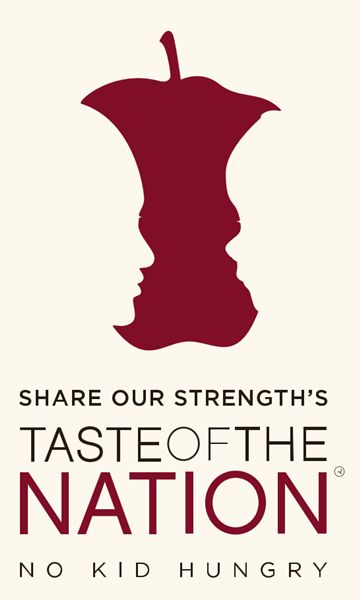 Some additional words of wisdom before going to TOTN:
1) As mentioned above, be prepared for large crowds. Hopefully you aren't claustrophobic…
2) At least the last few years, there weren't many tables to sit at nor was there a coat rack (at least not to my memory…), so avoid bringing large bags and coats that will get in the way of you getting all the food and drink you want!
3) Don't eat much that day. Seriously, there is so much good food at this event, it is insane. It's kind of like Thanksgiving. You have to prep for small meals before hand so you can pig out appropriately!
Event details:
Date: Tuesday, April 29th
Time: VIP – 5:30pm; General Admission – 6:30-9pm
Tickets: VIP – $150; GA – $85; buy them now here (VIP tickets not only get you into the event before the masses arrive, but you also get a separate line-up including those delicious latkes from Imperial)
Location: McMenamins Crystal Ballroom at 1332 W Burnside Street, Portland
Hope to see you there!