Last Tuesday was truly a day of face-stuffing goodness. With over 60 restaurants, wineries, breweries and distilleries present at the 2013 Taste of the Nation, everyone there was bound to eat and drink really well and have a great time.
Taste of the Nation is by far one of my favorite events of the year – almost all the best places in Oregon come to share their products and it all goes to a good cause, with 100% of ticket and silent auction sales going to Share Our Strength, an organization with a mission to end childhood hunger.
The event turnout was impressive (though a bit claustrophobic at times) with hundreds of people crammed into the third floor of the Crystal Ballroom. My good friend Lauren, who likes to be my foodie-event partner-in-crime, and I snuck our way through the crowded aisles where the food and drink booths were set up, searching out places we were really excited about first.
Eventually we gave up on any strategy and decided to just try every food booth there instead. Obviosuly we did not go home hungry.
Maybe it was the warm summer-like weather we were having, but the theme of the night seemed to be raw fish, with nearly every restaurant offering samples of ceviche, sashimi or some other preparation of seafood.
While nearly everything we had was delicious, I narrowed down my favorites to 3 savory, 3 sweet and 3 beverages:
Smallwares – Oregon Bay Shrimp Salad with Radish, Mustard Greens, Pint Nuts, Squash Puree: Not surprisingly Chef Johanna Ware prepared one of my top dishes of the night. I love her restaurant. This salad looked simple yet was unassumingly complex with Asian-influenced flavors. It was also perfect for a hot summer day.
Laurelhurst Market – Corned Beef Tongue Reuben Sandwich: I'm not much of a meat person at all, so I was totaly surprised how much I liked this dish. The meat was thinly sliced, salty and seasoned beautifully for a play on a reuben sandwich. It still makes me hold true to my statement that if I'm going to eat meat, I want it to be from some place of high-quality like Laurelhurst Market.
Olympic Provisions – Spreadable Salami: Okay, I know I just said I'm not much of a meat person. But salami is like a league of its own. A vegetarian friend of mine used to allow herself salami as the sole meat product she would eat. Now imagine a salami that was spreadable like butter. That's what OP has done. Put on top of a light mini brioche-like roll, it was insanely good – great texture, just the right amount of salt, pepper and spices, delicious.
Fifty-Licks – Churro Soft-Serve Ice Cream: Especially with how hot it was, I was counting down for this ice cream. Served in mini cake cones, this really was like a frozen churro, creamy and loaded with cinnamon. I totally loved it. It makes me extra excited for the Fifty-Licks storefront, opening in July.
Firehouse – Chocolate Pots de Creme: I wanted to have about 100 of these little cups of super rich, dark chocolate mousse complete with hazelnut praline and sea salt sprinkle on top. Actually I'll take one right now at 9am, please.
Batch PDX – Mint Meltaway: This local chocolatier brought a beautiful variety of chocolate truffles. The Spicy Passion was gorgeous but Lauren said it was one of the spicyest things she's ever eaten, and given that I'm a mild wimp when it comes to spice, I decided to pass on it. Instead I tried the Mint Meltaway which was a wonderful mix of dark chocolate and peppermint that true to its name, just melts in your mouth.
Anne Amie Vineyards – Cuvee A Amrita: I always love Anne Amie's wines (in big part to their awesome Counter Culture summer event). This white wine was refreshing, dry and fruity.
Cana's Feast Winery – Pinot Noir: A delicious, light Oregon pinot that went really well with our ranging vareity of food choices that night.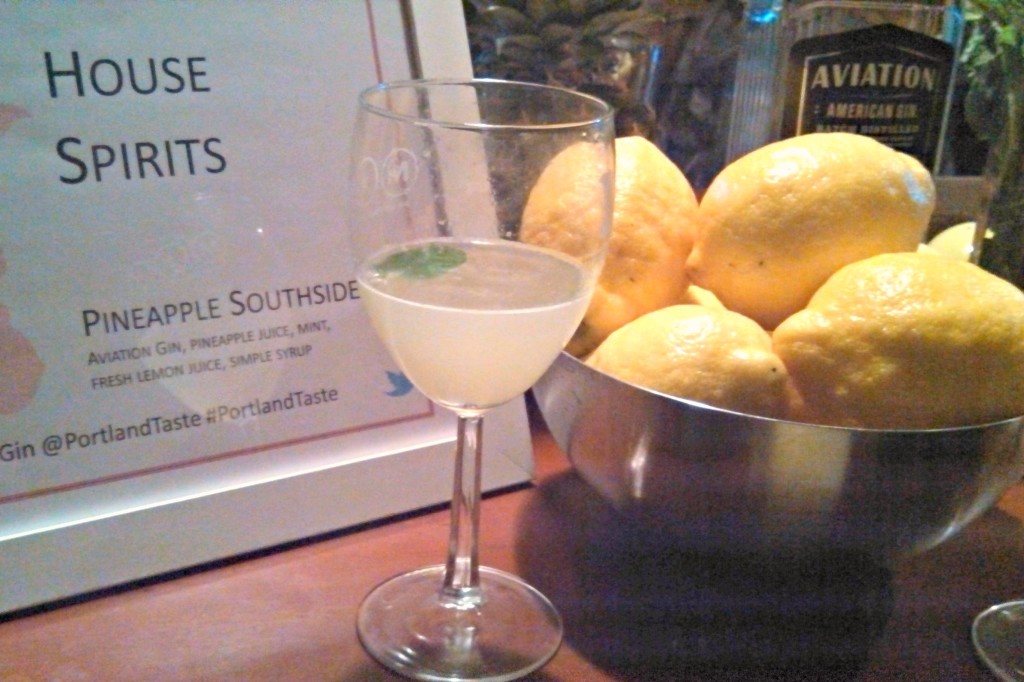 Aviation Gin – Pineapple Southside: I totally surprised myself by liking this. I really, really don't like gin. But I was told this was the gin that would make me like gin. The Pineapple Southside cocktail made with locally made Aviation Gin, pineapple juice, mint, lemon juice and simple syrup was fantastic. Not only did it change my mind on gin, but it was for sure my favorite drink of the night.
For a break in the face stuffing, Yelp! Portland had a super fun photo booth. Admittedly, it was especially fun after visiting the numerous beverage stations…
Well done to the Taste of the Nation team and thanks to all of the chefs, wine makers, beer makers and distillers for putting on such a fun, delicious event. Make sure to mark your calendar for next year. Trust me, you won't want to miss it!