3039 NE Alberta St. & 31st Ave, Portland • thesugarcubepdx.com • 971.202.7135
Hours: Wed-Sun 8am-5pm
Oh. My. Gosh. I finally went to The Sugar Cube bakery in North Portland and it was fantastic.
My wonderful blogger friend Rachel of love, Rachel set up a "Portland bloggers breakfast" and when she threw out some options that included The Sugar Cube, I emailed back immediately placing my vote for that one.
Admittedly, I had not made it to The Sugar Cube when it was a food cart either. A few years back when I did a bakery crawl for my birthday, I had it on our agenda but sadly it was of course the same day they were closed for a private event. Shortly thereafter owner and "badass baker" Kir Jensen closed the cart after publishing her awesome cookbook to prep her new brick and mortar storefront in September 2013.
The bakery, set in the Alberta Arts District where Dovetail Bakery used to reside, is bright, cheery and well decorated. It also turns out to be a small space for a large group, so we found out. The seven of us bloggers (myself, Rachel, Spencer from 12 oz Beehouse, Brooke from Babbling Brookelyn, Sarah from Will Run for Pasta, Erika from A Tiny Rocket and Annie from Serious Crust) strolled in early Sunday morning and pretty much took over.So this visit been years in the making for me. But let me tell you, it lived up to the hype and was well worth the wait. (Just don't be like me and wait years to go yourself…)
When you walk in, you are greeted by a case filled with beautiful pastries and desserts. Three two-top tables and one larger booth are on the left of the entrance, with a small space of bar stools and self-serve coffee/tea condiments on the right. We all hovered awkwardly next to the bar stools until a family of three eventually left the booth, after teasing us about three or four times by getting up to use the restroom or grabbing their coats.
Our lively conversations about blogging events, Feast Portland, favorite restaurants, day jobs, and celebrity gossip continued as we sat down and enjoyed local Steven Smith Tea and Ristretto Coffee.
Kir demonstrated that bakery owners do way more than just bake as she took orders, made French Press coffee, cleaned tables and constantly checked in to make sure we had everything we needed.
Then out came the food. Fortunately we got plenty all-around to share and sample.
There isn't an extensive "breakfast" per se. For instance, there are no traditional egg dishes or very many savory options In fact, I think there are only two – their savory quiche and savory strata.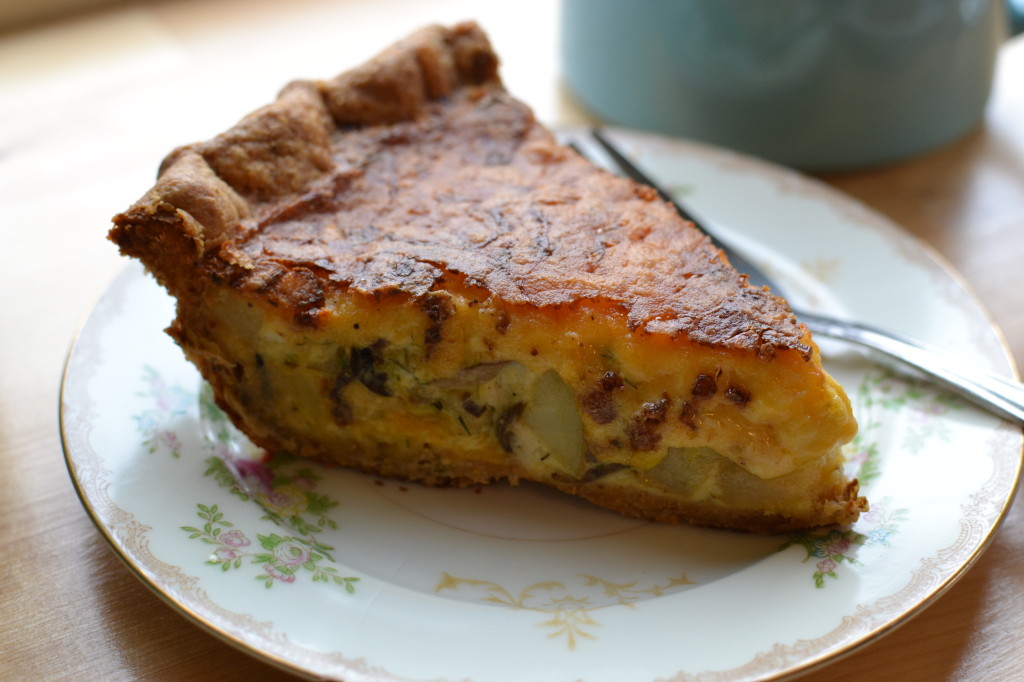 In an effort not to just eat desserts for breakfast, I decided to try the quiche which had a perfectly crispy crust, loads of cheese and filled with potatoes and mushrooms.
But if you are like me and have a massive sweet tooth, this is the place to be. So of course, I ordered something sweet too.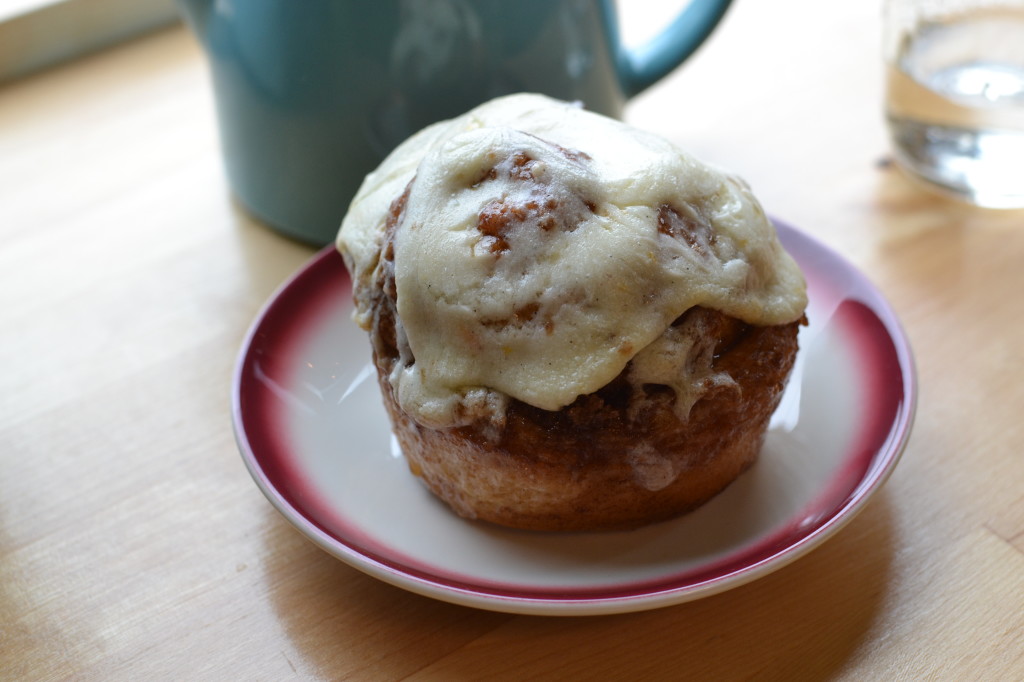 I decided on the cinnamon rolls with brown butter cream cheese frosting as they were just too insane looking to pass up.
There were several Toast Plates ordered. Served on a Little T Baker's Sally Lunn brioche-type bread, you can get your choice of topping. Like housemade lemon curd or housemade nutella with cinnamon-kissed caramelized bananas. First off, I love Little T, and secondly, I love nutella, so that is an amazing combo.
Rachel got the Raspberry "Crack" Coffee Cake with a pecan spiced streusel.
Sarah ordered the Raspberry Brown Butter Crostata with a beautiful buttery crust and sweet fruit filling.
I couldn't help myself and brought home a lemon poppyseed scone with that tart housemade lemon curd. It packed a lot of lemon flavor, had a fluffy interior, and a crisp, sugary crust.
I wish I could have tried more though. There were a lot of other items that I would love to taste. Like the Highway to Heaven Cupcake made with chocolate stout caked dipped in bittersweet ganache and doused with salted caramel. Or the Twisted Toll House Cookies with Freddy's Guys Roasted Hazelnuts. Or the Bourbon Brown Butter Honey Pie featuring Bee Local Honey and topped with Jacobsen Sea Salt.
Guess I'll just have to go back again soon!
Want even more Sugar Cube? Sign up for their Cookie of the Month club which includes two dozen  of their insanely delicious cookies. Or (slash and!) their Pastry CSA, a "community sweets alliance" where you'll get seasonal pasties baked just for you every month. There isn't anything wrong with veggies, but between you and me, this kind of CSA is way more fun. 🙂