It is January, right? I ask because man, it was beautiful out all weekend. The sun was shining, it wasn't too cold, completely wonderful for a late-January day in Oregon. Brice and I even postponed our annual winter "trip to the sun" because it was so nice here that we didn't feel we'd need our little escape to Phoenix.
But despite the gorgeous weather, I was completely lazy all day Sunday – slept in, made brunch, took a nap, watched a movie. Perhaps it was just catch up after last weekend's awesome but busy trip to Park City, or perhaps it was just a chocolate-coma from the Theo Chocolate for Congo Benefit at Little Bird on Saturday.
I was super happy I was able to sucker my friends Hannah and Alyssa to join me for this chocolate-for-lunch event. Nine pastry chefs from local restaurants created amazing masterpieces showcasing Theo Chocolate to benefit the Eastern Congo Initiative.
The event was hosted at downtown's Little Bird Bistro. The pasty chefs cozied up in the booths with their displays set up on the tables in front of them. Guests got to wander through the small restaurant, chat with the pastry chefs and enjoy lots and lots of chocolatey treats.
We tried to restrain ourselves somewhat, knowing that we had a lot of dessert to consume. So we took our time going through all of the options.
The talented line up consisted of:
Sarah Hart, Alma
Emily Koklhepp, Gruner
Helena Root, Irving Street Kitchen
Nora Antene, Le Pigeon
Lauren Fortgang & pastry team, Little Bird
Jessica Woods, Pie Spot
Alissa Rozos, St. Jack
Kir Jensen, Sugar Cube
Mandy L. Keith, Xico
It was basically the who's who of the top pastry chefs in Portland (which is obviously why I was excited to check it out!).
Everything was really delicious. Admittedly it was a little intense eating that much rich chocolate in only about 90 minutes. I was downing water trying to get my tastebuds not to give up on me.
Sadly our efforts to institute some patience with the desserts failed us slightly and we missed out on the Sugar Cube's "Hazel-nibby financiers with dark milk chocolate ganache and candied orange zest." Ugh… I'm still disappointed. I've learned my lesson: don't procrastinate.
But don't you worry, we were still able to get an insane about of other great items.
Alissa of St. Jack made gorgeous milk chocolate mousse with apricot gelee and hazelnut praline.
Nora Antene of Le Pigeon switched it up and gave us something savory, cocoa braised lamb shoulder with orange mint gremolata chocolate on a black sesame brioche bun.
Gruner's Emily Kohlhepp made a light coconut joconde cake with milk chocolate passionfruit mousse and cocoa nib crunchity.
The hosts at Little Bird made a great trio of chocolate peanut meringues, chocolate bon bon truffles, and these delicious little chocolate macaroons.
I loved Irving Street Kitchen's chocolate and baked orange tarlette. It had a thin chocolate tart shell, a liquidy center that was lightly bruleed, and honeycomb candy on top.
I also really enjoyed Xico's champurrado, a thick Mexican hot chocolate, topped with a tejate (chocolate and maize) marshmallowy fluff. Made with masa, Mexican chocolate and cinnamon, it had a wonderfully unique flavor. Similar to drinking chocolate, it was super rich so only a few sips was plenty.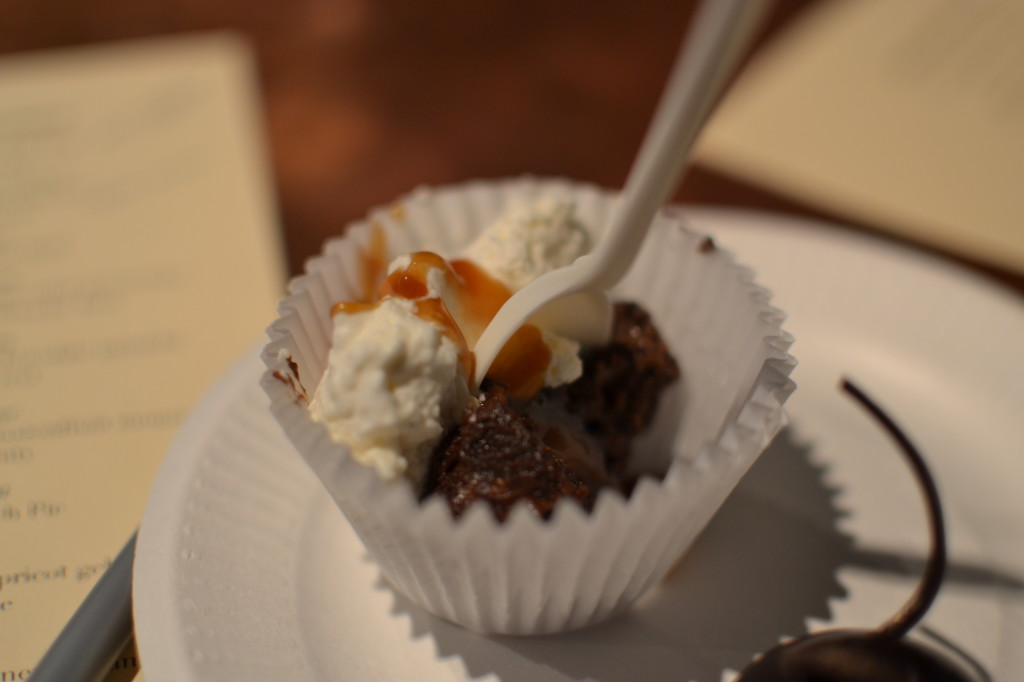 The chocolate bread pudding made by Sarah Hart was a top favorite of the day. Crisp chocolate bread, warm, gooey dark chocolate center, and topped with Alma's habanero caramel sauce and fresh whipped cream. Decadent and delicious, it is the ideal of ideal comfort foods.
The other favorite between the three of us was the Pie Spot's Chocolate Honey Crunch Pie. It had a chocolate cookie crust, caramely honey center and topped with sea salt.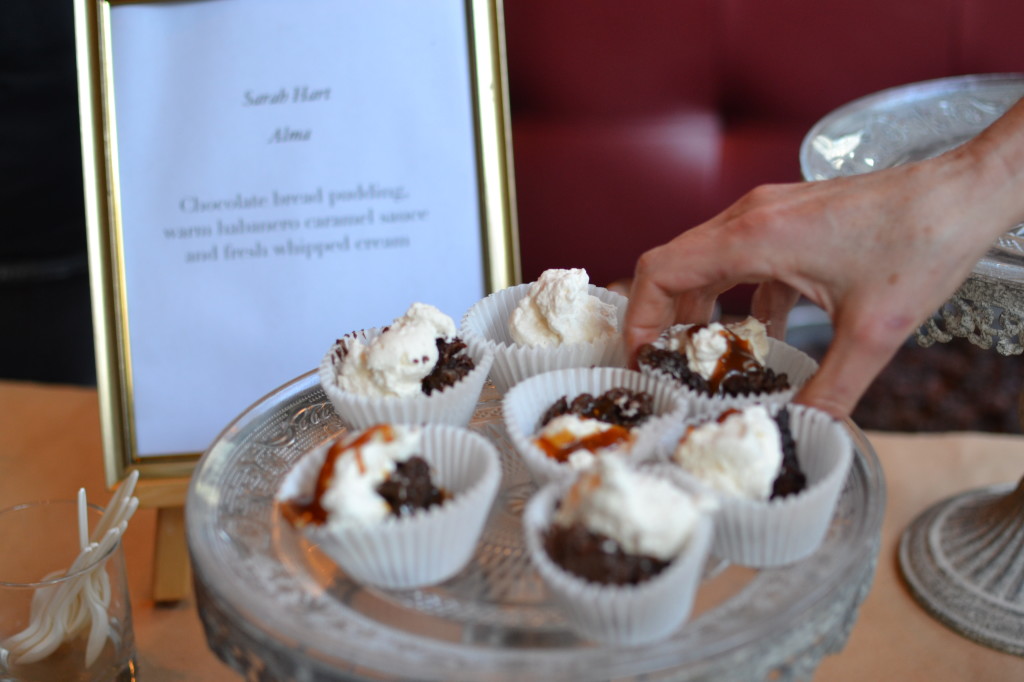 I might have reached a normal person's chocolate quota on Saturday but just writing this post is making me want more of these desserts…