This time of year, I'm all about the idea of a warm, comforting yet healthy bowl of veggies for dinner.
Ok don't get me wrong, a creamy risotto or cheesy casserole sounds insanely delicious but as it is still January and the memory of all those holiday cookies still haunts me, clean eating trumps the heaviness of those dishes. These days, I'm loving the "macro" or "buddha" bowls. You know the kind – quinoa or rice sidled up with greens and topped with a yummy sauce. They are warm, super filling, loaded up with veggies, and have so many add-in options to choose from. All good things for a healthy winter-time meal!
My favorite places in town to get them? Kure Juice Bar's new West End location, Canteen and The Whole Bowl. This makes me hungry just thinking about it!
But when I'm not interested in heading out, I've been enjoying making these bowls at home. My latest is this Winter Buddha Bowl with roasted sweet potato, kale and cauliflower, spiced chickpeas, maple glazed tempeh then all drizzled in a tahini-lemon sauce.While it is good for you with tons of nutrients and protein, better yet, it is flavorful and oh so satisfying. It is somewhat inspired by a mix of Cafe Yumm's tempeh, Kure's Kind Cartel bowl and Minimalist Baker's Buddha Bowl.
Don't have any of these ingredients or don't like tempeh? No problem! Substitute whatever you'd prefer instead!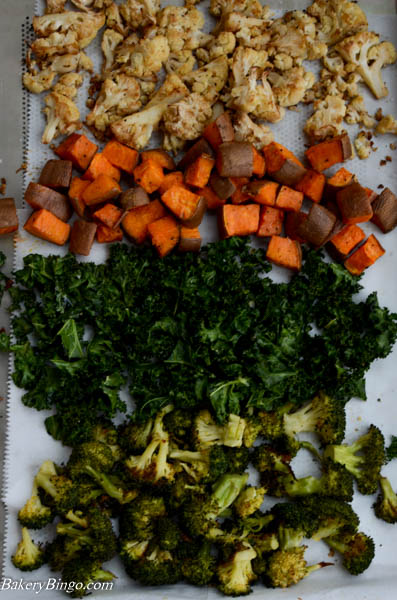 I made this bowl using fresh produce from Whole Foods Market, which is often my go-to spot to pick up ingredients, in particular because I think the staff are super friendly (a big plus in my book as I really dislike grocery shopping) and it's on my way home from the gym (double healthy bonus!). To dismay common belief, Whole Foods Market can be extremely reasonably priced, especially when purchasing their house Whole 365 brand. Plus their produce is nearly always great quality and they've got a fantastic bulk section.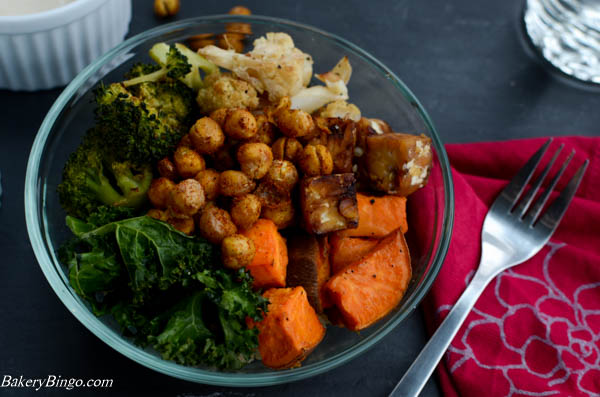 What are you eating these days??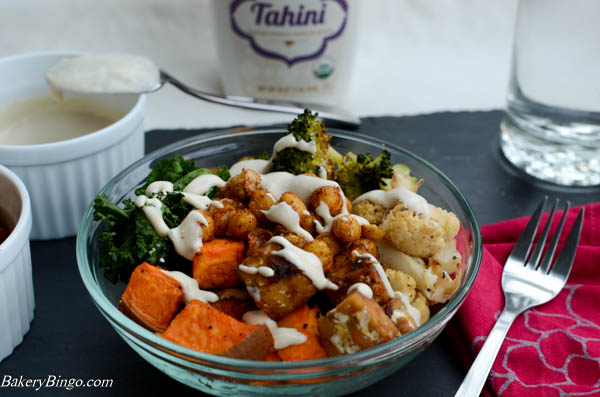 Winter Buddha Bowl with Roasted Veggies, Maple-Glazed Tempeh and Tahini Sauce
Serves: 5-6
Hands-on time: 25 minutes; Total time: 70 minutes
Bowl base:
1 bunch of broccolini, chopped
1 bunch of Lacinato kale, chopped
1 head of cauliflower, chopped
2 large sweet potatoes, cubed
1/2 cup uncooked quinoa, rinsed and drained
3 Tbsp olive oil, separated
3 tsp cumin, separated
Salt + Pepper
Maple-Glazed Tempeh:
6 oz of unflavored tempeh, cubed, such as Surata Organic Original Soy Tempeh (made in Eugene!)
3 Tbsp maple syrup
2 Tbsp soy sauce
2 tsp rice vinegar
1 clove garlic, minced
Cumin-Spiced Chickpeas: Adapted from Minimalist Baker
1 15-oz can chickpeas, drained, rinsed and dried in paper towels or a clean kitchen towel
1 Tbsp olive oil
1 tsp cumin
1/2 tsp paprika
1/2 tsp chili powder
1/4 tsp each salt and pepper
1/4 tsp garam masala (optional)
Lemon Tahini Sauce:
1/2 cup tahini, such as 365 Organic Tahini
2 Tbsp maple syrup
Juice from 1 lemon
4-6 Tbsp hot water
Instructions:
Preheat oven to 400 degrees.
Prepare marinade for tempeh: Combine soy sauce, 1 tablespoon of maple syrup, rice vinegar, and garlic. Place cubed tempeh in a shallow dish or large ziplock bag, pour marinade over, and mix to coat all pieces of tempeh. Place in refrigerator for at least 20 minutes, or up to overnight.
Roast chickpeas: Toss the dried chickpeas in olive oil and salt. Place on a baking sheet lined with parchment paper. Bake for 20-30 minutes until lightly browned, crispy and dried on the outside yet still soft on the inside. Rotate chickpeas every 10-15 minutes, using a spatula or just by shaking the pan. Remove from oven, place in a medium bowl and while still hot, toss chickpeas in spices until evenly covered.
Roast veggies: Toss cut sweet potatoes lightly in 1 tablespoon of olive oil, 1 teaspoon of cumin, and salt and pepper. Place on a baking sheet lined with parchment paper (for easy clean up!). Roast for 15 minutes. Using another baking sheet, repeat steps with cauliflower and broccoli. Roast for 25 minutes. Flip over and add kale. Roast for another 10 minutes.
Make quinoa: While veggies are baking, cook quinoa. Toast quinoa in a lightly oiled saucepan for about 1 minute over medium heat. Add 2C of water and bring to a boil. Reduce heat to low, cover and let cook for 15 minutes. Turn off heat, keep lid on and let stand for 5 more minutes.
Make tahini sauce: While veggies are baking and quinoa is cooking, mix tahini, 1 tablespoon of maple syrup and lemon juice in a medium-sized bowl. Add hot water and mix using a whisk or mini food processor until a smooth consistency.
Cook marinated tempeh: When the veggies have about 10 minutes left, in same saucepan as chickpeas, add tempeh and saute for 4-5 minutes until golden brown. Pour remaining marinade over tempeh and cook for one more minute.
Prep bowl: Place a small portion of each quinoa, roasted veggies, tempeh and chickpeas to a bowl, pour tahini over. Enjoy!
*Nutritional Facts: Calories – 485; Carbs – 63g; Protein – 18g; Fat – 20g
Notes:
Recipe partially adapted from Minimalist Baker
I did get these ingredients complimentary of Whole Foods in exchange for this post, but I do really shop there and am a big fan of what they've got going on.
Nutritional information based on 6 servings with 1/2C quinoa and 1 tablespoon of the tahini sauce, using My Fitness Pal's calculator.
Looking for a Whole Foods Market? Check out their website for one near you. If you also happen to live in Portland, I love shopping at their Pearl location:
Hours: Daily 7am-10pm
1210 NW Couch St
Portland, OR 97209
@wholefoodspdx