Oh man, February was one busy month over here. We had one awesome "Palentines Day" weekend in Bend with a stellar group of folks. We had a blast touring around town, eating an absurd amount of food, hiking Smith Rock and goof off.
Plus, I got a new role at Intel, which has been overall a great move but definitely time consuming so far. But don't you fret, I still got in a lot of delicious eats! Here were the highlights of new finds, old haunts and what I've been cooking when I finally decide to make something for myself.
How was your February? Any new favorites on your list?!
New Finds:
Mae PDX – Ok, this was technically the last day of January, but I sadly forgot to include it on my January write up and desperately need to make sure everyone knows of this new pop-up. Chef Maya Lovelace's Appalachian-inspired multi-course dinner, served two nights a week at Old Salt Marketplace in NE, was one of the best meals I've enjoyed in quite some time. Think sassafras sweet tea, perhaps the word's fluffiest angel biscuits served with pimento cheese, crispy fried chicken, greens and ancient grains, and a life-changing pound cake with cocoa nibs, citrus fruits and buttercream whipped cream. To make it even better, it is a welcoming Southern supper event, all served family-style with extremely friendly service and a cozy space.
Tickets sell out real fast, so be sure to hop on your computer to buy seats as soon as her email comes out.
Check out the website of the supremely talented photographer Aubrie LeGault for more beautiful photos of our dinner!
180 Xurros – Just go read my latest post on this incredible new spot and then hit 180 ASAP. You won't regret it.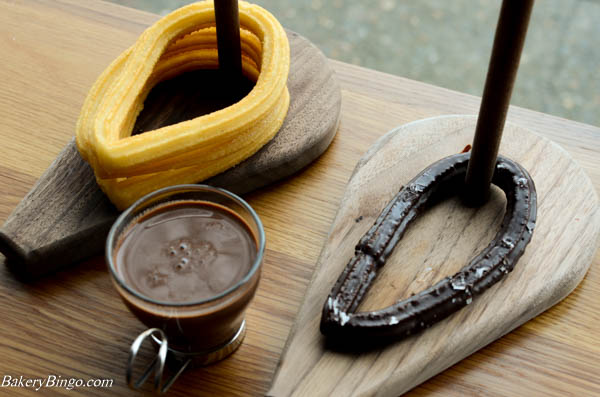 New to Me:
Restaurant Beck – This is one of those places everyone raves about. Numerous friends I know have told me how outstanding the meal is at Chef Justin Wills' restaurant on the coast. Not just the beautifully plated, seasonal NW-inspired dishes, but also the setting, with large windows overlooking the roaring Pacific Ocean. Brice and I finally made the 1.5 hour trek to Depot Bay to experience it for ourselves. It definitely lived up to the hype. More to come in a future blog post, but let's just say I am now another member of Team Restaurant Beck.
Old Favorites:
Behind the Museum Cafe – I completely adore this little Japanese cafe next to the Portland Art Museum and definitely do not go there as much as I should. With Japanese beautiful artwork decorating the walls, a menu featuring hojicha roasted tea, sake, and onigiri rice balls, it is like magically being transported to Japan. If you're there between 2-5pm, you can enjoy your matcha green tea served in the traditional tea ceremony. Head over for a light meal, tea with friends, or quiet space to work or read.
What I've Been Cooking:
Isa Does It – As I've made the transition out of eating meat, I keep chatting with other vegetarians on what they cook at home. Nearly everyone I talked to seemed to rave about this vegan cookbook. I finally gave it a purchase and now understand why. Nearly everything sounds delicious. I started with the Meaty Beany Chili made with lentils, red kidney beans and a hint of cloves for sweetness. It was superb.
Spicy Crackers made with Theo Chocolate Cocoa Nibs – These were my first foray into cracker making and while not super uniform in size, they were all real tasty and devoured in minutes. Very unique flavors and an easy recipe – win win!