Oh Vietnam. You were such a dream. The incredible food. The beautiful scenery. The numerous cafes. The incessant honking. I loved it all.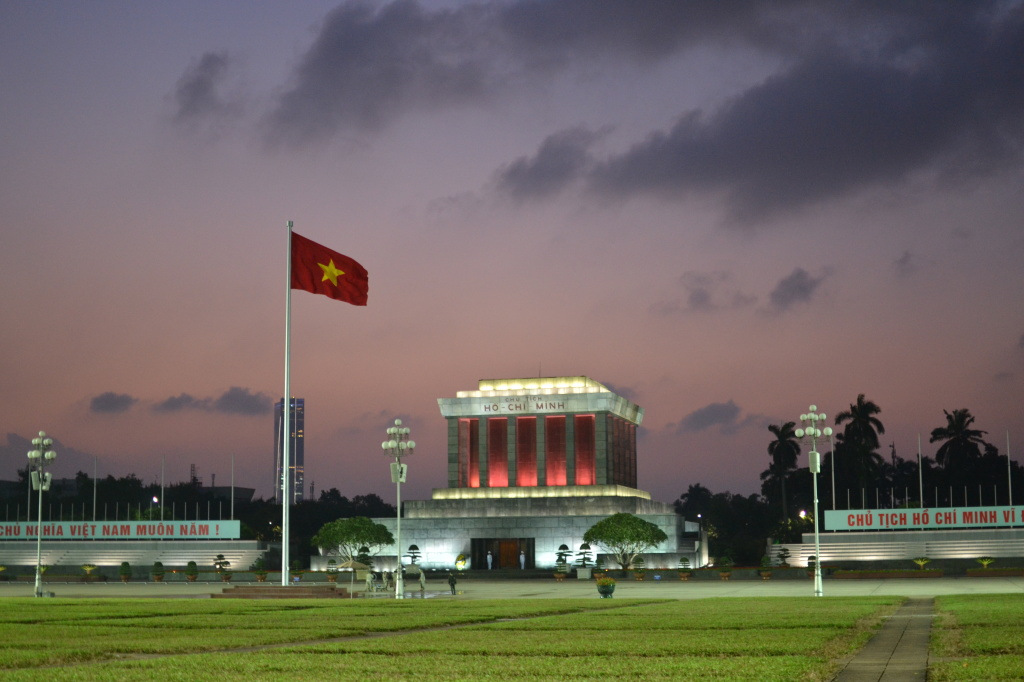 The influence left over from the French colonialism is still extremely evident in the cuisine and cafe culture. Yet it has the craziness of any other Asian country. The combination makes for a fun, energizing country.
Here are a few of my highlights, observations and of course, favorite meals:
Driving:
While there technically are traffic rules and stop lights, you almost wouldn't believe it. There lacks a sort of "right of way" in Vietnam, at least what we would consider a right of way back in the States. Like if you are a pedestrian, typically cars and motorists watch out for you. Not in Vietnam. Plenty of times I was walking down the sidewalk and a motorbike would just cut me off to park right where I was walking. It isn't that they are being rude, they just don't consider your walking any more important than their driving.
And crossing the street is an experience. Even if there are crosswalks, no one will stop for you, so you definitely have to watch where you are going. You just start walking slowly and continue forward even if cars are zigzagging around you. At first, I certainly wanted to bolt into a run and dart across the street, but we were warned that is the exact opposite thing you should do. If in doubt, just follow a local across the street!
To deal with all of the chaos, the Vietnamese people honk. At all times. It is the noisiest countries I have ever been to. When we asked our Vietnamese tour guide John when you should honk, he looked at us like we asked the most ridiculous question. "Always!" he exclaimed. If you want to turn, if someone is in your way, if you are cutting someone off. I didn't even realize it was so loud until we came to Cambodia, where it is eerily quiet by comparison. But that is all part of the fun!
The People:
The Vietnamese, especially in Hanoi, are friendly and energetic. No matter the hour, you can find them socializing and laughing at bars and cafes. While sometimes we got funny looks when we tried acting like locals, they seemed to love tourists and were helpful and excited to share their country with us.
Of course, there were some instances where people tried taking advantage of us being tourists, like the woman at the market who complimented my headband, asked to take a photo together and then charged me a dollar.
Or when we were blatantly cut in line in Hoi An for Bahn Mi sandwiches. "No, me Vietnamese, first," the old man declared, pointing at himself, then pointing to us and the back of the line. As a local, he did not wait behind tourists. After we repeatedly told him no, he persisted and got his food first without a second thought from the restaurant staff. Then he smiled and exclaimed "I still like you."
One of the nicest encounters was while we motorbiking from Hue to Hoi An, we ran out of gas (yes, that happened) just outside of our destination, in the dark, nowhere near our guide. A woman biking past with her two daughters on the front stopped and offered to help. She led us to the mini gas station and made sure we were ok. Motherly caring for others anywhere you go.
The Cafes:
Cafes are everywhere, with seats facing towards the street just like in Europe. In Hanoi especially however, typically instead of full-size chairs, you will find miniature plastic stools. The sidewalks are covered with those little stools, nearly always filled by locals chatting and drinking the strong Vietnamese coffee or beers while munching on pumpkin seeds.
Egg Coffee – After the recommendation of one of the hotel staff in Hanoi, we stopped at a small cafe (where you sit on miniature stools on the sidewalk!) for some Egg Coffee one night. Ok, I know that sounds weird. I thought the same thing. But, when in Rome, right? (Or when in Vietnam?) And seriously, boy am I glad we tried it. I keep raving about it. A small shot of coffee (or cocoa in my case) on the bottom of the mug, then topped with what almost tastes like marshmallow-fluff. It is egg yolk mixed with condensed milk and then whipped until it is a custard like consistency. You drink it with a spoon, stirring slightly to get both the coffee and egg custard in the same sip. So. So. Good.
The Food:
I cannot even express how much I loved the food. Fresh fruit and produce, flavorful soups and noodles, and sure, some sketchy meats. But we'll ignore that part.
Here were some of my favorites.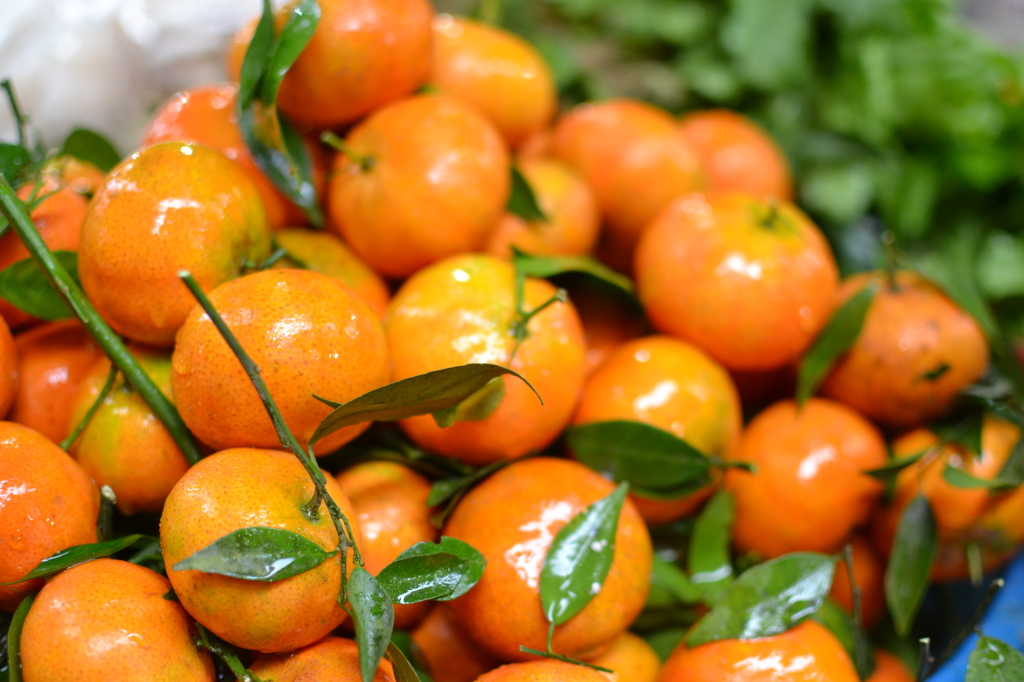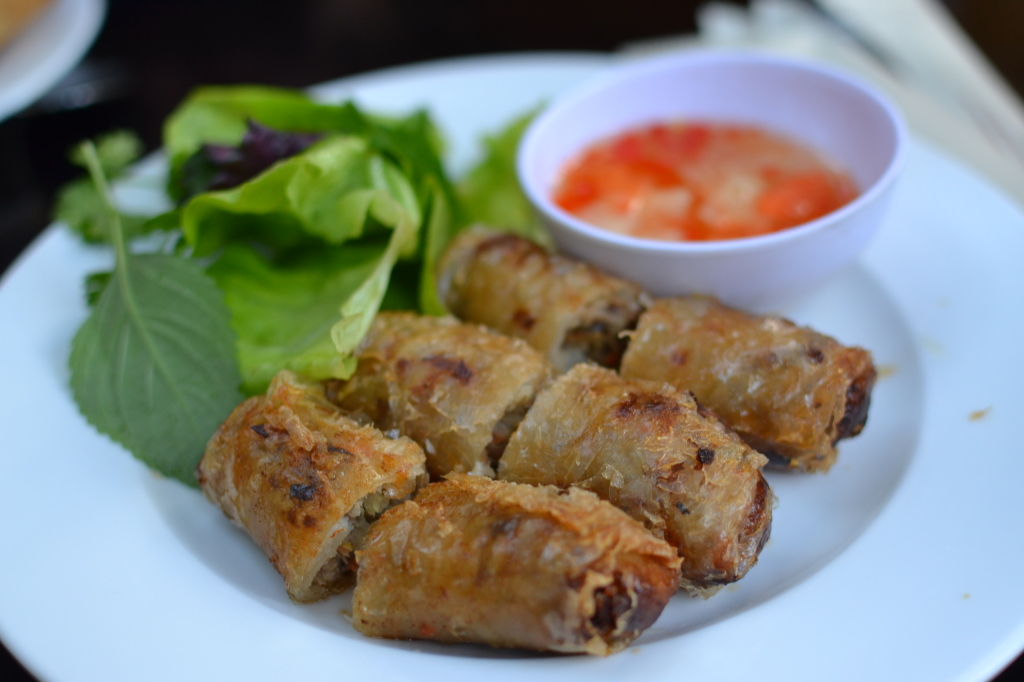 Bun Bo Nam Bo – My favorite way to learn where to go when traveling is to ask the locals. [I loved this blog post by fellow Portlander about totally spot-on TripAdvisor review troubles.] So during our first night in Hanoi when we hit up Crossfit Tay Ho, one of our initial questions to the group was "where should we eat?" We were told we had to get Bun Bo Nam Bo from this little restaurant in the Old Quarter.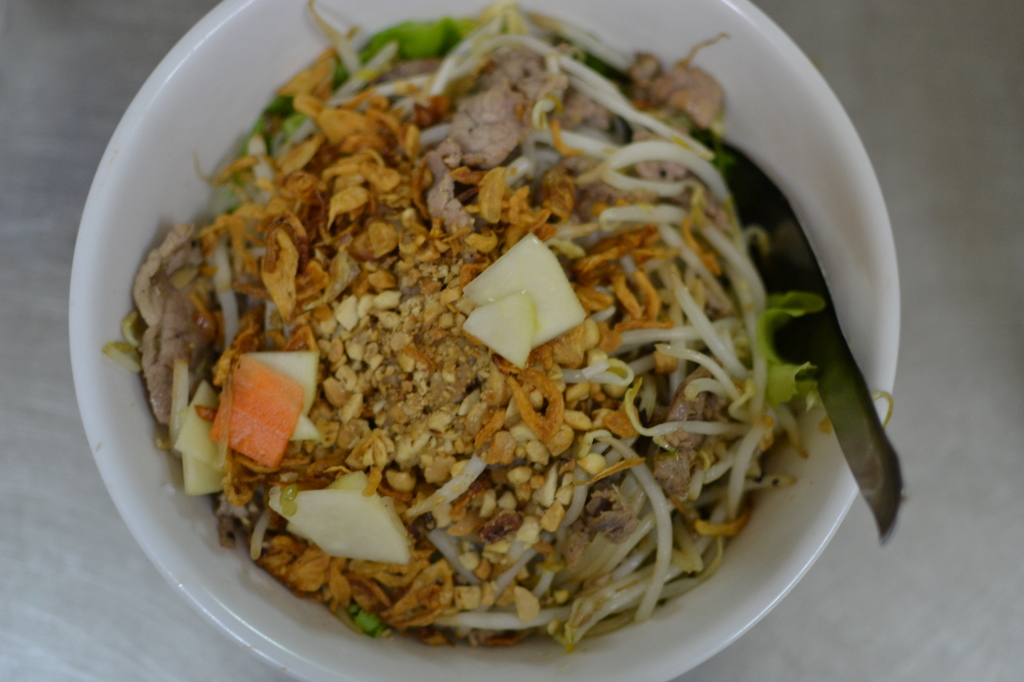 Had we not been given the recommendation, I am not confident we would have walked in. Especially for our first night in town, the restaurant, named after their only dish, is a little sketchy looking to American eyes, with questionable sanitary conditions. But this is Vietnam, after all. It is all a little different than the U.S.
Fortunately the food arrives quickly so you can ignore those thoughts and just dig in. A large bowl is brought over, overflowing with vermicelli noodles, a small amount of broth, and beef marinated with fish sauce, sugar, lemon and chilis. Using chopsticks and a spoon, you mix in the toppings of peanuts, fried onions and bean sprouts. It has a wonderful blend of flavors and textures, it is rich and filling, yet begs you to order another bowl, especially as it is less than a $1!
Bun Cha – One day while exploring Hanoi, I was getting a little hungry and was told to try the Bun Cha at a cafe overlooking Hoan Kiem Lake. I wasn't sure what the dish was but the location sold me. After a few minutes, a cast iron skillet of sizzling charred pork, green onions and bean sprouts came to my table. Next, the server brought over a plate of thin vermicelli noodles, greens, Thai basil and other herbs, and the traditional dipping sauce of fish sauce, rice vinegar and sugar.
I had no idea what I was supposed to do next. Eat it separately? Mix it all together? I tried asking, but the server's lack of English just ended with her staring at me blankly.
After asking my cooking class instructor day's later how to eat it – "of course you mix it all together!" I realized that I assuredly looked like the goofy tourist eating it in bits and pieces. But regardless, I loved it. Flavorful, light, and perfect for a hot day in Vietnam.
Cao Lau – After our intense day motorbiking from Hue to Hoi An, I was starving, a little shaky and ready to explore the quaint town of Hoi An. Our crazy and awesome Vietnamese tour guide took us on a food crawl – now that was my kind of night! Our second stop on the crawl was to get this Hoi An specialty of sweet potato noodles, braised spiced pork, bean sprouts and a soy sauce broth. We found a little street vendor next to the river cooking it up. We took a seat at the small table and immensely enjoyed the slightly sweet, spicy, rich dish along with good laughs about the day's adventures.
Pho – This noodle soup's name refers to the noodles, which is are wide rice noodles. You can get the soup with chicken or the standard, Pho Bo, with beef. Unlike in the States, where I've always had this dish for lunch or dinner, pho is nearly always the breakfast of choice for Vietnamese. When made well, it is the perfect example of balanced flavors of spicy, salty, sweet and bitter. For those of you who failed etiquette class growing up, it is even better to enjoy this in Vietnam where it is perfectly acceptable to slurp your soup!
Bahn Mi – I'm still daydreaming of the Bahn Mi sandwiches from Bahn Mi Phuong in Hoi An. It was actually featured on an episode of Anthony Bourdain's No Reservations and for good reason. Light, crispy and fluffy baguettes filled with various sauces (after going twice, I still don't know exactly what they were!), herbs, papaya, and your choice of meat. We tried the barbecue pork, the chicken, and my favorite – the Queenslander, spiced burger. While you can get plenty of Bahn Mi's in the States [Lela's on 23rd is my favorite], the flavors (and meats) were completely different from any sandwiches I had tried back home. This rendition will likely be the one dish I miss most after departing Asia.
Bahn Mi Bo Kho – Brice always love a good stew. It is one of his favorite things about winter time – that I will pull out the slow cooker and make a stew. So it was no surprise that he was really excited when he saw the description for Bahn Mi Bo Kho on the menu at Quan An Ngon restaurant. A fresh, crispy French baguette served alongside a beef stew that you can stuff into the baguette and then dip into the sauce. Brice wasn't quite sure what to make of Vietnamese cuisine before we arrived in the country. This dish definitely sold him.
On top of all of that, there are plenty of patisseries serving up flaky croissants or beautiful tarts (like at the incredible Cargo Club in Hoi An). I seriously could just eat my way through the country.
I cannot recommend Vietnam enough. Fascinating culture, nice people, amazing scenery, so many great options for both leisure and active vacations, and of course incredible food.
—
If you are traveling to Hanoi, we really enjoyed these places we stayed:
Hanoi Backpackers – great for meeting a fun group of people (mostly backpackers around 18-25 years old), pub crawls and organizing tours like the Buffalo Run. The rooms are modest and dark, but cheap ($25/night for 2).
Essence Palace Hotel – a beautiful, nice hotel in the Old Quarter of Hanoi. Excellent service and delicious food. Much cheaper than Western brand hotels and equivalent quality ($50/night for a standard room or $75/night for a suite including breakfast).