First off, congratulations to Dijana of The Funny Nanny and Suzannah of Create/Enjoy, the two winners of the Bakery Bingo Holiday Giveaway! Wahoo! (No, winners did not have to be bloggers but since they both are, it's fun to also be able to share their blogs with you!)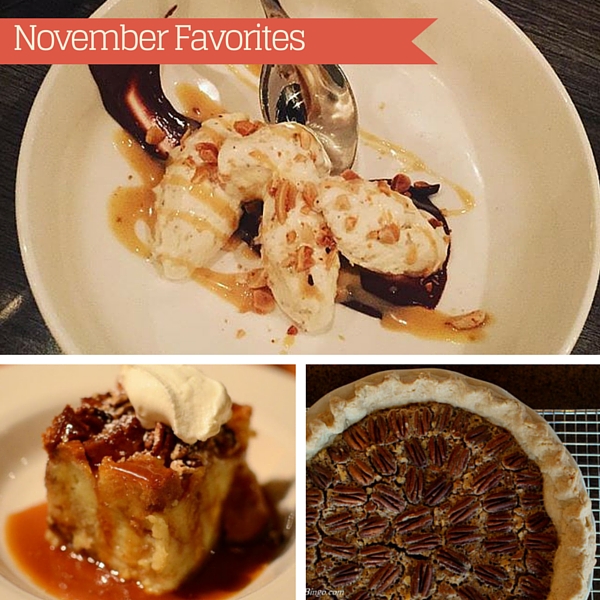 We here are in the last month of the year! I hope you had a fabulous November and more importantly, hope you have all been staying dry out there. Holy cow, it's been rainy!
November was a great month, especially since it includes my favorite holiday. Thanksgiving was a blast. With all the cooking celebrations, I didn't eat out as much this past month – though I guess that is relative, right? Compared to most people, I'm sure I eat out ALL THE TIME. Here's the roundup of my favorite new spots, recipes and other November goodness.
Top Eats and Drinks
Muse – This little wine bar on NW 23rd and Raleigh was a great find after a hectic day grocery shopping in the pre-holiday madness. The cozy yet romantic atmosphere, fun wine selection and extraordinary staff make this place a wonderful hidden gem.
Oregon Deli – Brice found this cute little sandwich and salad shop about a month ago, and I have since been there 5 times. Yes, I love it. Oregon Deli is tucked away in a little house on Mississippi near Por Que No. They've got incredible sandwiches like Roasted Butternut Squash, made with kale, goat cheese, aged balsamic and crispy onions all on a fluffy ciabatta then grilled to messy perfection. My favorite though is probably their cold-case salads, like the one with chickpeas, romanesco and raisins topped in a creme fraiche dressing. The space is pretty minimalist but the food is outstanding.
Chizu – I finally made it over to Steve Jones' cheese shop in the West End. Based on a sushi-inspired concept of chef's counter seating and "omakaze" style ordering where you can just state your price and get their selection of cheeses. Not only is that a fun way to go, it also reduces any stress of figuring out what to order. It might seem a little pricey at first, but they give you a large enough portion of cheese, you'll get your money's worth. It is a tiny space, so don't plan on going with a group.
Acadia Bistro – I am digging what new owner Chef Seamus is cooking up at No Po's New Orleans bistro. It's all good but the bourbon bread pudding? Yup, that has winning written all over it.
Top Food Finds
Felton & Mary's BBQ Sauce – While it isn't really barbecue season currently, spicing up your meals at home is still a must. In November, I came across this new barbecue sauce from a local company with a really sweet story. My favorite was the Smokey Brown Sugar that was a flavorful sweet yet savory combo. Since I haven't been eating meat lately, I added this some grilled tofu then also to a sweet potato. They don't sell their products in stores yet but are crowdfunding to do so, so give 'em your love (and money) if you like BBQ sauce!
Sunshine Dairy & Moonstruck Drinking Chocolate – Read more from my previous post here about this addicting, rich, elevated chocolate milk.
Top Recipes
Pumpkin Cinnamon Rolls from Cooking Light – These were the perfect addition to our Friendsgiving Brunch. I was surprised by how easy it was to make cinnamon rolls from scratch! While the recipe called for a glaze on top, of course I went a step above and made a side of cream cheese frosting. I mean, that's a must, right?
Bourbon Chocolate Pecan Pie from the Baked cookbook – This is my go-to Thanksgiving recipe and I've got to say it worked yet again. I love the decadence of it. Perfect for the day of overindulgence.