Ok guys, seriously, how is it almost March already? The past few months since I've returned from Asia have been kind of a whirlwind. After close to 10 weeks out of the country and off work, I get asked a lot "how are you adjusting back to normal life?" I laughed that perhaps the recipe for getting back "into the swing of things" is a 1:1 ratio of time gone to time back.
That means I am nearly approaching the mark where I'm feeling settled at home not packing and unpacking every few days, back into the work mindset, and rockin' and rollin' with day to day life. My theory, while a joke at first, has seemed plausible.
Though after a long weekend away in Phoenix for work slash play, Brice and I looked at each other at one point realizing we almost felt more at home when we were at the unknown hotel. We immediately unpacked our belongings, started putting together a laundry bag, and located the nearest bottles of water, all of our first steps when we arrived at a new place on our trip. I guess some routines die hard!
But that isn't to say I'm not happy about being home. Since being home, I've been trying to balance cooking at home more – seriously obsessed with my Spiralizer and this blog Inspiralized, check it out if you haven't yet – and enjoying all the crazy good food we have in Portland. We are so spoiled here. Every time I travel, I realize that more and more.
I've been hitting up some of my favorite go-tos like Sweedeedee, Imperial, Eb & Bean, as well as crossing some places off my "must try" list like Mirakutei, Cafe Castagna, Tea Bar and Hale Pale.
Portland Dining Month is here again and that means another great way to hit more places.
Don't know what PDM is all about? Over 90 restaurants participate in this annual event that is similar to a Restaurant Week. Regardless of where you decide to go, you'll get a three-course meal for only $29! Now, in my opinion, some of these menus are better than others. Both in terms of price – if 3 courses would normally only run you $20, probably not worth it – and quality – some restaurants don't give many options on selections and what is offered just doesn't sound that great.
So I definitely encourage you to check out the menu (available on the PDM website) to make sure you like what's being offered before you head in, especially if you are vegetarian.
That being said, there are a few really awesome places where you're pretty much guaranteed for a fun, delicious, multi-course dinner on the cheap. And no surprise but these places do get busy, so remember to book reservations if you are planning on going at 7pm on a Friday or Saturday. 🙂
Below are both my recommendations and places I hope to check out.
Are you planning on going to Portland Dining Month? Where are you hoping to explore this month?
Happy dining!
*My blogger friends Meredith with Martha Chartreuse and Pech with Pechluck's Food Adventures both are featuring PDM posts today too! Meredith has a great "how to" guide and Pech includes some places on her list. Give them some love by checking out their posts as well!
—
Aviary:
This place always impresses with unique dishes and intense flavors. This PDM menu is no different.
First course (choose one):Dungeness crab chawanmushi with bone marrow, sea urchin, Asian pear, snap peas and truffle vinaigrette -OR- Warm vegetable salad with romanesco, pumpkin, Brussels sprouts, lime-pickle vinaigrette and black garlic
Second course (choose one):Miso-braised beef short rib with taro root, Asian pear, yuzu kosho slaw -OR- Pan-seared salmon with cauliflower, saffron, green apple, trout roe and American caviar
Third course (choose one):Chocolate tart with banana ice cream and cocoa nibs -OR-Baked meringue with huckleberries and Meyer lemon sorbet
Bar Avignon:
This has been on my list to check out for ages. Their menu includes a caramelized fennel risotto and chocolate brownie with Jacobsen smoked salt caramel sauce. Sounds good to me!
First course (choose one): Groundwork Organics spring lettuce with shallots and honey-apple-cider vinaigrette
-OR- Roasted chicken consommé with oyster mushrooms, sautéed onions and tarragon oil
Second course (choose one): Caramelized fennel risotto with roasted beets, herbed goat cheese and fennel fronds -OR- Seared pork chop with Reverend Nat's Hard Cider-glazed new potatoes, rapini and thyme -OR Roasted half chicken panzanella with asparagus, radish, Grana Padano, baguette and lemon-garlic dressing
Third course (choose one): Gooey chocolate brownie with Jacobsen smoked salt caramel sauce -OR- Carnaroli rice pudding with vanilla brown butter syrup
Biwa:
I'm not 100% sure but this looks to be that you get ALL of these items for just $29. If that's the case, we all need to get over there March 1st right when Biwa opens. I love their fun, yet classic Japanese food – yakitori, ramen, sushi. Brice especially loves the grilled rice balls (side note: rough estimate that he ate 1,000 of those while in Japan so who knows if he is tired of them now…)
First course: Sashimi moriawase (daily selection of sashimi), kinpira gobo (burdock salad), ohitashi (salad of spinach and dashi), sunomono (salad of seaweed and vegetables)
Second course: Tako (grilled octopus), kimchee (fermented cabbage), gyoza (pork dumpling), agedashi tofu (fried tofu) and yakitori (assortment of grilled chicken and vegetables)
Third course: Yakionigiri (grilled rice ball), pork stew with rice balls and tsukune dango (chicken meatballs)
Fourth course: Miso ice cream
Coppia:
Despite living down the street from this cute wine bar in the Pearl for many years, I haven't eaten there until this past weekend. The food was fantastic with housemade pastas and of course suggested pairings. Even better, this menu comes with a complimentary glass of prosecco!
First course: Artichoke flan with shaved fennel, chervil, hazelnuts and caprino goat cheese
Second course: Handmade gnocchi with pistachio-arugula pesto, garlic chips and Bra duro cheese -OR-
Lamb polpetta with aged fontina polenta, pickled mustard seeds, pearl onions and hazelnuts
Third course: Blood orange tart with a brown butter pastry and blood orange curd
Laurelhurst Market:
I haven't been to Laurelhurst since Chef Benny Bettinger took over the reins but have been wanting to check it out. This is a definite steal of a deal with the beef shoulder entree being $26 on the regular menu, so you get a delicious appetizer and dessert for effectively just $3! But if you go, make sure you also order an extra side of their mac 'n cheese. I've been dreaming of since last year's Taste of the Nation…
First course: Roasted cauliflower arancini with radicchio caponata, roasted red pepper aioli and arugula
Second course: Ten-hour braised beef shoulder with potato pancake, warm oyster mushroom salad and beef jus
Third course: Honey panna cotta with candied fennel and fennel seed brittle
Paley's Place:
Ok, I'm not one to usually eat elk but I love Paley's Place and feel like PDM is a great way to check out this restaurant that is otherwise expensive. Plus that gingerbread I've had before and it's incredible.
First course: Salad of kale and roasted acorn squash with chèvre and balsamic vinegar
Second course: Red wine-braised elk, soft polenta and orange gremolata
Third course: Warm gingerbread with roasted rhubarb and crème fraîche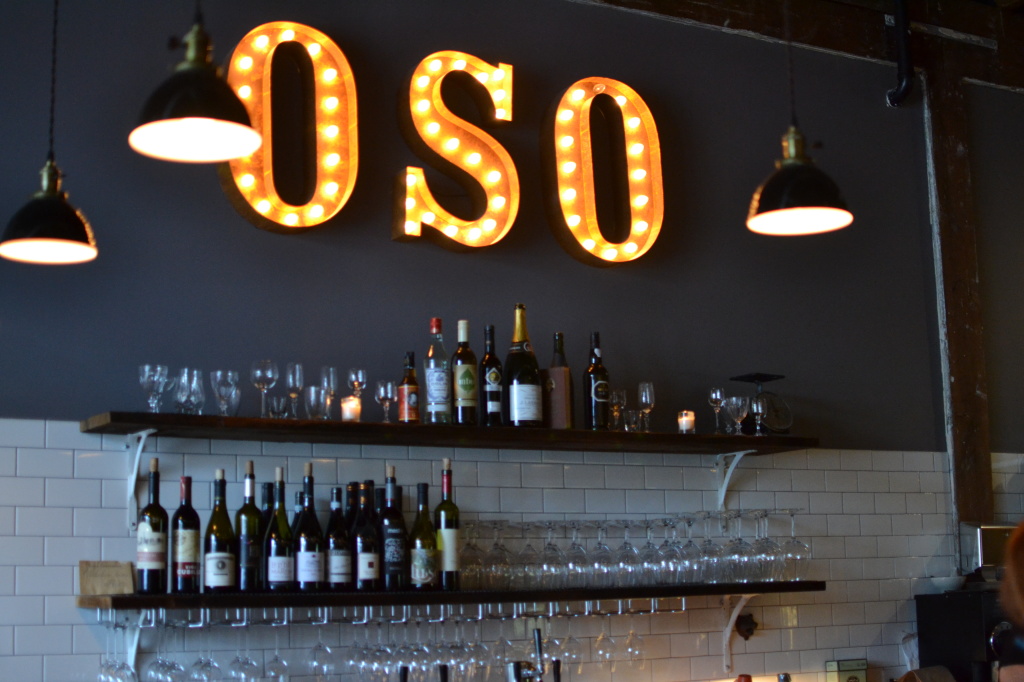 Oso Market:
This is one of my favorite places in Portland these days. And I had the beet fritters the last time I was in – insanely good. Vegetarian or not, you will not be disappointed.
First course: Roasted Brussels sprouts and parsnips with cashew ricotta (vegan)
Second course (choose one):Smoked paprika and lemon pepper hen with cherry chutney -OR- Smoked beet and lentil fritters with cherry chutney (vegan)
Third course (choose one):Fernet and chocolate molten cake -OR- Almond chocolate brittle (vegan)