StellasKitchenCo.com • @StellasKitchenCo
The other day, after our dishwasher bit the dust (ugh, who knew dishwashers were so expensive?!), my husband and I were having a conversation of household duties. Brice somewhat awkwardly said "I know you say you do, but I just want to check, you actually like making dinner, right?" I laughed, we've been together for so long now, I figured he would of course know I love to cook. But truth of the matter is, some days cooking is just not in the cards. With working in Hillsboro and hitting the gym in the evenings, starting to make dinner at 8pm doesn't often sound appealing.
On those days when cooking doesn't make its way into the schedule, we have typically alternated between scrummaging up something in the pantry or freezer or going out to eat. As evident with this blog, I obviously love eating out – I love checking out new restaurants, sampling new cuisine and relaxing while having dinner served to me. But it is real nice to have healthy, easy and affordable option to have a meal in the comfort of our own home.
Presenting: Stella's Kitchen here to save the day!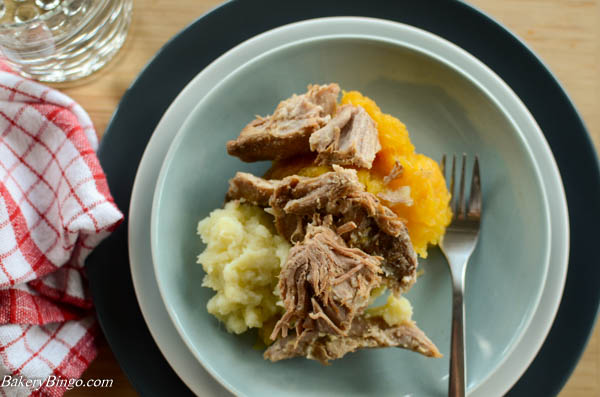 Started this past year by former caterer Sarah Boam, Stella's Kitchen is an outstanding meal-delivery service.
Meals are all made from scratch using high-quality, local ingredients like organic produce from Gathering Together Farm and Carmen Ranch grass-fed meat. You can select whatever suits your fancy from a regularly changing menu with dishes like Shephard's Pie with beef, yams, carrots and peas, to roasted butternut squash with dates, bacon and pepitas.  Brice's favorite was the wine braised beef with sweet potato mash. Flavorful and tender meat that was extremely filling. To satisfy your sweet tooth, they even make desserts like paleo Mexican chocolate custard!
Regular meals contain 5-6oz of protein (large meals are 7-8oz of protein), so it is plenty to keep you full.
All dishes are packaged in easy to transport containers then delivered twice a week to select drop locations around town. Most locations are offices or Crossfit gyms, but don't worry, quite a few are open to the public for pick up and more locations are being added all the time. So check out their website to find the closest location to you or just contact Sarah and she'll get you squared away. Once you take all the food home, all you need to do is heat it up and bam, dinner is ready!
What I really love is the flexibility and options that Stella's Kitchen provides. From paleo to vegan, gluten-free to dairy-free, Sarah is extremely accommodating to any diet. Can't find something to fit your special dietary restrictions? Just ask and she'll get you taken care of. But don't think these are bland health food. It is flavorful and delicious, and just so happens to be good for you also. Win-win, I say.
They really have you covered all day, every day with breakfast, lunch and dinner options. You can order just one meal, all the way up to a meal for every day of the week. Seriously, one customer gets 14 meals a week so he's got all his lunches and dinners for the week taken care of! And don't worry, he isn't eating the same thing every day. Stella's Kitchen provides him with different meals to keep his taste buds happy.
Stella's Kitchen is exceptionally perfect this time of year when you want to be cozied up and lazy this winter but not pack on the pounds. Go check it out and get 10% with coupon code Bingo10!
The details:
Paleo to vegan meals made fresh and delivered to your office or gym
Order: Place your order online weekly on Wednesdays
Pick up: Weekly on Mondays and Wednesdays
Public drop locations: Crossfit503 off of SW Macadam Ave is the current "home base" for deliveries. More drop locations – offices and Crossfits – are being added frequently so check out their website to find one closest to you.
Use coupon code Bingo10 to get 10% off your first order! 
Order when you need to! No minimal order or required number of weeks necessary.
Note: I did get my first week of meals complimentary but as always, all thoughts are my own. I am a big supporter (and now a customer!) of Stella's Kitchen.