1615 NE Killingsworth & 16th • teabarpdx.com • 503.477.4676
Hours: Daily 8am-8pm
I've never been much of a coffee fan. Despite not enjoying the taste, I weirdly have always loved the smell of freshly ground coffee though. And I also love the idea of coffee. Like a large mug of a warm beverage with frothy milk poured into a fun design? That sounds so nice. Especially on a chilly day. But then I take a sip, and no thanks, not for me.
But tea on the other hand is much more my thing, whether it is an herbal by itself, a black tea mixed with a little cream and light on the sugar just the way I learned to enjoy it years ago in Ireland, or a full-on tea latte where the steeped tea is mixed with some steamed milk.
This is why the Tea Bar in North Portland, which only opened in December, has become my new favorite go to spot. It has all of the great things of your favorite coffee shop like a cute place to hang out and delicious baked treats to enjoy, but also with an extensive tea-only menu.
I got to chatting with Tea Bar's creator and owner, Erica Indira Swanson, during one of my recent visits about how she came up with the idea and her vision for her shop. Her energy and enthusiasm for tea and customer service makes me love this place even more.
After spending a few years in China, once when she was 16 and again at 18, as well as a few months backpacking through SE Asia, Erica has grown to both understand and love tea. The tea café idea has been on her mind for years. "There are so many coffee shops in Portland. I thought there could be a tea shop too […] It was just a matter of where and when."
That time became now when her other company, Little Beirut Properties, purchased the North Killingsworth building in 2011. With one of the extra renovated commercial spaces being open, Tea Bar became a reality.
Erica has created a space that is both cozy and modern. Her design savvy mixed with a tight budget meant Erica did a lot of the work herself in creative ways. All of the chairs are from Boxer Ramen, a sushi place that recently closed. The tables are made from butcher blocks from Cross Cut in NW. The lights are from NW Portland's Schoolhouse Electric. "I love that the building is south facing giving a lot of natural light. And all of the lights are on dimmers which was very important to me," says Erica.
She even handpicked the exact shade of white for the walls. The result of all of this is an atmosphere that is "warm but also modern, European and clean looking."
Erica has curated a menu with the help of a few local tea bloggers and tea lovers that is "concentrated on quality over quantity." You won't find hundreds of teas filling a book, but you will find some of the best options available which are mostly organic and a few being directly sourced, like the Pu'erh that is from a family farm in China.
Erica's current favorite: "The London Fog, which we blend in house with a mix of Earl Gray and organic lavender. I love it with soy milk."
My favorites? I particularly love the Matcha Latte. Ever since our trip to Japan, I have had a huge fondness for this powdered green tea, which is made by grinding green tea leaves until they become a powder then whisking it with hot water. The traditional tea ceremonies in Japan involve the preparation and presentation of matcha in an ornate bowl called a chawan.
At Tea Bar, you can get either the Matcha in its customary form with water, or you can get it with some added milk for the latte version. Matcha has a slightly bitter taste and frothier texture than regular green tea, so it can take some getting used to. But trust me, the high-quality versions like at Tea Bar will change your opinion on green teas.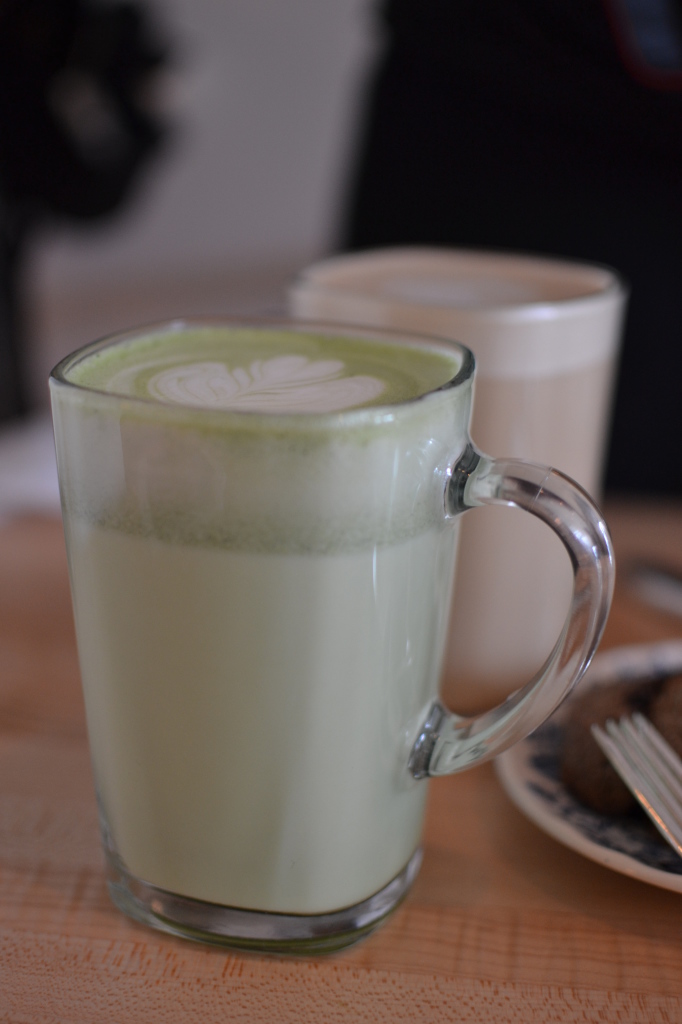 As a big fan of black teas, I also really love the Bombay Latte. (Clearly I have a thing for the lattes.)
Tea Bar will also soon be offering fun items like bubble teas and Early Grey Mimosas, where they make a syrup from the steeped tea then add that to fresh squeezed orange juice. That takes a brunch beverage to a whole new level.
If that isn't enough, if you're hungry, they've got treats from local rockstars at Bake Shop and Bowery Bagels.
Don't be surprised if you see me hanging out at their big communal table in the back or at the bar whenever you head in. In fact, I even set up a meeting there later today. Nothing wrong with a little obsession, especially when it comes with some delicious tea lattes! I think the Chai is calling my name!