Happy Thanksgiving week everybody! (In my mind I'm saying it like Matt Bellasi of Whine About It. Are you as in love with that short "TV show" as I am? That guy is hilarious. If you haven't watched it yet, do yourself a favor and spend an hour catching up. Your Monday will thank you.)
Anyways! The holidays are quickly approaching. Have you gotten your presents figured out yet? I can't say I have. I'm not particularly skilled at getting presents, except for maybe my mom who also loves cooking and kitchen gadgets. Basically if I would like it, I know she would also.
To help you pick out gifts for the food lover on your list (or for yourself! You also deserve a present!), I'm sharing my favorites. From wine to artisan food products to restaurants, I've got you covered with the best local products that would make anyone's holiday.
PLUS! I've got a giveaway nearly all the products on this list, with value of approximately $250 each!  Two lucky winners will selected, to be notified on Thursday, December 10th! All you need to do to enter is comment below. For additional entries, follow me on Twitter and Facebook. Enter by Monday, December 7th.
Have a wonderful Thanksgiving! Hope you enjoy lots of delicious food and time with friends and family!
xoxo
Bakery Bingo 2015 Holiday Gift Guide:
Portland Experiences: I'm all about doing experiences as a present. That is usually my favorite way to celebrate birthdays or holidays with family and friends. From cooking classes to hot air balloon rides, I've done a wide variety of activities as gifts. I definitely recommend these ones!
Forktown Food Tours – These tours are perfect for friends coming in from out of town or just a way to get out and do something different. I got my mom a tour for her birthday last year and it was such a fun way for us to spend the day together and for her to experience a new part of town (even though she's lived in the Portland metro area for 30+ years!). Purchase gift certificates beginning Black Friday through Cyber Monday and receive 20% off the regular ticket price!
Portland Knife House – I recently took a knife sharpening class at this newer shop in SE. It was spectacular – really informative, interesting and I can actually now sharpen my own knives! I definitely recommend getting the cook enthusiast in your family a class.
Vista Balloon Adventures – Ok so, not food related and not really a winter-time activity, but this was probably one of the most incredible things I've done so I didn't want to leave it off. I took my dad last summer on a hot air balloon ride over wine country, and it was an amazing view and fun experience. Go do this!
Foods: These locally made products are perfect stocking stuffers or something simple to bring as a hostess present.
Wine: This really needs no explanation. Wine nearly always makes for a great gift. Another idea is going a step above though, and purchasing a gift certificate for a tasting or tour of a local winery as well.
Bow + Arrow – Got a holiday party to attend and need to bring a bottle of wine? This is an excellent option of a well-priced Oregon pinot. Plus this company has the best labels. Am I right?
Hyland Wines – I loved visiting Hyland Estates a few weeks ago. They have outstanding wines and a beautiful space. Consider picking up a bottle of their wine, or a gift certificate for a tasting at their Dundee winery.
Solena Estate – The sister winery of Hyland Wines is kind of a hidden gem, I think. So you can impress all of your wine friends when you bring a bottle of Solena. They have a beautiful tasting room out in Yamhill where they offer an awesome selection of Pinots of course but also white wines, Merlot, Zinfandel and Syrah.
Local Eateries: Pick up a gift card, or better yet, go take your friend or family member to one of these places and enjoy it together!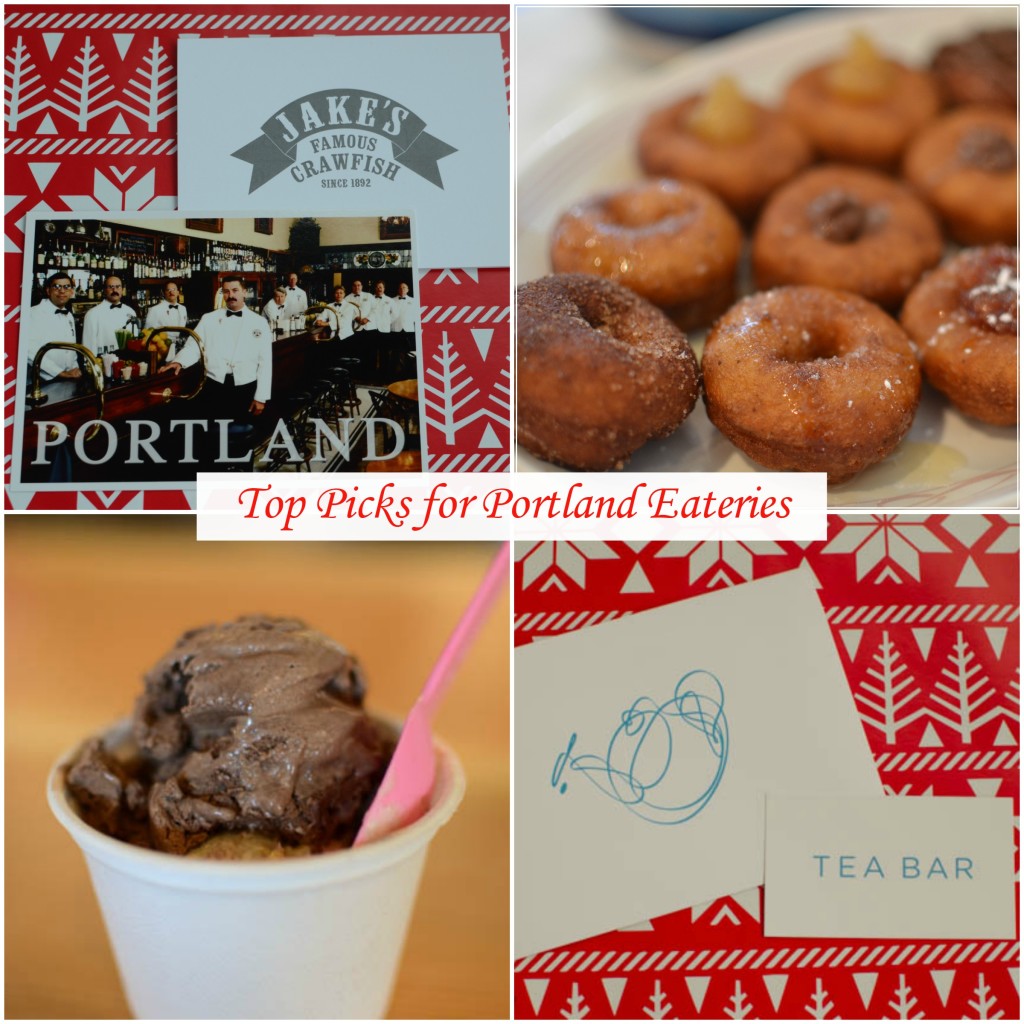 Cookbooks: I am a big supporter of giving (and getting!) cookbooks as gifts. Even more fun is when the books are autographed or marked with the giver's favorite recipes.
Theo Chocolate cookbook – The Seattle chocolatier just came out with a new cookbook, of course with lots of chocolate recipes but also some savory ones.
Come join the Portland Culinary Alliance for the annual Portland Cookbook Social. On Sunday, December 6th from 1-3pm at Imperial/Hotel Lucia, there will be over 25 local authors selling and signing their cookbooks, as well as providing samples! You're bound to find something for everyone on your list with options like The Country Cat's new Heartlandia and Diane Morgan's James Beard award-winning Roots.
Thank you to all of the wonderful companies that provided product or gift certificates to the two giveaway baskets: Hyland Wines, Solena Estates, Tea Bar, Ruby Jewel, Pip's Original Donuts, Jake's Famous Crawfish, Forktown Food Tours, Theo Chocolate, Red Duck Ketchup, Seely Mint, Honey Mama's Heather Jones PR, Lisa Hill PR. What an awesome community! While they did provide everything at no cost, I reached out to these companies to be a part of this gift guide as I love their products and what they are doing!