Hello, my name is Erin and I have now gone 15 days since my last Feast event. I admit I might still be having withdrawals. Bring me back to the land of an absurd amount of food and drinks!
One of the best parts of Feast is not just that you get to eat all of this food (obviously amazing!), but that you get to meet and interact with the chefs who are creating the dishes for you. My mom was so surprised and impressed when she saw Chef Vitaly actually plating her dish at Sandwich Invitational. I had to explain that they were all there – chefs from Portland and chefs brought in from around the nation and the world. These talented, hard-working professionals were not just handing off the work to their low-level employees but they were there to represent their craft and most importantly, have fun. Their energy and enthusiasm made the events even more special.
So now, if you'd like to relive those memories or live vicariously through me, I'm bringing you my Top 10 Bites of Feast 2015 today.
And in case you missed my initial recap of the Top 10 Feast Experiences last week, go give it a read!
Sandwich Invitational: Feast kicked off with a bang with the annual sandwich contest.
Fry Bread Taco by Imperial
Vitaly Paley got my #VoteSandwich token for this take on a bahn mi taco love child, made with soy braised pork belly, spicy mayo, pickles and fresno peppers all on crispy fry bread. I wasn't the only one who was super impressed by this dish as they brought home the trophy for People's Choice. And good news for you! You can order this sandwich from the dinner and happy hour menus at its sister restaurant next door, Portland Penny Diner!
Peanut Butter Ice Cream Sandwich by Departure
While their savory crepe was excellent (my mom stood in their 20-minute line to get it twice and it did win Judge's Choice), I was totally swooning over this peanut butter ice cream sandwich loaded with banana brittle and covered in Valrhona chocolate. It brought me back to my childhood when I was obsessed with those Snickers Ice Cream bars. Chef Gregory Gourdet basically made my dream comes true by having more at the ending party.
Egg Dip Sandwich by Eggslut in LA
This LA restaurant had my favorite dish last year and didn't disappoint in 2015. Their delicious slow roasted pork shoulder was held in a perfect baguette (did it slightly resemble a bagel maybe?) then you dipped it in a warm poached egg yolk sauce. Incredible.
Night Market: It was a beautiful night at Zidell Yards, right on the waterfront with a gorgeous sunset. The energy, the crowds, the lanterns all brought me back to authentic Asia night markets. And oh the food!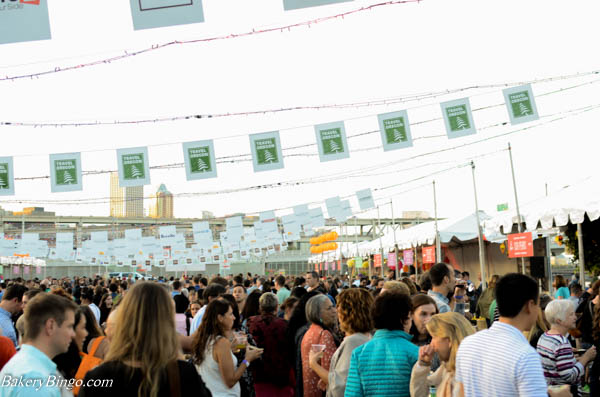 Sweet and Savory Rice Krispie by Fat Rice in Chicago
This was got the most conflicting reviews of the weekend I think. I was definitely on the "pro" side of the debate. I loved the perfect blending of sweet and savory. Made with pork floss, nori, then coated in a fish sauce caramel and fried shallots, it was certainly different but totally won me over.
Pelmeni Dumplings by Kachka
Kachka is known for their dumplings and they brought their dumpling A-Game to Night Market. While it didn't fully go with the Asian theme, these lamb stuffed dumpling rolled in adjika butter and prickled pears were outstanding.
Gobi Manchurian by Bollywood Theater
This might have been one of the only vegetarian dishes of the whole weekend. The cauliflower was lightly fried, spiced with garam masala then tossed in a sweet and sour sauce and topped with fried curry leaves. Indian delight.
Brunch Village: This is quite possibly my favorite event. I love the vibe and obviously all of the dishes. How can you go wrong with brunch, especially in this city?
Poached Turkish Egg by Saxon and Parole in NYC
Sous-vide poached eggs might just be my new favorite thing. I am not alone. This dish from NYC's chef Brad Farmerie had likely the longest line of the day. These eggs were beautifully cooked with a runny center and wonderfully seasoned with peppers, paprika and chives.
Dim Sum Creation by Boke Bowl
This Chinese dim sum inspired dish was perhaps my favorite of the day. Ground pork in a rich, spicy black bean sauce layered upon a turnip cake, served alongside a hard-boiled mini egg and a fluffy bao filled with berry bean.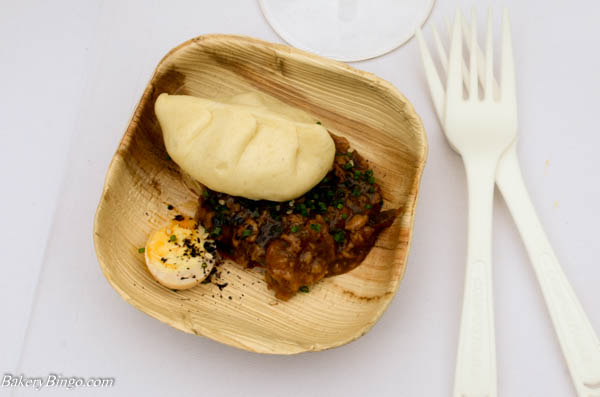 Biscuits and Gravy Madeleine by Frice Pastry
This one sounded a little too weird to me at first, so I first went with their Banana Chocolate Chip Madeleine which was fantastic. But then I kept hearing all of my friends exclaim how insane the savory version was. I immediately went back for seconds after trying it myself. The rosemary-infused fluffy bread was topped with a sausage gravy, elevating the traditional breakfast dish to the millionth degree. I especially loved how this was unique but completely fit Pastry Chef Alissa Frice's style.
Oregon Grand Bounty Tasting:
S'mores Mini Pie by Annie's Pies
Not only is Annie the sweetest, but she obviously makes some killer pies. The miniature treats she sampled at OGBT were all fabulous but my favorite was the S'mores Pie with a graham crust, decadent chocolate ganache and topped with a toasted marshmallow. Summer in one bite.
Notable mentions: I just couldn't narrow it down to 13 and leave these guys out!
Perfect croissant from Vancouver, BC's Beaucoup Bakery at Brunch Village: Despite the generous to-go bag that was provided with these perfect buttery pastries, I quickly devoured it after having one delicious bite.
Lemon ricotta pancake from NYC's Locanda Verde at Brunch Village: I am always a sucker for pancakes!
Mini sandwich from Little T Baker's at the Opening Party: When I saw this was made with my favorite pretzel roll, I was sold. They stuffed the rolls with Prosciutto, Briar Rose chevre cheese, Bee local honey pickled figs and topped with Jacobsen smoked salt.
I am already counting down until Feast 2016. Be sure to save the date for September 15-18th!
Again, great job to Team Feast – Mike, Carrie, Jannie, Elizabeth, Emily, Maureen, Haehee, and the Little Green Pickle crew. You folks work miracles.
Can't get enough and need more Feast? I have so many more photos but didn't want to overwhelm you on this single post so check out my Facebook album for more. And while you're at it, here are a few of my favorite recaps out there:
Feast Portland's beautiful video recap
Aubrie of Portland Food Photographer – Aubrie was another Feast photographer and her photos are incredibly gorgeous
Pech of Pechluck's Food Adventures
Meredith of Martha Chartreuse
Michelle of Hummingbird High
Marlynn of Urban Bliss Life
Mary of The Kitchen Paper
Rachel's awesome video recap which even shows off some of my sweet dance moves