Ok, seriously people, what's the deal with everyone saying it's the end of summer?! It's only mid-August! Now, I'm not one for the 90+ degree weather either and I'm all about Oregon Ducks football season and scarves, but still I love summer and am not ready for it to be over. I'm all about dining al fresco, taking walks around town, eating too much of everything at the Farmer's Market, and the cheery sunshine.
One of my other favorite summer activities is going wine tasting. We are really spoiled in the NW with wine country so close. A short jaunt in the car, and there you are, with gorgeous views and impeccable wine. I am particularly a sucker for wineries that have great outdoor seating and games like bocce.
With that in mind, we've got all things wine today! And because we are loving this #ThursdayToursPDX series so much we're bringing you two weeks in a row – booya! (Yes I just wrote that.)
We've got two lovely ladies sharing their favorite wineries – Erin of
Platings & Pairings
and Kelsey of
Kelsey Malie
(formerly Ladies in Navy). I ran into Erin's blog first via the Portland Bloggers Facebook group, which is an amazing way for the community to connect. We have not yet met in real life, but I can't wait to meet her at Feast or another event soon. Her blog not only has beautiful photos but also delicious recipes and of course awesome tips on wine pairings. As she definitely knows wine country well, she seemed like a perfect fit for this edition of Thursday Tours. If you are looking for eats to offset the booze (always a good idea!), my favorite is the
Red Hills Market
. They've got top-notch salads, sandwiches, cookies and local goodies. You can eat in their cute dining area or in the picnic tables outside, or get it to-go and enjoy at the winery of your choice! Now here are Erin's recommendations, all of which are in Dundee, OR, just 50 minutes from downtown. All photos are courtesy of Erin Lynch. —
Stoller Family Estate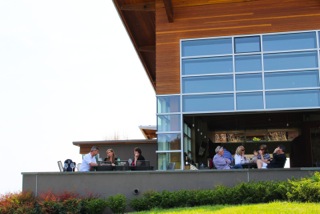 http://stollerfamilyestate.com/
With its sleek modern building, opening up to sweeping hills and a large vineyard, Stoller is a quintessential Dundee visit. Plenty of adirondack chairs line the yard, along with picnic tables, making this a great spot for a summer picnic. The large grass field directly in front of the winery is home  to a frisbee golf course (frisbees provided). Very family and pet-friendly, it's hard to think of a better place to spend a weekend afternoon. Continue Reading...