Well, here we are, at the end of 2016. This year has certainly been a year of ups and downs for lots of folks, myself included.
A stressful transition into a new role at work was fortunately offset by lots of laughs with good friends, like the time we went on a midday wine crawl, the birth of my adorably chubby niece Gwendolyn, and one amazing 6-week sabbatical trip spent traveling. Those memories help me look back on the year with a fond smile and gratitude for all that I have, incredible friends, a loving family, and the opportunity to do fun things like this blog. And of course, overeating tons of good food, the highlights of which I'm sharing with you today.
I hope you are all able to think of 2016 with some fondness as well. Even in the dark days, there are a lot of things to be thankful for. Thanks for your continued support of Bakery Bingo and cheers to 2017! Here's to a new year of positive vibes and beginnings of more good things to come!
Top Eats of 2016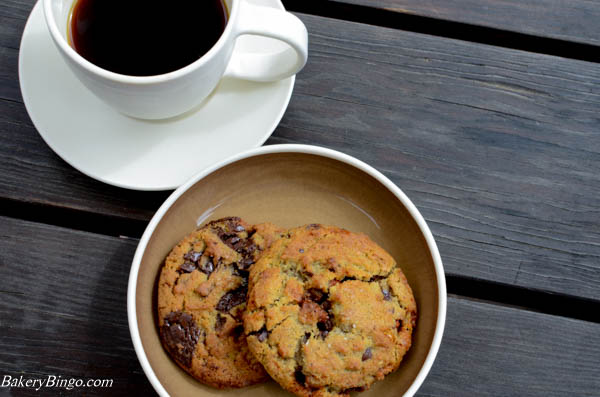 Chocolate chip smoked almond cookies from Coquine. These are what cookie dreams are made of, with smoked almonds, salted caramel and damn good dark chocolate. Best when ordered onsite and served fresh out of the oven. But you can even order them for special events! While they might not be warm, you'd still impress whoever the lucky recipient is.
Pasta from Ava Gene's. As perhaps my favorite restaurant in Portland, this place never fails to disappoint when it comes to pasta. This truffle stuffed agnolotti was no exception.
Xurros @ 180. I mean, who doesn't want handcrafted Spanish churros dipped in creamy drinking chocolate? Decadent and delicious.
The whole meal experience from Restaurant Beck. I was super impressed by this fancy restaurant by the water. Highlights included their homemade focaccia and petrale sole with brown butter and buttermilk rhubarb.
Asparagus hummus from Lincoln. I love trying the unique flavors of hummus chef-owner Jenn Louis comes up with, like this asparagus hummus. Super creamy, topped with fresh salmon, pickled veggies, a hardboiled egg and served with their delicious soft flatbread.
Forest mushrooms from Lechon. I don't usually like mushrooms but this dish by the Latin American restaurant on the waterfront does it right. Toasted brioche is topped with chewy mushrooms, a caramelized onion puree, herbs, cheese and of course a runny farm egg to soak up all the flavorful goodness.
Angel biscuits and Pimento Mac n Cheese from Mae. I had the luxury of going to Mae twice this year. These two dishes were from separate trips but it's such a toss up to choose a winner. The biscuits were so fluffy and buttery, while the mac n cheese was rich, cheesy and difficult to stop eating no matter how full you are.
Spicy Salmon Chifa at Feast from Launderette in Austin. It is always hard to pick a winner from the near weeklong Feast extravaganza. But for me, this spicy ceviche like dish made with incredibly fresh salmon, and a Chinese and Peruvian inspired marinade was the most memorable out of Feast's fifth year.
Baby Rainbow Carrots in Hazelnut and Truffle Hollandaise at Baran's 2239 in Hermosa Beach, CA. I wouldn't have expected much from a restaurant tucked between a smoke shop and an auto parts store, but I'm glad we listened to my aunt's recommendation when we were down there over Thanksgiving. While their handmade focaccia and pastas were also phenomenal, it was the veggie side dish that stole the show.
All the pasta in Rome! Everything and anything pasta related in Italy has got approval. My favorites were incredibly creamy handmade cacio e pepe (pasta with cheese and black pepper), carbonara with perfectly al dente rigatoni, and thick rigatoni in matriciana sauce made with guanciale cured pork, pecorino cheese, and fresh tomato.
The Bread Cart from Steirereck im Stadtpark in Vienna. Our Michelin-starred splurge included 7 courses of unique dishes like fish cooked tableside in beeswax. But the bread cart was the star with a dozen freshly baked bread presented tableside, with as much carbs as your stomach can take.
Potatoes in Ash from Eska in Prague. Still dreaming about this perfectly cooked potatoes, fried egg yolk, a kefir yogurt sauce and smoked fish. If only this place was in Portland…
Corn Chowder with Green Chile, Fresh Corn and Smoked Marrow from Radish & Rye in Santa Fe. Pretty sure Meredith and I both would hop on a flight back to New Mexico right this moment just to eat this again. This was hands down the best "vegetarian cheat" of the year. Get yourself to Santa Fe to enjoy it.
Honorable Mentions:
Seaweed Noodles with crab, red curry and creme fraiche from Revelry
Fideos toasted noodles with roasted fall mushrooms, grapes, pistachios and saffron aioli from Urdaneta
All the desserts from Tusk